This Strain Review covers the Lifter Plus strain of CBD hemp flower. We're going to go over its genetic lineage, chemical makeup, best uses, and more.  
Plus, you'll get Mr. Hemp Flower's official overall rating and answers to the most frequently asked questions about Lifter Plus and CBD Hemp Flower.
Last update: June 5, 2023
Article Summary: 
Lifter Plus is an extremely high CBD strain with a total

phytocannabinoid

content of 22.70%, out of which, 19.05% are cannabidiol (CBD).
This sativa-dominant hybrid is the result of the crossbreed between Suver Haze #50 and Early Resin Bud.
Its terpene profile is primarily composed of myrcene, bisabolol, and caryophyllene. These aromatic compounds contribute to its unique aroma and therapeutic properties.
Lifter Plus has a peppermint flavor and is particularly useful for relieving stress, uplifting mood, and promoting relaxation.
Lifter Plus Strain Review
Lifter Plus is a high CBD hemp strain with a flowery peppermint flavor and cheesy, fuel aroma similar to the Haze family strains.
Unique in its terpene profile, Lifter Plus offers a diverse range of properties that synergize with its higher than average CBD content.
The buds appear elongated but are known for being dense. Their structure follows a somewhat Christmas tree shape and the flowers are colored with light greens and calyxes that exhibit a touch of purple.
As a stabilized phenotype, Lifter Plus provides benefits related to mood, pain, and stress-related issues. Let's unpack the genetic lineage of Lifter Plus and then we will get into this hemp flower's chemical expression.
Genetics
Lifter Plus hemp flower is another gift brought to us by the breeders of Oregon CBD. This strain is categorized as a Sativa-dominant hybrid hemp strain. Crossing Suver Haze #50 with Early Resin Bud created the cultivar's unique profile and aromatics.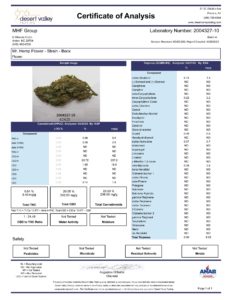 Click here to enlarge lab report 
Breeding these two different strains together brings the best of both worlds into one high CBD strain. Lifter Plus hosts the funky characteristics of the Haze family lineage alongside the fruitier more floral character typical of hemp strains.
Terpene Profile
Total terpene content .63% or 6.29 mg/g
· .13% Myrcene 1.3 mg/g
· .1% Caryophyllene 1 mg/g
· .1% Bisabolol 1 mg/g
Terpenes are the aromatic compounds found naturally within the hemp plant's resinous flowers. Let's unpack the terpene profile of Lifter Plus and see what's inside.
Although Lifter Plus isn't particularly high in total terpene content, its advantage is that it exhibits a diverse range of terpenes in its profile.
Lifter Plus' terpene profile is primarily highlighted by Myrcene, Caryophyllene, and Bisabolol. However, it also expresses a diverse range of terpenes in smaller amounts including Cedrene, Guaiol, and Terpinolene.
The terpenes expressed in smaller amounts play a crucial roll in activating Lifter Plus hemp flower's unique characteristic benefits.
Myrcene
Myrcene is the most abundant terpene found in Lifter Plus and is also the most predominant terpene found in all strains of hemp or cannabis.
It provides a tropical fruit musk-like aroma and has naturally calming sedative-esque properties that benefit overthinking, overactive minds, and stress or anxiety-related issues.
Caryophyllene
Caryophyllene, a prominent hemp terpene, is most commonly associated with black peppercorn, but can also be detected in a diverse range of spices and herbs.
In Lifter Plus hemp flower, Caryophyllene provides a peppery spice-like aroma and powerful anti-inflammatory and pain-relieving properties.
Bisabolol
Bisabolol is less commonly expressed in hemp but plays a powerful roll in synergizing the benefits of hemp flower. It has
a slightly floral aroma and has been utilized for centuries in cosmetics because of its perceived skin health properties.
Phytocannabinoid Profile
· Total phytocannabinoids 22.70%
· Total CBD 19.05%
· Secondary phytocannabinoids 3.65%
Our latest batch of Lifter Plus flower reveals an astounding +19% CBD content and a 3.65% composition composed of secondary cannabinoids including THC-A, CBD-A, and CBG.
Overall, the Lifter Plus strain has impressively high-CBD content along with a broad spectrum of terpenes not frequently found in similar strains of this caliber.
Best Uses
The best uses of Lifter Plus hemp flower are for relieving mental and physical tensions related to stress and anxiety, uplifting mood, and sparking joy and optimism.
Use Lifter Plus CBD hemp flower for symptom relief, stress release, and to improve overall capacity to be calm and relaxed during the day or night.
Overall Rating 4/5
Mr. Hemp Flower reviews the best CBD hemp strains on the market and stocks only strains that surpass our strict criteria. You'd be hard-pressed to find a bad review of our strains.
Although Lifter Plus has a diverse array of terpenes, it does have a low overall terpene content. However, this is common among hemp flower strains with higher CBD concentrations.
Given that caveat, the Lifter Plus CBD strain gets a raving 4/5 for Mr. HempFlower's overall rating. That one point deduction doesn't make Lifter Plus any less of an effective powerhouse though.
· Diverse and unique terpene profile
· Powerful mood-boosting, uplifting effect
· Consistently high in cannabidiol (CBD)
· Higher than average secondary cannabinoids content
· Magnificent hemp hybrid cross between Haze and ERB families
Lifter Plus Review Highlights
True Lift!
Nice mild smooth taste, great day time smoke.
One of my faves..
This goes great with my morning coffee. My absolute fave for chronic pain. I prefer this one for the morning. It loosens my joints, feel like the Tinman from Wizard of Oz after oiled.
Buy Lifter Plus Hemp Flower Online
Here at Mr. HempFlower, we keep in stock top strains from America's best hemp farms.
Be sure to check out our freshest inventory of Lifter Plus CBD hemp flower today and get great deals on everything from a gram to a pound!
Don't feel like rolling your own? We also offer high-quality pre-packaged pre-rolls in joints and blunts.
Plus, we offer heavy discounts on wholesale flower and pre-roll bundles! Click this link to browse our inventory of the best CBD hemp strains!
Thanks for reading our Lifter Plus Strain Review. Be sure to share it with someone you think could benefit from some CBD hemp flower in their life today.
Browse Our Hemp Flower Catalogue
Thanks for reading Mr. Hemp Flower's Lifter Plus Strain Review! Be sure to share it with others that you think will find it helpful.
Click the links below to browse our extensive inventory of the freshest strains available from the nation's top hemp cultivators out of Oregon, California, and more.
Is It Legal To Use Hemp Flower?  
Is it legal to use CBD hemp flower? CBD Hemp is legal in the USA and not considered an illicit or controlled substance, and is federally regulated as an agricultural product. This is primarily because CBD-rich hemp flower only contains trace amounts of THC content, which is what separates hemp from cannabis by legal definitions.   
While hemp flower is considered legal in all USA states, laws may vary from state to state or region to region within the USA. Always check that you comply with local and state laws regarding hemp flower.    
Browse Our Hemp Flower Catalogue 
FAQs About Lifter Plus
How much CBD is in Lifter Plus hemp flower?
Our most recent batch of Lifter Plus hemp flower tested at 19.05% cannabidiol) with 3.65% secondary phytocannabinoids.
Natural variances in the chemical expression are expected in agricultural products such as hemp. Depending on growing conditions, Lifter Plus ranges from 15%-20% CBD.
Is Lifter Plus a daytime or nighttime smoke?
Lifter Plus is better for daytime symptom relief. However, it's high CBD content may leave you more relaxed than you'd prefer to be when going about your daily activities.
Happy, uplifting, and relaxing are among the most commonly reported effects from Lifter Plus hemp. Perhaps a smaller daytime dosage and a larger nighttime dosage is a more utile approach with this type of strain.
Will Lifter Plus get you high?
Lifter Plus hemp flower is a CBD dominant strain that won't make you feel high or stoned. This is because hemp contains only trace amounts of the psychoactive phytocannabinoid, THC.
Is it legal to use Lifter Plus CBD Hemp Flower?
Hemp and CBD were legalized under the 2018 Farm Bill and are regulated as agricultural products rather than illicit or controlled substances, making them federally legal in the USA.
Generally, hemp flower is federally legal in all 50 states as long as it contains less than .3% delta-9 THC content. Always consult local and state regulations to confirm legal compliance in any situation.