Best Delta 8 Gummies 
Give your taste buds something to get excited about! Enjoy the benefits of third-party lab tested delta-8 gummies available in assorted flavors. 
Our delta 8 gummies have the chewy texture and fruit flavors you crave. We have multiple flavors, strengths and even vegan and non-vegan options!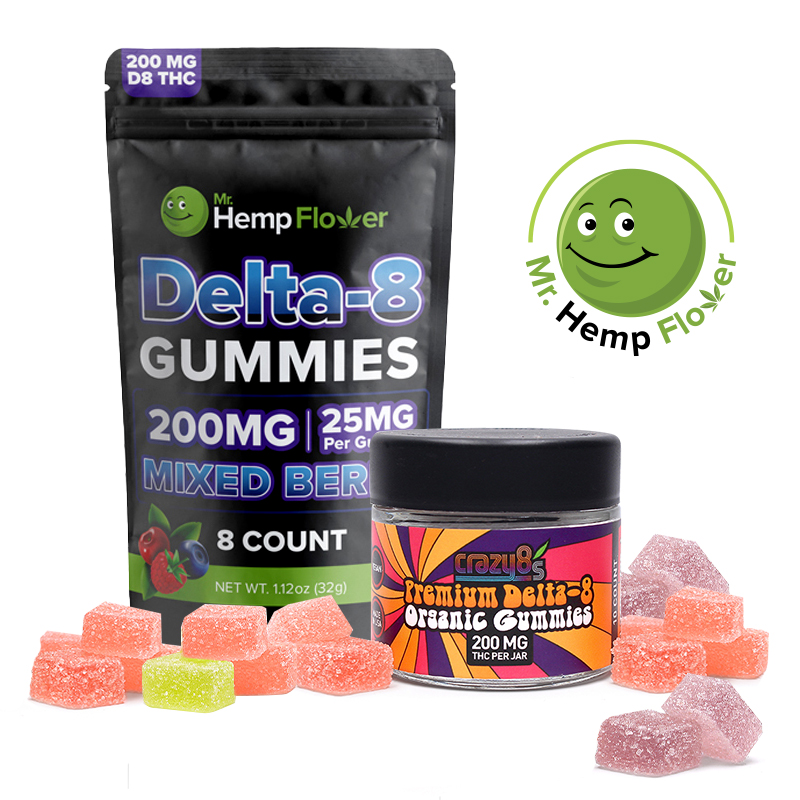 25mg Delta 8 THC Gummies by Mr. Hemp Flower
Mr. Hemp Flower's 25mg delta 8 THC gummies come in a 8-count package and a mixed berries flavor. Enjoy the effects of full spectrum CBD alongside premium delta 8 THC distillate and the delicious taste of natural ingredients.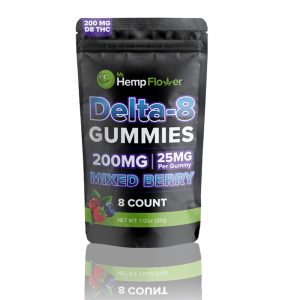 10mg D8 Vegan Gummies
The flagship 10mg d8 gummies from Crazy8s are the best introduction to taking delta 8 gummies for beginners. Available in assorted flavors like Green Apple, Black Cherry Vanilla, and Passionfruit and 100% vegan-friendly and gluten-free.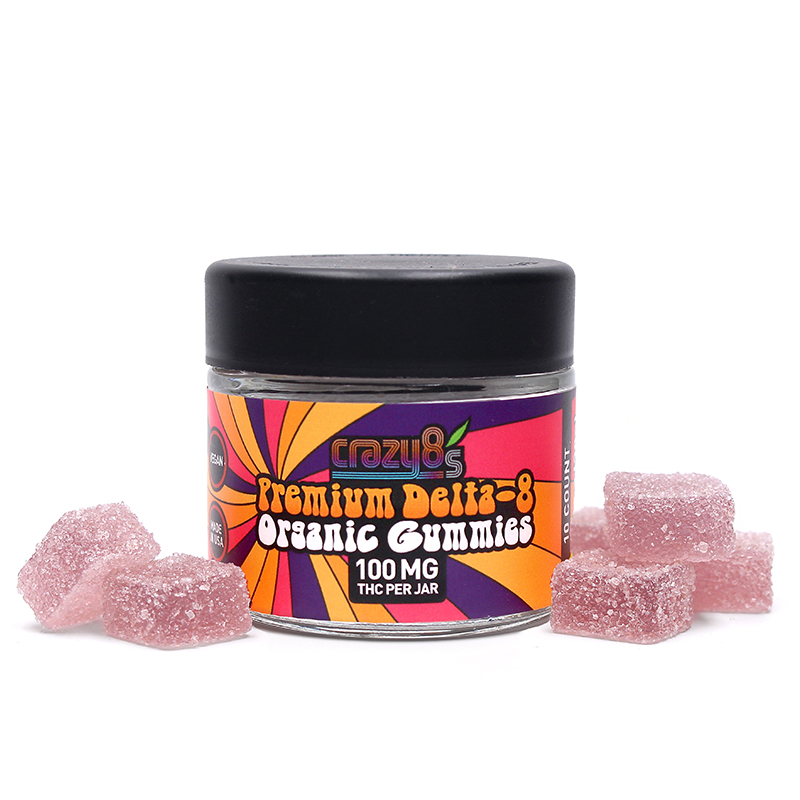 20mg D8 Vegan Gummies
Step up the potency a notch and enjoy Crazy8s 20mg per one gummy in a 10-pack container. Available in multiple flavors and 100% vegan-friendly.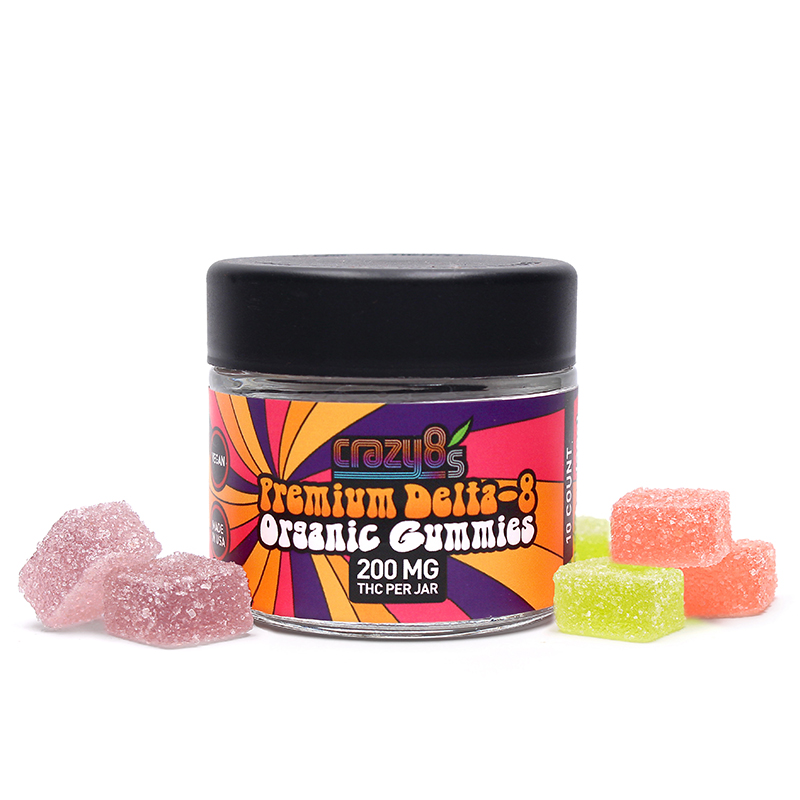 50mg D8 Vegan Gummies 
For those who need extra strength relief go for the Crazy8s 50mg gummies to help improve aspects related to pain-relief, comfort, mood, sleep, and appetite. Available in 10-count containers in various flavors.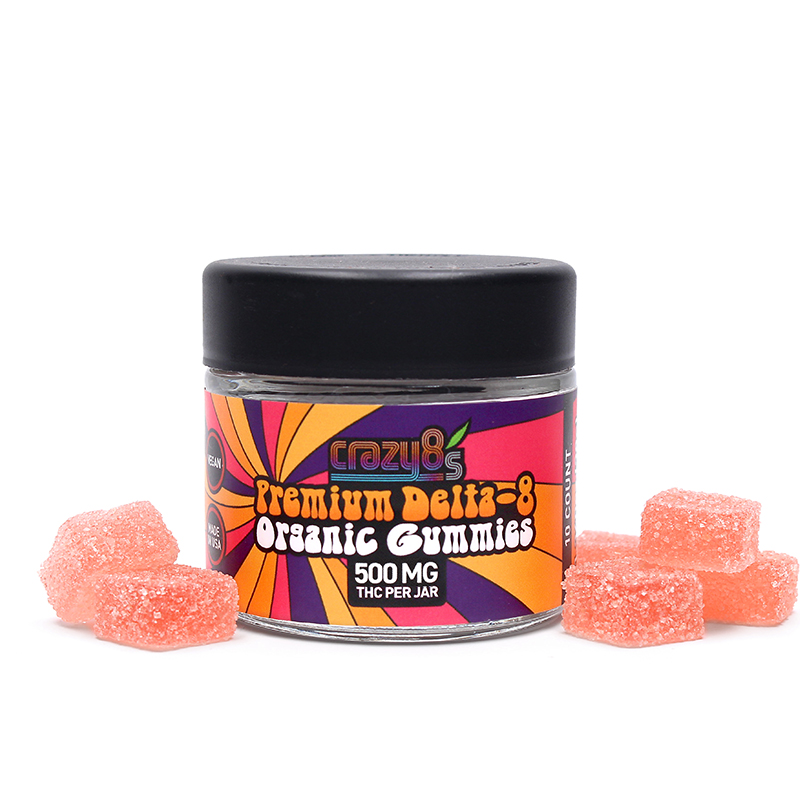 Are D8 Gummies Legal?
Yes! They are legal in the US under federal law thanks to the 2018 hemp farm bill. According to the farm bill, products containing less than 0.3% delta 9 THC on a dry weight basis are not legally considered marijuana. Some states have restrictions on shipping and selling d8, while most don't. Check here for up to date info on D8 laws. 
Thus, delta 8 THC gummies are not defined as illegal cannabis products and are regulated similarly to CBD products and other hemp-derived products that comply with the delta 9 THC legal limit. Even THC edibles are legal under federal law as long as they comply with the legal THC limit.
What Are The Health Benefits of Delta 8 Gummies?
Delta 8 in gummy form is a sweet treat that provides a calming body sensation and an uplifting feeling with potent effects, according to many users. 
Our customer feedback shows most people enjoy our gummies for perceived health benefits such as pain relief, anxiety relief, appetite stimulation, and better sleep quality. 
You can read countless positive reviews about our gummies in our verified customer delta 8 gummy reviews at the bottom of our delta 8 product pages to get real opinions from real people about our hemp products.
Third-Party Lab Tested Delta 8 THC Gummies
All of our hemp products, including delta 8 THC products, undergo independent lab testing in a third-party lab. The lab reports test for THC, CBD, terpenes, and other cannabinoids present in the hemp product. 
Third-party lab-tested hemp products show that what's in the product details of our labels matches what's inside and ensures gummies are free from any unwanted contaminants such as heavy metals, bacteria, mold, or solvent residue. 
We use a third-party lab to show transparency and post the lab reports on our corresponding product pages. Be sure to check the product page of the hemp product you're interested in checking out for the third-party lab reports.