Vegan Delta 8 Gummies
Premium Delta-8 Gummies

10 Delta-8 Gummies Per Pack

Natural Flavors, Organic Flavors, & No Artificial Flavors

Non-GMO, Organic, Gluten Free, & Vegan-Friendly Natural Ingredients

Green apple, Passion Fruit, & Black Cherry Vanilla Flavors

10mg, 20mg, or 50mg Delta-8 THC Gummies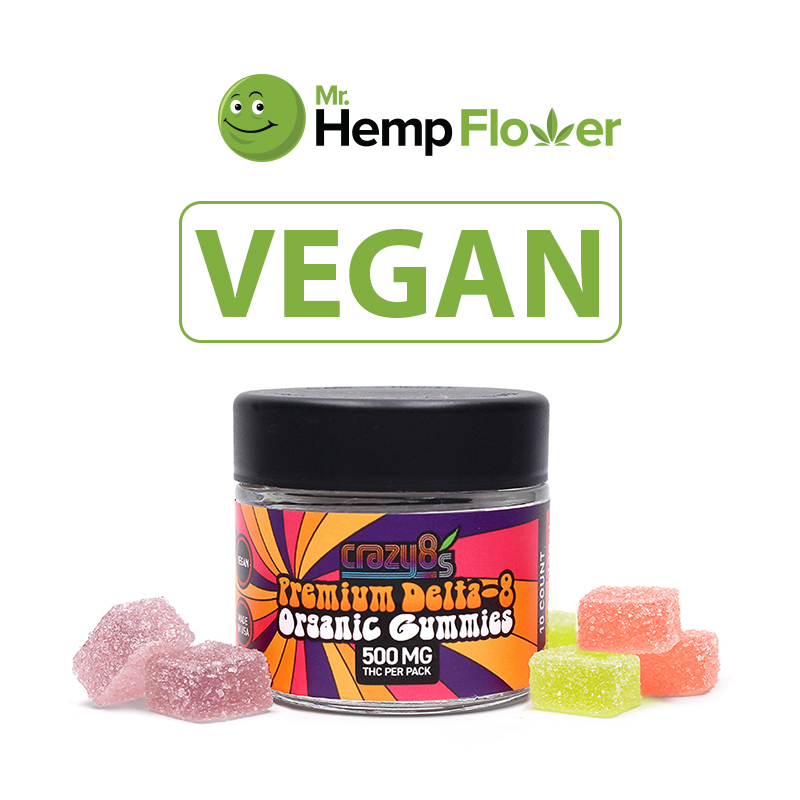 Vegan Delta 8 Gummies
Mr. Hemp Flower is proud to offer our line of Vegan Delta 8 Gummies, branded under our sister company, Crazy8s! 
Our new vegan gummies are available in 10mg, 20mg, or 50mg gummy potencies, and each jar comes with 10 delicious gummies infused with Delta-8 THC. You'll love the amazing flavor of this delta gummy!
To craft the best taste, we use only all-natural and organic ingredients. Plus, our gluten free vegan gummies formula contains zero animal byproducts, which means these are 100% vegan-friendly Delta-8 THC gummies.
Ingredients
Organic tapioca syrup, organic cane sugar, fruit pectin, organic flavor extracts, potassium citrate, citric acid, natural vegetable coloring, hemp derived delta 8 THC distillate
What Are The Effects of Delta 8 THC Gummies?
Delta-8 THC is thought to be less than half as potent as Delta-9 THC from cannabis and is not considered to be intoxicating or psychoactive. 
Expect the effects of Delta-8 THC to encourage a boost in mood, relax muscles and nerves, and promote a general sense of calmness and well-being. Overall, these effects work to restore balance to the endocannabinoid system, which is intimately connected to how the body manages stress, sleep, pain, and nearly every aspect of health and wellness. Check out all of our Delta 8 THC products linked here.
Does Delta-8 THC Get You High? 
Delta-8 THC from legal hemp binds with the same receptors that Delta-9 THC from cannabis does, the cannabinoid 1 receptors or CB1.This receptor is responsible for activating the psychedelic and psychotropic effects of THC that make you feel high or stoned.
However, due to the molecular structure of Delta-8 versus Delta-9 THC, Delta-8 is estimated to be approximately less than half the potency of Delta-9 THC. 
Some people report experiencing mild psychoactive effects, but most people taking Delta-8 THC experience a calm, blissful sensation that soothes nerves, anxiety, and stress, and improves mood. 
Compared to Delta-9 THC in cannabis or marijuana, Delta-8 THC won't trigger a racing heart and mind, anxiety or stress, or the paranoia often accompanied by overconsuming Delta-9 THC in cannabis.
What's The Best Delta 8 THC Gummy Potency?
If you've never consumed cannabis or delta 8 gummy before, it's recommended to start at low doses and slowly work your way up to higher doses until you've reached the desired effect over time. 
Each person responds differently to cannabinoids due to various factors including genetics, personality, environment, mood, and more.
For novice consumers, go for the 10mg gummies or eat half of a 20mg gummy at first. For those with a mild tolerance to cannabinoids such as THC, 10mg of Delta-8 THC is still a moderate dose. 
Start with 10mg-20mg gummies to see how Delta-8 THC may affect you. Severe issues of pain, stress, and sleeplessness may require higher doses for optimal relief.
Always seek professional medical care for serious health problems. Vegan Delta-8 THC gummies are not for anyone under the age of 21!
What Does Delta-8 THC Help With?
Taking Delta-8 THC helps to support the healthy functioning of the body's endocannabinoid system. The endocannabinoid system works to regulate or balance the nervous system and organic chemistry responsible for well-being including:
Appetite and digestion

Muscle tension

Neurological symptoms

Mood

Chronic pain

Neuropathic pain
Delta-8 THC works by binding with specific receptors called cannabinoid receptors centralized throughout the central nervous system.
It primarily binds with cannabinoid 1 (CB1) receptors, however, Delta-8 THC indirectly and directly influences other types of receptors related to brain chemistry and hormones as well, including cannabinoid receptor 2 (CB2).
How To Take Delta 8 Vegan Gummies? 
Because each individual responds uniquely to taking THC gummies, there are no uniform dosage guidelines. 
The best-recommended approach to gauge dosage for healthy adults is to eat less than one gummy, such as one-half or less, and wait up to about an hour to see how the body reacts. 
Waiting a full hour allows time for delta 8 to absorb in the body where its effects can last up to two hours or more. Once you know how delta 8 affects you, then you can increase or decrease your dosage as needed. 
We recommend not operating heavy machinery while taking delta 8. Consult a doctor if you have any medical condition, take prescription medications, or diagnose any types of health claims before taking CBD products, hemp products, or cannabis products. 
To help with aspects related to sleep, it's recommended to take delta 8 gummies approximately thirty minutes before bedtime. 
Which States Ship Delta-8 THC Gummies?
Mr. Hemp Flower will ship Delta-8 gummies to the continental USA. However, Mr. Hemp Flower retains the right to not ship to states that have laws that conflict with the 2018 Farm Bill. 
Currently, Delta-8 gummies are banned or restricted in Alaska, Arizona, Arkansas, Colorado, Delaware, Kentucky, Idaho, Iowa, Mississippi, Montana, New York, Rhode Island, Utah, Vermont, and Washington. If you live here and order, you assume full responsibility.
Learn About Delta-8 Gummies
You can learn more about the benefits, effects, and properties of Delta-8 gummies in the Blog at Mr. Hemp Flower linked here. 
There, you'll find articles about different state laws and regulations to be aware of around the United States, new federal changes to hemp and cannabis, and informational content on the health benefits of other hemp products including CBD gummies. 
Delta 8 Gummies FAQs
Do you have a question? Find answers to the most common questions we receive from customers about delta 8 vegan gummies below.