Full Spectrum CBD Gummies – 25 mg of CBD
Full Spectrum CBD Gummies 

25 mg of CBD Per Gummy

+5mg THC Per Gummy

Natural Fruit Flavors

Organic, Vegan, & Gluten-Free 

WARNING: Packs a punch!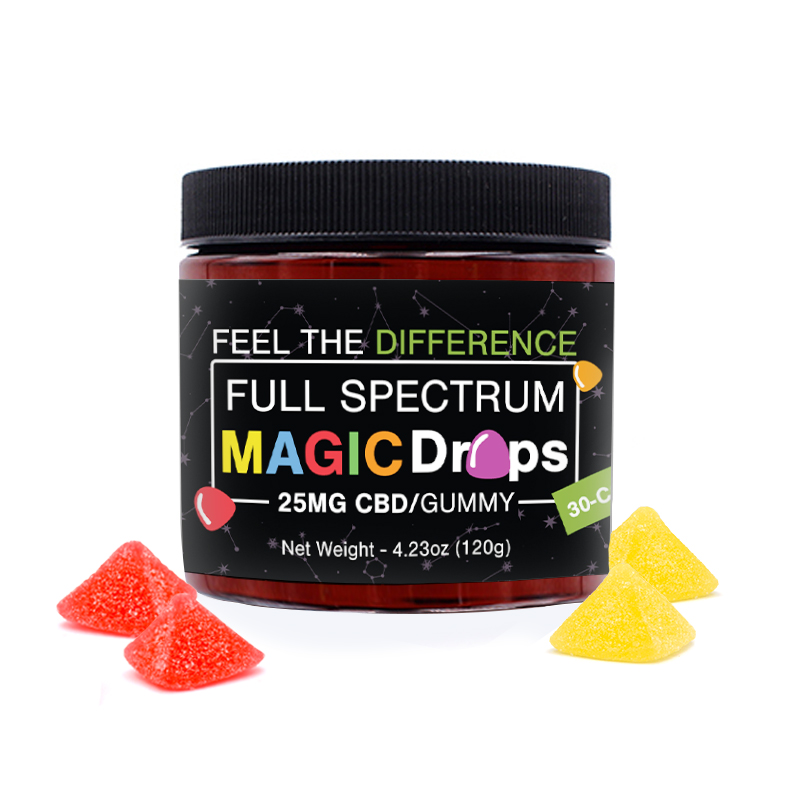 CBD Gummies Ingredients:
Organic Tapioca Syrup, Organic Cane Sugar, Organic Fruit Pectin, Organic Flavor Extracts, Potassium Citrate, Citric Acid, Natural Vegetable Extracts (coloring), Full-Spectrum Hemp Extract
Best Organic CBD Gummies
Are you ready to taste the best gummies you've ever tried in your life? Introducing Magic Drops from Mr. Hemp Flower.
Our Full-Spectrum CBD Gummies are gummy candies that are good for relaxation, comfort, pain, and sleep. With 25mg of CBD and +5mg of THC in each gummy, these gummies get the job done!
Enjoy buying CBD gummies online made simple! Read our verified buyer reviews to check out our products and enjoy shopping safely with our end-to-end encrypted secure checkout system. 
High-Quality CBD Gummies With Natural Flavors 
We're proud to offer our customers delicious gummies in two tasty natural flavors, Pineapple and Cherry. 
We use real fruit juice flavors and never add any artificial flavors. Instead of using high fructose corn syrup in our CBD gummy recipe, we choose to use tapioca syrup, organic cane sugar, and other natural ingredients in our gummies. 
Our CBD gummies contain full spectrum CBD oil hemp extract derived from the hemp plant and are rich in cannabinoids and terpenes that activate the entourage effect. 
How Many CBD Gummies To Take?
Are CBD gummies safe for healthy adults to take? Yes! Our CBD is lab tested, which means they are certified by an independent third-party to be free from any potential contaminants or harmful chemicals such as heavy metals, pesticides, mold, and bacteria.
It's important to be mindful of how much CBD you're consuming when taking CBD gummies. That way you know what amount of CBD works for you and keeps you from taking too many CBD gummies. 
If you are new to CBD, it's typically recommended to consume full-spectrum CBD gummies in small amounts first, such as less than one gummy, and wait up to an hour to see how CBD interacts with your body before consuming more. 
Once you understand the way CBD will affect you, then you can adjust your CBD dosage as needed according to your circumstances and find the CBD potency that's best for you. Are you looking for a higher potency? Try our 25mg Delta 8 THC gummies in mixed berry flavor.
How Long Does it Take For Full Spectrum CBD Gummies to Work?
It may take anywhere from thirty minutes up to an hour or more for the effects of consuming CBD gummies to begin working. CBD edibles must first pass through the digestive system before being distributed throughout the body, which causes a delayed effect in the onset of its beneficial properties.
Are The Best CBD Gummies Legal?
Is CBD legal? Yes, it's legal to buy CBD gummies online. Unlike broad-spectrum CBD or CBD isolate, full-spectrum CBD products contain small amounts of THC. At the federal level, Delta 9 THC is restricted to less than 0.3% on a dry weight basis in federally legal hemp-derived CBD products. 
CBD gummies are legal because they contain less than the THC limit, making  legal hemp products such as CBD oil or hemp seeds.
CBD/THC Content per Gummy
Total CBD- 25mg+/unit
Total THC- 5mg+/unit
Total CBC – .42mg
Total CBG – .1mg