Best THC Gummies
Gluten-Free & Vegan Gummies

USA-Grown Organic Hemp 

Full Spectrum Cannabinoids

Third-Party Lab Tested

Organic Ingredients 

Delicious Flavors 

Highest Quality Ingredients 

Federally Legal THC Gummies
Are you looking for the best THC Gummies fit for your lifestyle? Mr. Hemp Flower's collection of high-quality vegan-friendly THC gummies is the most delicious way to get your daily dose of THC.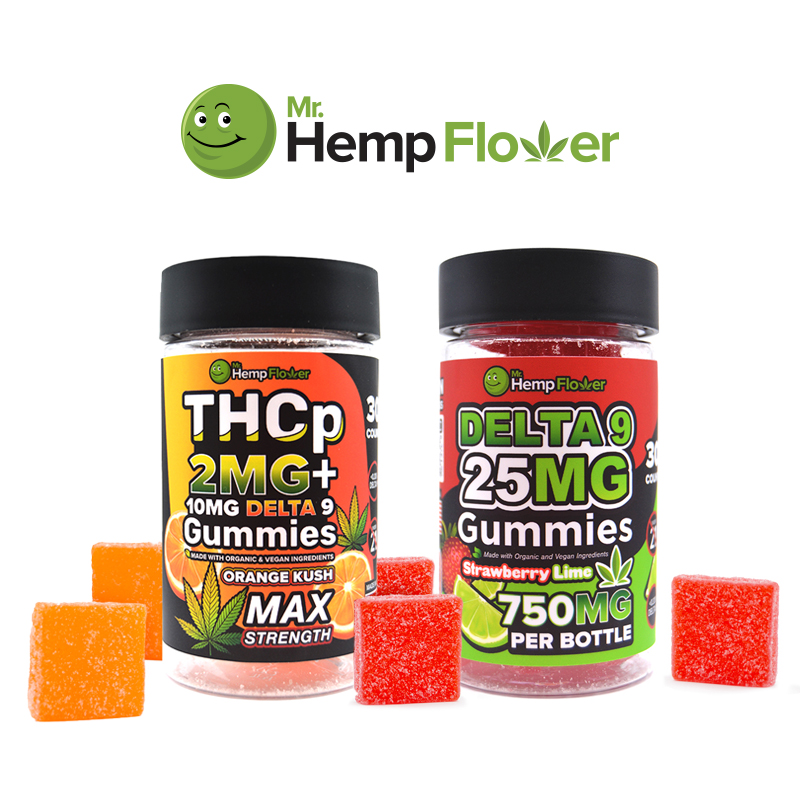 Our gummies feature the finest natural ingredients and natural flavors and are free from artificial ingredients to ensure that our customers get the best gummy possible.
How do we make the best THC gummies? The secret to our gummies formula starts by working with carefully crafted delicious, natural fruit flavors, all-natural ingredients, and hemp extracts made from organic hemp grown exclusively at licensed American farms using sustainable farming methods.
Mr. Hemp Flower's potent gummies provide the wellness benefits of THC you know and love.
Buy THC Gummies Safely Online
Read more...
Why would you ever get THC gummies from a gas station or convenience store? Just because they sell beer and blunts at a fair price doesn't mean their THC gummies are worth your hard-earned money. 
Wouldn't you rather choose a reputable, experienced, and trusted hemp brand that's dedicated to making high-quality, lab-tested THC gummies? We stand behind our brand's quality and safety! Consider Mr. Hemp Flower as your safe place to buy effective THC gummies online. 
Our end-to-end encrypted secure checkout system offers an easy and convenient way to shop online for high-quality THC gummies. We even accept cryptocurrencies and offer wallet-to-wallet encrypted transactions for your favorite crypto like Bitcoin!
We have more than five years of experience in providing high-quality hemp products, excelling in customer satisfaction, and delivering legal hemp-derived THC products across the US.
We take pride in knowing that our customers choose us as their favorite THC gummy brand over other THC gummies brands. Aren't you ready to discover the best THC gummies available and join millions of others already enjoying the benefits of THC?
Note: Mr. Hemp Flower does not sell marijuana gummies, weed gummies, weed edibles, or other cannabis products. We sell federally legal full-spectrum hemp products made from hemp plants that meet food manufacturing standards and are third-party lab tested for profile, purity, and potency.