25mg Delta-9 THC Gummies
Mr. Hemp Flower's 25mg delta-9 THC gummies are made from USA organic hemp flower and all-natural ingredients and these high-potency gummies will knock your socks off!
They come in an amazing new flavor, Strawberry- Lime and they are available in packages of 5 gummies each for a total of 125mg of delta-9 THC.
These delta-9 THC gummies are crafted for those seeking higher potency experiences for extra strength relief, relaxation, and recreation.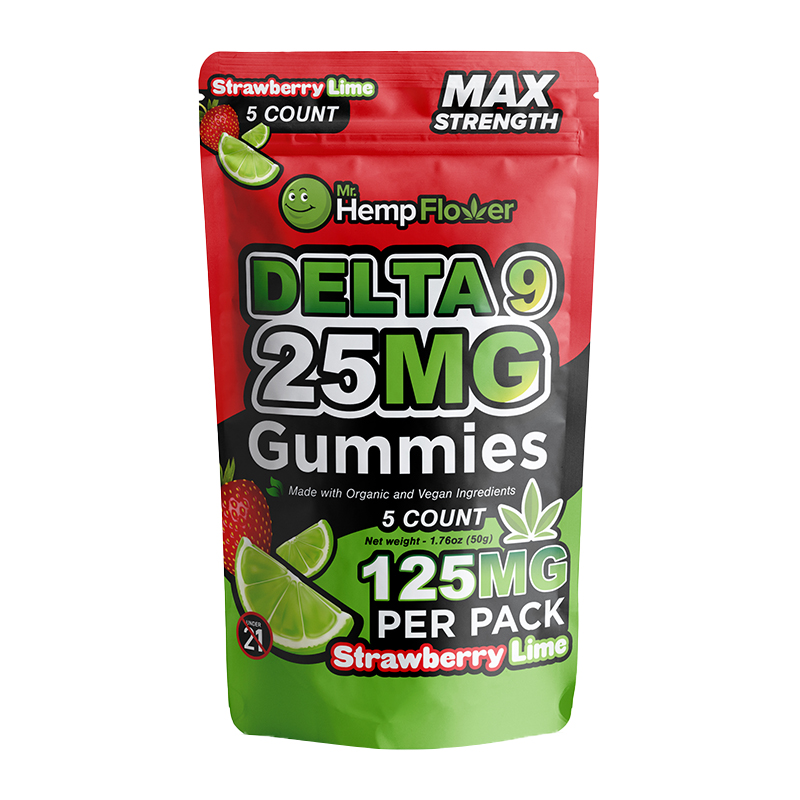 Each gummy is infused with 25mg of premium hemp-derived delta-9 THC. Unlike other consumer brands, we never spray or coat our gummies. We formulate our gummies with the delta-9 THC distillate infused into the recipe.
D9 Gummy Ingredients:
Organic Cane Sugar, Fruit Pectin, Organic Flavor Extracts, Potassium Citrate, Citric Acid, Natural Vegetable Extracts (coloring), Hemp Derived Isomer
What Are 25mg Delta-9 THC Gummies
The average serving size or portion of delta-9 THC gummies is 10mg, but the optimal serving will vary from person to person depending on factors including tolerance, weight, age, and environment.
The effects of taking delta-9 gummies will generally take up to an hour to onset, peak after two hours, and then fade gradually over a couple of hours.
Delta-9 THC is the primary psychoactive hemp cannabinoid compound associated with the strong relaxing, relieving, and mood-boosting properties of THC. It's typically recommended to take only a small amount (less than 10mg) at first, waiting to see how it will affect you before consuming more.
Many people taking 25mg delta-9 gummies use them to enhance sensory experiences, outdoor adventures, and social events, but many people also enjoy taking delta-9 THC for daily wellness purposes.
High-Potency gummies are generally reserved for those seeking extra-strength relief and recreation. However, a lot of our customers enjoy taking half of one gummy, waiting for at least an hour or two, then taking the other to experience long-lasting and sustained effects.
Mr. Hemp Flower Delta-9 THC Gummies Reviews
To show our dedication to transparency and quality, we provide our customers with verified purchaser reviews from real buyers of our delta-9 THC gummies.
Reading reviews offers you a real perspective from real people to help you decide whether taking delta-9 THC will be a good fit for you.
We've accumulated hundreds of 5-star reviews for our delta-9 THC gummies from real people claiming our gummies have changed their lives for the good.
Aren't you ready to join the countless others already enjoying a better quality of life and fun with delta-9 THC gummies?
We love to read your reviews, so when you try our delta-9 THC gummies be sure to leave us your review!
Premium USA Hemp-Derived Delta-9 THC Distillate
Our premium delta-9 THC distillate is derived from 100% non-GMO USA-grown organic hemp flower from licensed farms in the best states for hemp cultivation including Washington, Colorado, and Oregon.
Our network of American hemp farmers cultivates high-quality hemp flower strains that provide our extractors with the best biomass for producing premium delta-9 THC distillate from hemp.
Mr. Hemp Flower's independently-owned in-house manufacturing finalizes the process by infusing our all-natural gummy recipe with our domestically sourced and expert-crafted delta-9 THC.
Your order of delta-9 THC gummies comes with independently verified third-party labs to ensure the accuracy, transparency, and quality of our product.
We're so confident that you'll love our delta-9 gummies that we even offer a money-back satisfaction guarantee, not only on our gummies but also on all of our products.
Best Uses for Delta-9 THC Gummies
Mr. Hemp Flower's high-potency 25mg delta-9 THC gummies are generally reserved for nighttime and evening purposes, and for the moments when you need extra strength relief.
Most people typically report taking delta-9 THC for sleep, stress, and pain, however, many people simply enjoy the relaxing, mood-boosting, psychoactive properties of delta-9 that make them amazing for enhancing experiences.
Buy 25mg Delta-9 THC Gummies Online
You can order 25mg delta-9 THC gummies online right here from Mr. Hemp Flower. We ship delta-9 gummies to all 50 US states and provide dedicated tracking for your order.
Mr. Hemp Flower is the leading online hemp retailer accepting all major credit cards and payment forms including cryptocurrency coins like Bitcoin and most other cryptocurrencies.
Enjoy shopping online safely and securely with our safe checkout system featuring end-to-end and wallet-to-wallet encrypted transfers.
Discover why more people choose Mr. Hemp Flower and start enjoying the benefits of hemp flower today!