Welcome to the official review of Harlequin CBD hemp flower by Mr. Hemp Flower where you'll get everything you need to know about this strain.
This review is designed to give you an in-depth look at Harlequin's properties and effects to help you with your strain shopping decisions.
We'll first provide a general overview of Harlequin CBD hemp flower's characteristics and effects. Then, we'll unpack the strain's profile in every way, including genetics, terpenes, and phytocannabinoids.
At the end of our review, we'll discuss Harlequin's best effects and uses, answer some common questions, and give you our take on this hemp strain
Harlequin Hemp Flower
Harlequin CBD hemp flower exhibits a beautiful fresh aroma with floral and citrus undertones. The buds are covered in copious amounts of dark red hairs covering thick forest green calyxes.
It's immediately evident upon toking this strain that it is packed with tasty terpenes. Overall, Harlequin has great bag appeal and a wonderful earthy, berry taste.
On the effects side, Harlequin CBD has been long cherished for its powerful anti-stress and pain-relieving properties. So it's no secret why pain relief, stress relief, and anxiety relief are listed as Harlequin's top three self-reported benefits.
This strain is great for those seeking physical and mental relief without feeling too relaxed, such as for social occasions or during the day
The Harlequin CBD hemp strain is a high CBD sativa-dominant hemp hybrid descended from:
Columbian Gold x
Thai + Swiss Sativa landrace strains x
Nepali Indica landrace strains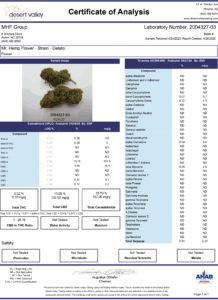 Click here to enlarge lab report 
Harlequin was high-CBD before it was cool to be high-CBD. And even though you can find seeds online, it's said that true Harlequin genetics are only available by clone.
Born from crossing landrace strains from South America, Europe, the Middle East, and the South Pacific, Harlequin is renown for its sativa dominant profile.
Harlequin Terpene Profile
Terpenes are the compounds in hemp flower responsible for its unique aromatic profiles.
Each CBD strain has a particular combination of different terpenes that comprise its overall aromatic character and experience.
There are dozens of terpenes naturally found in hemp, each with unique properties and therapeutic benefits.
Understanding a strain's terpene profile helps you to predict its potential effects and benefits.
Let's take a deep dive into Harlequin CBD hemp flower's terpene profile.
· Total Terpenes: 0.79%
· Secondary terpenes: Bisabolol, Guaiol, Linalool, Terpineol
· Primary terpenes: Myrcene, Pinene, Limonene
The Harlequin CBD strain is primarily comprised of Myrcene, Pinene, and Limonene terpenes, which provide a smooth, balanced effect between feeling relaxed and alert.
This strain also contains significant secondary terpenes including Linalool, Guaiol, Bisabolol, and Terpineol, which contribute to Harlequin's overall beneficial effect and aromatic bouquet.
Myrcene
Also found in certain varieties of Mangoes, Myrcene has a powerful, semi-sedative effect that encourages rest.
This terpene gives Harlequin hemp flower an earthy, sweet scent and synergizes with THC in the body.
Pinene
Pinene has a refreshing herbal and pine scent that gives Harlequin hemp flower a fresh, green smell.
Pinene is the most abundant terpene on the planet, the second most abundant in this strain, and provides a naturally calming, and cerebrally focusing effect.
Limonene
Limonene is commonly recognized in citrus fruits such as lemons, limes, and grapefruits and has an incredible uplifting effect on the mind.
This terpene gives Harlequin a fruity citrus essence and provides a stress-relieving optimistic boost to mood.
Secondary Terpenes
Harlequin CBD hemp flower has a robust array of secondary terpenes that help to activate the entourage effect and amplify relief.
Harlequin's secondary terpenes profile adds an herbal and flowery aroma to the overall bouquet of this strain and encourages an overall relieving anti-stress effect.
Harlequin Phytocannabinoid Profile
Phytocannabinoids are the primary active compounds in hemp flower responsible for its beneficial properties.
Understanding a strain's phytocannabinoid profile helps you to predict its potential potency and effects. Let's unpack Harlequin CBD hemp's phytocannabinoid profile.
Total CBD: 13.93%
CBG, CBC, THC: 1.26%
Total phytocannabinoids: 15.19%
This batch of Harlequin CBD flower tests at 15.19% phytocannabinoids, the majority of which is comprised of cannabidiol (CBD).
This CBD strain also contains an abundant array of diverse secondary phytocannabinoids such as CBG and CBC, as well as terpenes, which help to activate the entourage effect.
Harlequin CBD Strain Best Uses
Harlequin is best reserved for helping to manage daily stress and chronic pain related to inflammation.
A small amount during the day provides relief to keep you moving, and a larger pre-roll in the evening serves to help relax and sleep.
Harlequin doesn't typically have a particularly drowsy effect thanks to the Pinene and Limonene terpene in its profile. In fact, it's mood-boosting effects make it a perfect pairing with social events and dinner parties.

Harlequin Hemp Flower Overall Rating
Mr. Hemp Flower carries only the most premium top-shelf high-CBD strain sourced from the nation's best cultivators. You'd be hard-pressed to find a bad strain review in our catalog.
That said we don't have anything negative to say about Harlequin. She exhibits everything we like to see in hemp. Furthermore, her record among medical users speaks for itself.
Harlequin CBD hemp flower gets a 5 out of 5 from Mr. Hemp Flower!
Harlequin Review Highlights
Sweet Harlequin Dreams
I just tried the Harlequin CBD flower (smoke and chew). I've been having a terrible time with pain and muscle cramping and insomnia. This herb had my body relaxed, relieved the pain and let me drift off. Impressive.
Not just for Suicide Squad!
Have used the past 2 nights, it's no e to feel the "head effects" fairly early. I use this right before bed and it definitely helps mellow me out preparing me for a good night's rest. A nice rich, thick, white cloud of smoke with a pleasant taste.
Harlequin Strain Review – Shop Hemp Flower
Thanks for reading the official Harlequin CBD strain review by Mr. Hemp Flower. We hope this helps you find the right strain that best fits your needs.
Shop our selection of Harlequin CBD flower options and enjoy deep discounts on pre-roll bundles for a limited time by clicking here.
If you've found this content helpful, then be sure to share it with others you think may benefit from hemp flower too.
Browse Our Hemp Flower Catalogue
Thanks for reading Mr. Hemp Flower's Harlequin Strain Review! Be sure to share it with others that you think will find it helpful.
Click the links below to browse our extensive inventory of the freshest strains available from the nation's top hemp cultivators out of Oregon, California, and more.
Is It Legal To Use Hemp Flower?  
Is it legal to use CBD hemp flower? CBD Hemp is legal in the USA and not considered an illicit or controlled substance, and is federally regulated as an agricultural product. This is primarily because CBD-rich hemp flower only contains trace amounts of THC content, which is what separates hemp from cannabis by legal definitions.   
While hemp flower is considered legal in all USA states, laws may vary from state to state or region to region within the USA. Always check that you comply with local and state laws regarding hemp flower.    
Browse Our Hemp Flower Catalogue 
FAQs About Harlequin
Will Harlequin hemp flower get you high?
Harlequin hemp flower won't get you high because it only contains trace amounts of the psychoactive compound THC. However, phytocannabinoids in hemp are reported to have semi-euphoric, effects for some.
Is it legal to smoke CBD hemp flower?
CBD and hemp are legal at the federal level in the United States. Always consult your local state and county policies on hemp and act in accordance.