This is the official strain review for Strawberry Jam CBD Hemp Flower. It's designed to help you decide whether or not this is the right strain for you.
You'll get accurate details on everything you need to know about the Strawberry Jam CBD strain. First, we'll give an overview of the strain's characteristics and effects. Think of it as opening the jar to look and smell.
Then, we'll zoom in on this strain's chemical profile and discuss terpenes and phytocannabinoids. Stick around until the end where we'll give you our overall rating, as well as the best-recommended uses for Strawberry Jam CBD hemp flower.
Strawberry Jam CBD Hemp Flower
Bluish-purple tented buds featuring a frosty coating of trichomes on a bed of dark green flower. It might not look like a strawberry, but it's certainly got the jam.
Strawberry Jam CBD flower is a potent and well-balanced hemp hybrid with a wonderfully sweet and berry-tart flavor.
This strain is a great choice for anyone dealing with issues related to mental stress, chronic pain, sleeplessness, and lack of appetite.
Strawberry Jam features a unique combination of terpenes, and with nearly 20% potency this strain qualifies as a heavy hitter when it comes to hemp flower.
Read on to deep dive into Strawberry Jam CBD flower and stay until the end for our best-recommended uses and overall rating.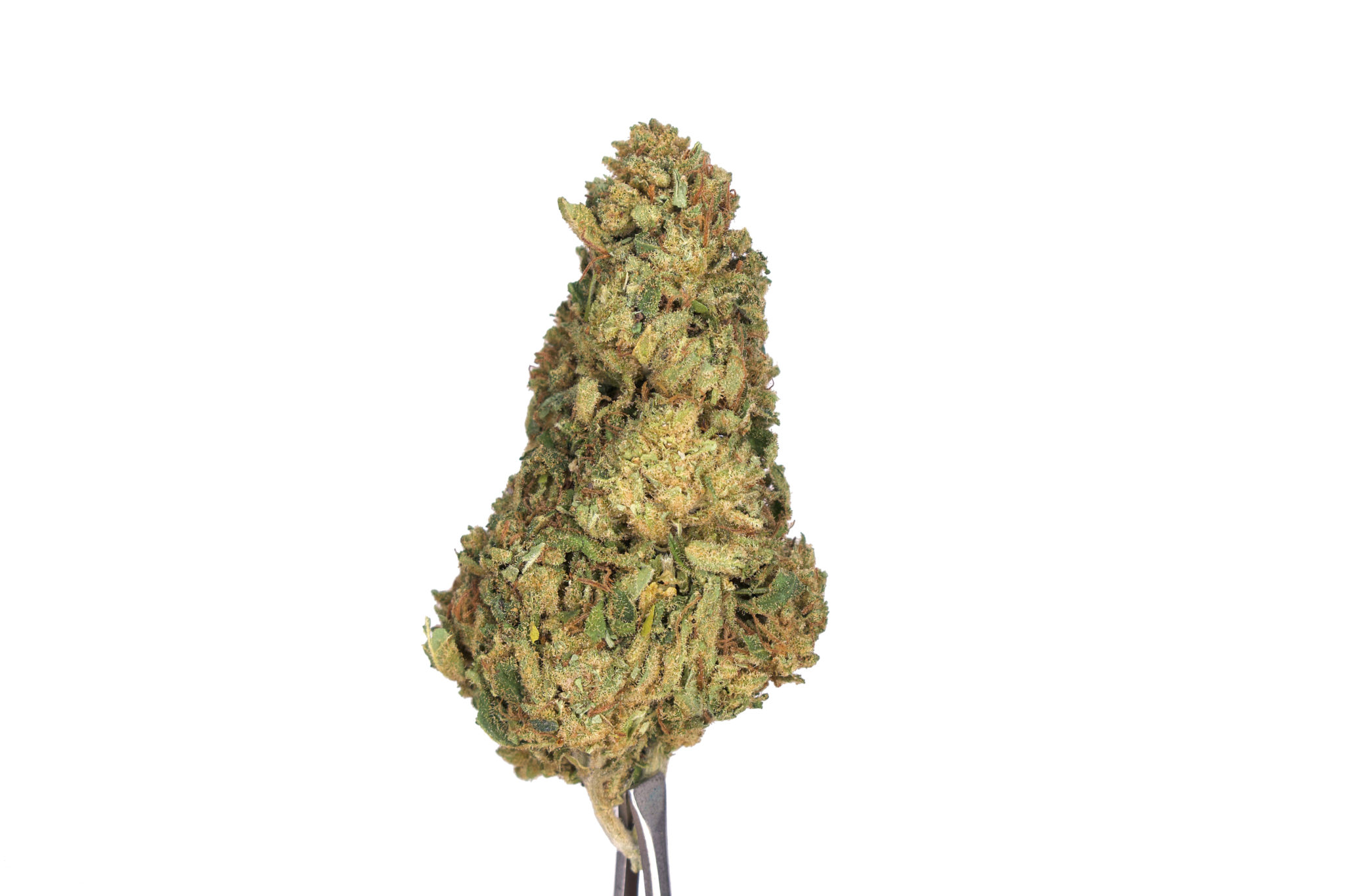 Strawberry Jam Genetics
Jamaican landrace strain x
Bubble Berry x
Mexican Ruderalis
Strawberry Jam expresses a significant amount of its indica-derived features, but its effects are more sativa in nature due to its overall profile.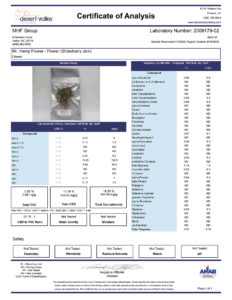 Click here to enlarge lab report 
Crossing a Jamaican landrace strain (think Bob Marley's favorite, Lamb's Bread) with an indica like Bubble Berry produces a wonderful hybrid packed with flavor and potency.
Breeders crossed this blessed hybrid with Mexican Ruderalis hemp genetics to create a tasty and potent strain that flowers no matter what time of year it is.
Strawberry Jam Terpene Profile
Terpenes give hemp flower its particular smells and scents. There are dozens naturally occurring in hemp, each with individual therapeutic properties.
Understanding a strain's unique expression of terpenes helps to predict its potential benefits and effects. Terpenes play a crucial roll in guiding the effect of phytocannabinoids and significantly contribute to the overall effect of hemp flower.
Let's take a look at the Strawberry Jam hemp flower's terpene profile.
· Total terpenes: 0.51%
· Secondary terpenes: Guaiol, Linalool, Pinene, 3-Carene
· Primary terpenes: Myrcene, Caryophyllene, Bisabolol
Myrcene
Myrcene gives Strawberry Jam hemp flower most of its berry essence and is responsible for promoting relaxation and comfort.
Caryophyllene
Caryophyllene exerts a powerful anti-inflammatory effect and leaves a peppery sensation on the mouth and nose.
Bisabolol
Commonly found in chamomile, Bisabolol has a sweet herbal, and floral aroma. It gives Strawberry Jam hemp it's flowery feel and provides anti-stress effects improving mood.
3-Carene
Strawberry Jam CBD flower contains a rare terpene called, Delta-3 Carene, which has a sweet, pungent scent highlighted by herbal, woodsy, citrus, and pine notes.
It's largely responsible for the dehydrating effect of certain herbs on the mouth and eyes and is commonly found in specific varieties of conifer trees.
3-Carene has systemic anti-inflammatory properties, and limited research suggests that it may also promote bone health.
Strawberry Jam Hemp Phytocannabinoid Profile
Phytocannabinoids, such as CBD, are the naturally occurring active compounds responsible for hemp flower's primary beneficial properties.
Analyzing a strain's phytocannabinoid profile allows you to predict its potential potency and overall effect. And although CBD is the primary phytocannabinoid, dozens of other "minor" phytocannabinoids contribute to the overall effect of hemp flower.
Let's unpack the phytocannabinoid profile of Strawberry Jam CBD Hemp Flower.
· Total CBD: 17.19%
· CBG, CBC, THC: 1.32%
· Total phytocannabinoids: 18.51%
This inventory of Strawberry Jam hemp flower tests at a total of 17.19% CBD content with an additional 1.32% secondary phytocannabinoid content.
Cannabigerol (CBG), Cannabichromene (CBC), and Delta-9 THC all contribute to activating the critical healing mechanism known as the entourage effect.
Keep reading to learn more about the beneficial properties and best-recommended uses for Strawberry Jam CBD hemp flower.
Be sure to read until the end to get Mr. Hemp Flower's special offer on Strawberry Jam pre-roll bundles!
Strawberry Jam Best Uses
Strawberry Jam CBD hemp flower is best recommended for those seeking potent relief from mental stress and chronic pain related to inflammation.
It's profile boosts mood, relaxes the muscles and nerves, and provides deep relief while encouraging a strong urge to rest.
This strain is also a great pick for those with headaches and migraines, or for those who have trouble generating adequate appetite.

Overall Rating
Overall, we adore Strawberry Jam. It's got great bag appeal with its blue and purple-tinted calyxes and tastes just sweet and tart like strawberry jam.
The only aspect we have to note is that this strain is known to cause dry mouth and sometimes dry eyes. A glass of water and eye drops can help with that.
And while it's not generally an issue for most, it's good to be aware of this dehydrating effect. Ultimately, we're gifting Strawberry Jam a 4.5 out of 5. We love it!
Shop Strawberry Jam Hemp Flower
Thanks for reading the official review of the Strawberry Jam CBD hemp flower strain. We hope this helps you decide if this is the right strain fit for your circumstances.
Click here to shop our selection of Strawberry Jam Hemp Flower options and check out our special offers on pre-roll bundles.
Didn't find what you were looking for? Click here to browse our extensive catalog of strain reviews to find the right strain fit for your circumstances.
If you've found this strain review helpful, please share it with others that you think might also benefit from hemp flower in their life.
Browse Our Hemp Flower Catalogue
Thanks for reading Mr. Hemp Flower's Strawberry Jam Strain Review! Be sure to share it with others that you think will find it helpful.
Click the links below to browse our extensive inventory of the freshest strains available from the nation's top hemp cultivators out of Oregon, California, and more.
Is It Legal To Use Hemp Flower?  
Is it legal to use CBD hemp flower? CBD Hemp is legal in the USA and not considered an illicit or controlled substance, and is federally regulated as an agricultural product. This is primarily because CBD-rich hemp flower only contains trace amounts of THC content, which is what separates hemp from cannabis by legal definitions.   
While hemp flower is considered legal in all USA states, laws may vary from state to state or region to region within the USA. Always check that you comply with local and state laws regarding hemp flower.    
Browse Our Hemp Flower Catalogue 
FAQs About Strawberry Jam
Will Strawberry Jam get you high?
Strawberry has a naturally calming effect that, for some, can be semi-euphoric and deeply comforting. But hemp flower, in general, won't get you high because it doesn't contain enough THC.