Idaho legislators and hemp activists are fighting to legalize hemp in the Gem State. But, the state seems to oppose changing the current law and allowing Idaho farmers to thrive from hemp as a legal crop.
Idaho is one of the few states that doesn't allow growing hemp that contains any percentage of THC. Products such as hemp protein powder, hemp seeds, hemp oil, hemp clothing, plastics, and paper with zero THC have been legally sold in the state for years. 
So, can you buy hemp flower in Idaho? Is CBD legal in this state? Let's take a look at the hemp flower Idaho state laws. 
Is Hemp Flower Legal in Idaho?
Hemp is no longer considered a controlled substance under the 2018 Farm Bill. The bill legalized hemp and allowed states to pass laws around hemp and CBD. 
Some states started to put out rules and regulations, making this legal crop available for commercial cultivation. Others still apply old laws that don't differentiate hemp as a legal crop to marijuana. Idaho is one of the few. 
The current Idaho law doesn't differentiate between hemp as a federally legal crop with 0.3% THC and marijuana⁠—the drug. Under state law, if a substance contains any amount of THC, it is considered a controlled substance. 
According to Selected Advisory Letters of The Attorney General issued February 2015, "hemp plants" are considered marijuana because they are plants of the genus Cannabis regardless of the species. [1]
Regardless, red states won't be able to keep this status for long. Hemp is a legal crop, and once the federal government promulgates rules (expected in fall 2019), Idaho farmers will be able to grow hemp under those federal rules without a state plan.
Where to Buy Hemp Flower in Idaho?
It is unlikely to find hemp flower for sale in Idaho because of the state's restrictive laws. Hemp is legal to mail, so many people decide to order their hemp flower online.
Experienced Growers
Hemp crops require experience and expertise to succeed. The plant requires just a fair amount of water because water overload can stress the plant and cause an increase of THC over the legal amount. If the hemp flower you are buying has not been grown by experienced farmers, it is likely to flop or will be of low quality. 
High-Quality Hemp Flower
High-quality CBD flowers have a striking green and purple color and are covered in trichomes. For comparison, low-quality hemp flower is brown or yellow, covered in seeds rather than trichomes. 
Organically-Grown Hemp Flower
Hemp flower is a great natural alternative to consuming CBD compared to other processed CBD products. That's why it is important to always look for organically-grown hemp flower. MrHempFlower offers non-GMO and pesticide-free hemp flower. Our hemp flower is grown in clean soil, contains high levels of CBD and a rich terpene profile. 
Avoid Carrying Hemp Flower in Public 
Although the 2018 Farm Bill legalized hemp, states are still in the process of legalizing hemp and issuing licenses. Hemp flower resembles marijuana, so it is for the best to avoid taking your hemp flower with you in public. Smoking hemp flower in your car or in any public area should be avoided regardless of the state. 
Idaho Hemp Flower for Sale
MrHempFlower offers high-quality CBD flower grown by experienced farmers in Oregon, Washington State, and Colorado.
All of our hemp flower batches are tested by an independent, third-party lab and contains less than 0.3% THC. Expect a quick delivery within 3-5 days. Together with lab analysis, we include notice to law enforcement in each package.
Check out our best CBD flower with over 16% CBDa:
Some Hemp Products Are Legal in Idaho
Idaho was close to legalizing hemp in April 2019, when the Senate voted in favor of a proposed bill to legalize the growing and selling of hemp with 0.3% THC or less. However, the bill was killed by an agricultural committee. A recent bill that has been killed by the House was HB 300 that would have added to existing law to provide for interstate transport of hemp. [2]
However, some hemp products are legally sold in the state, even though hemp has not been classified as a legal plant in the state. Hemp extracts, oils, and derivatives that do not contain any THC and are excluded from Idaho's legal definition of marijuana can be sold legally. 
Under the Idaho law, marijuana is"all parts of the plant of the genus Cannabis, regardless of species, and whether growing or not; the seeds thereof, the resin extracted from any part of such plant; and every compound, manufacture, salt, derivative, mixture, or preparation of such plant, its seeds or resin." [1]
So, to not be labelled as "marijuana" under the Idaho law, hemp products must be derived from the mature stalks, fiber from the stalks, oil or cake made from the seeds or achene of the plant, or any other compound, manufacture, salt, derivative, mixture or preparation of the mature stalks or the sterilized seed of the plant which is incapable of germination. [1]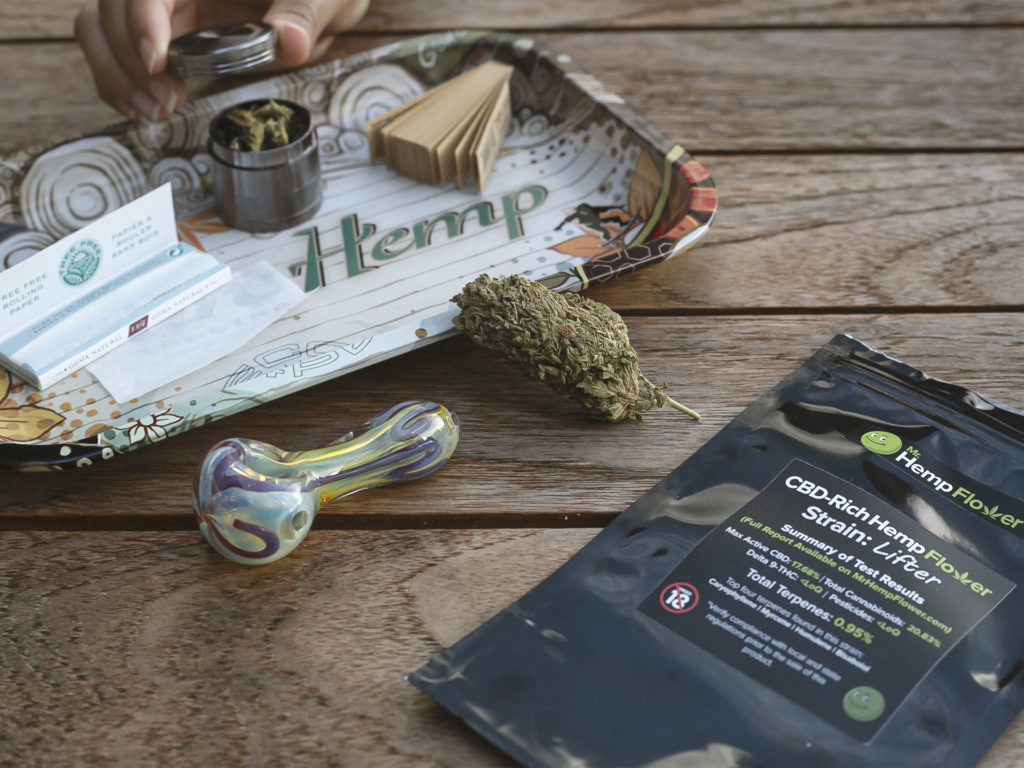 Can You Buy CBD in Idaho?
Although hemp is legal in all 50 states, Idaho has yet to regulate the use of hemp and hemp-derived products. According to Idaho law, hemp products containing THC are not allowed to be sold in the state. 
So, is CBD isolate with 0% THC legal in Idaho? Yes, only if it is excluded from the definition of marijuana. So, even if a product contains less than 0.3% THC, it is not legal to buy in Idaho. 
FAQ on Hemp Flower Idaho State Laws