This Hawaiian Haze strain review covers the strain's aromatic and flavor profile, genetics, general information, and best uses.  
You'll learn about the strain's phytocannabinoid and terpene levels and characteristics, as well as get answers to the most frequently asked questions about Hawaiian Haze hemp flower. Let's start the Hawaiian Haze review. 
Last update: June 6, 2023
Article Summary:
Hawaiian Haze is a sativa-dominant hemp flower hybrid rich in cannabidiol (CBD) with a strong tropical fruity aroma and flavors of pineapple, berry, and basil. 

The strain boasts a dense flower structure with bright green calyxes and furry orange hairs. 

It comes from a mysterious genetic lineage and is often confused with its marijuana counterpart with the same name.
Hawaiian Haze has a potent terpene profile that includes myrcene, pinene, and caryophyllene, each providing unique therapeutic benefits.
This strain consistently tests between 18%-20% CBD content and 2%-3% secondary phytocannabinoids.
It's considered the ideal daytime, or "pick me up" strain. Hawaiian Haze may hemp clear the mind, uplift, and motivate you.
Users love Hawaiian Haze for muscle, joint, and inflammation related issues.
We rate this strain 5/5 due to its high CBD content, effectiveness, aroma and flavors.
Hawaiian Haze Review
Hawaiian Haze is a sativa dominant hemp hybrid rich in cannabidiol. Its flowers exert a powerful aromatic presence of tropical fruitiness and subtle undertones of green-earthiness.
When lit, it gives a smooth, thick smoke packed with pineapple, berry, and basil-esque flavors that linger on the taste buds.
The cured flowers are typically light and fluffy, which is normal for sativa-dominant strains. However, Hawaiian Haze is recognized as one of the denser strains in this category.
Its flowers are a beautiful mix of bright green calyxes and furry orange hairs extruding from a well-structured bud.
Generally speaking, this strain is reserved for daytime active focus and extroverted occasions. Its powerful effects help get the mind into a positive yet calm space for problem-solving, collaboration, or just to take the edge off things.
Genetics
The genetic lineage of Hawaiian Haze is a bit of a mystery, but the rumor is that it was first created using mineral-rich volcanic soil in the Aloha state, Hawaii.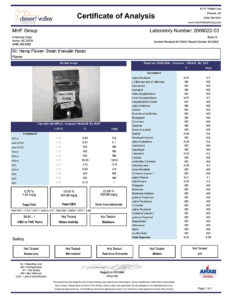 Click here to enlarge lab report 
Hawaiian Haze hemp flower is often confused with its cannabis counterpart of the same name. The primary difference between the two is that the hemp strain version has been bred to produce significantly higher amounts of CBD compared to THC.
In the next sections, we'll unpack Hawaiian Haze hemp flower's chemical profile and then dive into the most common FAQs on Hawaiian Haze.
Terpene Profile
Terpenes are aromatic chemicals found naturally in plants such as Hemp and have unique therapeutic benefits that synergize with other plant compounds such as phytocannabinoids like CBD [1].
Our Hawaiian Haze hemp strain consistently tests with an incredibly potent terpene profile that includes,
· Myrcene 2.2 mg/g
· Pinene 1.1 mg/g
· Caryophyllene .7 mg/g
Myrcene
Myrcene, also known as the couch lock terpene, is known to provide sedative-like naturally calming effects. This terpene is
also the most abundant terpene found among both hemp and cannabis cultivars and has a musky, ripe, and fruity aroma.
Pinene
Pinene is easily recognized in the smell of a fresh forest, in pine tree needles and cones, tree sap, and types of herbs like mint or oregano.
Its effect is invigorating and is known to help open airways, increase mental clarity, and encourages a sense of calmness and concentration.
Caryophyllene
Most commonly associated with black peppercorn, caryophyllene is a common terpene in hemp strains. Caryophyllene is a known anti-inflammatory agent, and like most other terpenes, it is considered to have antimicrobial properties.
Caryophyllene in Hawaiian Haze hemp flower gives a touch of peppery spice taste and synergizes with other terpenes and phytocannabinoids to help activate a synergistic amplification of benefits known as the entourage effect.
Phytocannabinoid Profile- Hawaiian Haze Review
Hawaiian Haze's incredible terpene profile is full of flavor and taste that is unmatchable, but it is still shadowed by its immense phytocannabinoid content.
Ranging among the strains with higher CBD levels, our supply of Hawaiian Haze hemp flower consistently tests between
18%-20% CBD content and contains 2%-3% secondary phytocannabinoids.
Our freshest batch of this strain comes in at 18.45% cannabidiol content and boasts a 27:1 ratio of CBD to THC/THC-A content. In the next section, you learn more about the legal status and psychoactive potential of phytocannabinoids and more.
Best Uses for Hawaiian Haze
This strain is best used to address muscle, joint, and inflammation-related issues that prevent you from staying active and productive during the day.
It can also help clear the mind and make way for new, optimistic thought patterns while providing some motivation and inspiration to the body to help knock out feelings of depressiveness and lethargy.
Hawaiian Haze is considered a daytime strain. Its activating effect can bring life to your conversations and activities later in the day too as things begin to wind down.
Overall Rating- 5/5
We keep a fresh catalog of the best hemp flower strains cultivated by top-vetted US growers. For us, Hawaiian Haze blasts off the charts in terms of flavor, aroma, and bag appeal.
These buds look and smell amazing! Since it has consistently high CBD scores along with an amazingly effective terpene profile, we're going to give this one a big fat five for five:
· Quality flower and calyx structure
· Aroma and flavors are off the charts tasty
· Consistently tests high in CBD content
· A perfect "pick me up" strain
· Powerfully effective and aesthetically pleasing
Hawaiian Haze Review Highlights
Blissfully at Ease
This was my first strain I tried from Mr. Hemp Flower, and was very happy with the results and quality! Smooth to smoke and leaves you feeling blissfully at ease mentally and physically. If you are pondering this purchase you will not be disappointed!
Mr. HempFlower's Hawaiian Haze Options
Get everything you need and nothing you don't with Mr. HempFlower's extensive options.
Don't want to be bothered with rolling joints or blunts? Check out our pre-rolls, available individually or in bundled packs for massive savings.
We also offer every amount of Hawaiian Haze from grams to pounds and everything in between including Hawaiian Haze ounces and even wholesale options for resale.
Browse Our Hemp Flower Catalogue
Thanks for reading Mr. HempFlower's Hawaiian Haze CBD hemp flower strain review! Be sure to share it with others that you think will find it helpful.
Click the links below to browse our extensive inventory of the freshest strains available from the nation's top hemp cultivators out of Oregon, California, and more.
Is It Legal To Use Hemp Flower?  
Is it legal to use CBD hemp flower? CBD Hemp is legal in the USA and not considered an illicit or controlled substance, and is federally regulated as an agricultural product. This is primarily because CBD-rich hemp flower only contains trace amounts of THC content, which is what separates hemp from cannabis by legal definitions.   
While hemp flower is considered legal in all USA states, laws may vary from state to state or region to region within the USA. Always check that you comply with local and state laws regarding hemp flower.    
Browse Our Hemp Flower Catalogue 
FAQs About Hawaiian Haze
Is it legal to use CBD hemp flower?
CBD-rich Hemp is defined as legal in the USA and is regulated as an agricultural product. CBD and Hemp are not defined as illicit or controlled substances and are federally legal in all 50 states.
As long as hemp flower contains less than .3% THC content than it is legally defined as hemp and not marijuana. All of Mr. HempFlower's strains are compliant with this regulation and can be legally shipped to all 50 states in the USA.
While the vast majority of states do not outlaw CBD or hemp flower, the legal landscape is always changing. Check with your local and state authorities and be sure to always comply with regulations.
Will Hawaiian Haze get you high?
Hawaiian Haze hemp flower will not make you feel high or stoned because it contains only trace amounts of THC. THC is the primary psychoactive component in marijuana, and our strain only contains .2% Delta-9 THC.
However, many people who take CBD report powerful sensations of calm euphoria, deep body relaxation, and a strong urge to rest.
Debatably, in some sense, this could be considered a psychoactive response, however, CBD is unable to evoke similar effects induced by THC in marijuana such as impairments to motor coordination, vision, memory recall, and mental functioning.
Is Hawaiian Haze a daytime or nighttime smoke?
Hawaiian Haze hemp flower is typically considered a daytime strain.
Its terpene profile evokes a calm yet active and focused mentality, and its high CBD content is a powerful way to combat muscle pain, mental stress, and smooth over bad moods that keep you from living your best life.
Hawaiian Haze is also good for evening and nighttime social occasions where you could use a little inspiration to keep you engaged in conversation and present in thought.
How much CBD is in our Hawaiian Haze?
Mr. HempFlower's Hawaiian Haze tests at 18.45% cannabidiol content. Our supply for this strain is grown in Oregon and typically ranges from 18%-20% CBD content.
Since hemp is a natural agricultural product, slight variances in the chemical expression are to be expected.