Have you heard about the latest trend permeating the cannabis industry? Delta-8 THC is the new cannabinoid on the block, legal thanks to a loophole. You've probably encountered D-8 THC products at local CBD shops in Wisconsin and want to know their legal status. 
Do you live in Wisconsin and want some Delta-8 shipped to your door? 
Is It Legal: Wisconsin Delta-8 Laws 
The short and simple answer is: YES! Hemp-derived Delta-8 is LEGAL in Wisconsin.
What Is Delta-8? 
Delta-8 tetrahydrocannabinol is a minor hemp cannabinoid naturally produced by the hemp plant. This chemical compound is very similar to Delta-9 THC and is known to produce a milder intoxication. Also, this compound is known to exhibit less intense side effects compared to D-9 THC. 
According to research, this molecule offers a range of benefits and acts as a neuroprotector. D-8 THC helps with nausea, anxiety, stimulates appetite, and relieves pain. The feelings caused by D-8 is mild and energetic because it's twice less potent than its cousin Delta-9 THC. Users describe D-8 as clear-headed, productive, without the typical anxiety and paranoia caused by traditional THC. 
Where to Buy Delta-8 in Wisconsin
Although you can find D-8 THC at local shops in Wisconsin, the safest route to picking top-shelf products is to buy online. If you've seen cheap D-8 offered at unlicensed outlets like convenience stores and gas stations, avoid buying it. 
The D-8 THC market is largely unregulated. Unless the vendor can show you detailed labs about what's in the product you're buying, you should probably stay away from that brand. 
What makes Mr. Hemp Flower different are our tested, safe, quality hemp cannabinoid products — including D-8 THC. The connection that we have with our customers is built on trust and transparency developed throughout the years.
We offer a carefully screened line of Delta-8 THC products, including our best sellers Delta-8 Gummies, Shatter Concentrate, Soft Gel Capsules, and Hemp Flower. On each product page, you'll find labs that show the levels of cannabinoids in the product. 
Our team collaborates with licensed hemp farmers and licensed third-party labs to maintain high-quality standards. We've been in the game since 2016 and place our focus on developing whole-plant hemp cannabinoid products. If you're looking for a trusted supplier that offers beneficial cannabinoid products, Mr. Hemp Flower's are a must-try.
Continued, Is Delta-8 Legal in Wisconsin? 
YES, hemp-derived Delta-8 THC is LEGAL in Wisconsin.
Unlike other states, Wisconsin hasn't explicitly banned the distribution and sale of Delta-8 THC. After the Hemp Farming Act, the state legalized hemp and its derivatives, extracts, cannabinoids, isomers, acids, salts, and salts of isomers with a Delta-9 THC concentration of not more than 0.3%. 
Aside from an update to its hemp laws to match federal legislation, Wisconsin also revised its Controlled Substances Act. The Badger State included a specific exemption for tetrahydrocannabinols derived from hemp to the Act. This means that, for now, D-8 THC is not a controlled substance in Wisconsin. 
The law doesn't define possession limits or age restrictions for hemp cannabidiol (CBD) products. But, many retailers have been selling Delta-8 THC only to people over 21. 
Delta-8 THC and Federal Law 
Manufacturers continue to offer Delta-8 THC products regardless of the legal woes. The legal confusion stems from the chemical conversion of hemp-derived cannabidiol (CBD) into D-8 THC. 
The hemp plant contains insufficient amounts of D-8 THC, which makes it challenging for extractors to obtain the compound using organic extraction. So, as a replacement, they convert hemp-derived cannabidiol (CBD) into D-8 using isomerization. 
In August 2020, the Drug Enforcement Administration (DEA) released its Interim Final Rule regarding the implementation of the Hemp Farming Act. In the Rule, the agency states that "all synthetically derived tetrahydrocannabinols remain schedule I controlled substances."
Historically, the DEA has been employing hostile behavior towards cannabis. So this statement made it a very real possibility that the DEA would treat Delta-8 THC chemically created from hemp CBD, a synthetic cannabinoid and an illegal Schedule I controlled substance. 
The statement made in the Rule opened a heated debate whether D-8 made from CBD is a "synthetic" cannabinoid. Most experts agree that because D-8 is made from naturally extracted hemp-CBD doesn't fall under the category of "synthetic." Synthetic THCs like Spice and K2 are made from non-organic sources and cause intense, dangerous effects.  
Nonetheless, until the feds address the uncertainties around D-8 THC or explicitly define the term "synthetic," the legality of this cannabinoid remains in limbo.
Bottom line
Delta-8 THC is legal to buy in Wisconsin. The Badger State hasn't explicitly banned the manufacture, distribution, and sale of D-8 products. Residents of Wisconsin can order a wide range of D-8 items online and have them delivered to the safety of their homes.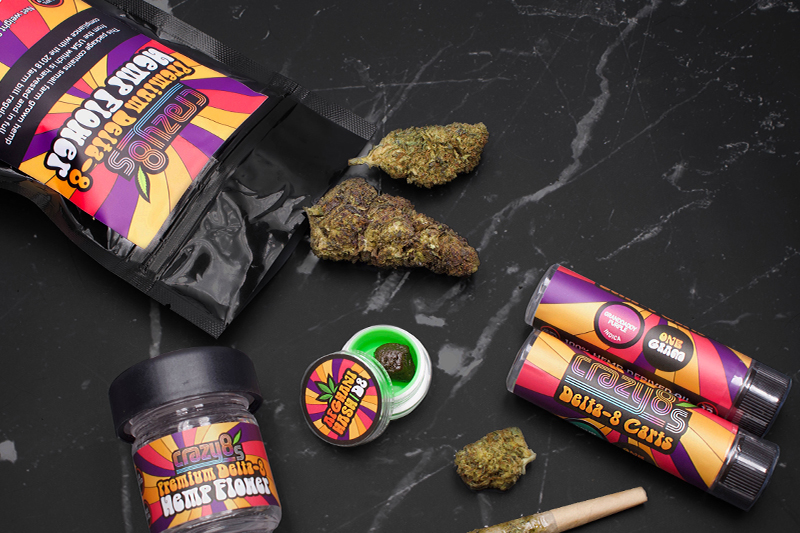 Be Sure to Check Out: 
FAQ's
Read our legal disclaimer HERE. While we try to stay as up-to-date as possible on all state laws, you should do your own due diligence and work with a legal professional to ensure you are operating legally in your state or territory at all times.