The fresh smell of smokable hemp flower that makes you feel like you are in a forest comes from Ocimene. Ocimene is a monoterpene that gives the hemp plant its woody smell and an almost floral sweetness.
What is Ocimene, and what are its benefits?
An Overview of Cannabis Terpenes
Hemp contains more than 100 terpenes that are known to carry a range of health benefits. Terpenes are aromatic compounds that give the plant its complex aroma and therapeutic effects. Cannabinoids such as CBD and THC work together with terpenes to produce a more potent healing effect, known as the "entourage effect." 
What is Ocimene?
Ocimene is an acyclic monoterpene found in the essential oil of basil. This terpene has a warm-herbaceous, citrus, woody odor with relatively low tenacity. Ocimene is recommended for use in the perfume industry for its sweet and floral aromatic profile. This terpene contributes significantly to the floral odor of various plant species, including the scent of orchid and snapdragon flowers. Ocimene is also a pheromone involved in social regulation in the honey bee colony. [1] 
This compound comes in three different forms, α-Ocimene, cis-β-Ocimene, and trans-β-ocimene naturally found as mixtures.  
Hemp Strains Containing Ocimene
We test all of our hemp flower strains, so here are our best hemp flower strains that contain Ocimene:  
Natural Sources of Ocimene
You can find Ocimene in these natural sources: [2]
Lavender

Basil

Orchid flower
How Does it Work?
Ocimene has shown to work great when combined with other terpenes, including alpha-pinene and myrcene. The synergy between ocimene and other terpenes is known as the entourage effect. In hemp, terpenes and other compounds such as cannabinoids, work together to produce more potent effects. 
Ocimene is known for its antifungal, antiviral, and anti-inflammatory effects, but this terpene works best if combined with other compounds. This is also the reason why many people go for whole-plant hemp extract compared to isolate. Smokable hemp flower is rich in CBD and different terpenes, giving a natural alternative to processed whole-plant extract. 
The terpene is also believed to act as a protective agent of a plant's defensive mechanisms against harmful elements. Ocimene may chase aphids away from plants, which may explain why mosquitoes don't come near flowers that contain citrus oils. [3]
Uses and Benefits 
Researchers are exploring the potential medical benefits of hemp terpenes, including ocimene. Although further research is needed, so far, ocimene has shown promising antiviral, antifungal, anti-inflammatory, antibacterial, anti-oxidative, and antiseptic effects. 
Antiviral Effect
Ocimene was one of the seven essential oils analyzed in a report published in Chemistry & Biodiversity. The research focused on the effect of essential oils against SARS-CoV, a corona virus which can cause severe acute respiratory syndrome, as well as herpes simplex virus (HSV-1). The research noted that Laurus nobilis oil, which contains beta-ocimene, alpha-pinene, cineole, and beta-pinene, showed an antiviral effect against herpes simplex virus (HSV-1). [4]
Antifungal Effect
A 2015 study published in the Journal of Natural Medicines looked at the antifungal activity of the essential oil of Angelica major against Candida, and other species. The two main components of this essential oil are ocimene and alpha-pinene. The study evaluated the effects of these components against relevant yeasts and molds. The results of the study showed that ocimene, when combined with other elements, may show antifungal activities, particularly against cryptococcosis and dermatophytosis (ringworm). [5]
Anti-Inflammatory Properties
A 2013 study published in the journal Food and Chemical Toxicology looked at the antifungal, antioxidant, and anti-inflammatory activities of the essential oil Oenanthe crocata L. Ocimene is one of the main terpenes of this essential oil. Researchers noted that the essential oil containing ocimene showed strong anti-inflammatory, antifungal, and antioxidant properties, especially against dermatophytes (ringworm). [6]
Potential Anti-Oxidative Properties
A 2013 study looked into the antioxidative properties of essential oil from black pepper. Researchers revealed that ocimene is one of the main terpenes of black pepper essential oil, together with alpha and beta-pinene. The authors of the study revealed that the oil showed antioxidative properties and discovered that it could manage or prevent type-2 diabetes and hypertension. [7]
Acts as a Decongestant 
Monoterpenes such as ocimene are used in aromatherapy as a decongestant because they act as a mucous membrane tonic. Monoterpenes in aromatherapy could ease nasal and other mucous membrane discomforts.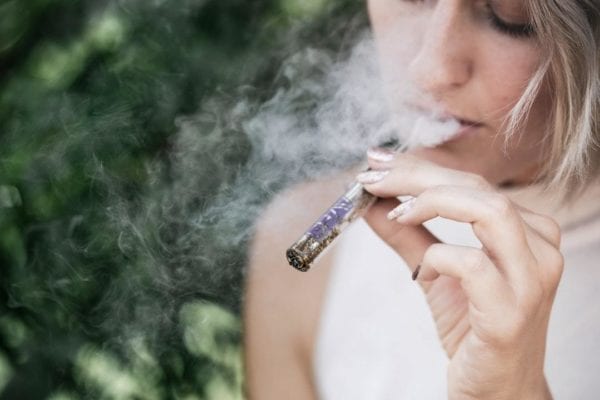 How to Consume Ocimene
One of the most common ways to consume terpenes is through aromatherapy and diffusing essential oils. Smoking or vaping CBD flower is a great way to consume all of the beneficial cannabinoids and terpenes and enjoy the benefits of the entourage effect. 
If breathed directly into the lungs, ocimene can cause coughing, which is a symptom connected to smoking cannabis. People that want to avoid coughing should avoid high ocimene hemp strains. 
Some terpenes may be safe to apply directly to the skin, but not ocimene. The terpene tends to be irritating to the skin and eyes and may cause lung damage if swallowed. [8]
List of Essential Oils High in Ocimene
Ho leaf oil

Hop oil

Bigarade oil

Bergamot oil

Lavender oil 
FAQ on Ocimene Uses and Benefits