Chronic pain affects more people than cancer, diabetes, and heart disease combined. Pain is the most common cause of long-term disability in the U. S.
For many, hemp has been proven as a safe and effective natural approach to pain relief. Here is what you need to know about hemp flower for pain relief.
Hemp Flower For Pain Relief
Why use hemp flower for pain relief?
Hemp flower is the safest and most natural alternative to alleviating chronic pain compared to traditional treatments. Even if used in higher dosage and for a long period of time, hemp is considered safe, with minor to no side-effects.
Opioid prescription medications and non-steroidal anti-inflammatory drugs (NSAIDs) are the two treatments available to millions of people living with debilitating chronic pain. But, if used long-term, there are risks of developing severe side-effects from these drugs, including addiction, heart disease, and stroke. [1]
Compared to traditional medications, hemp doesn't cause addiction (in fact, research shows that it can help a person to manage addiction), and can be effective in relieving chronic pain and inflammation.
How Hemp/CBD Relieves Different Types of Pain
Hemp compounds such as CBD, THC, and other cannabinoids affect the endocannabinoid system—which influences how we experience pain—in different ways.
Cannabidiol (CBD) is one of the most popular cannabinoids in hemp. Research shows that CBD can be effective in alleviating different types of pain, including:
Arthritis

Fibromyalgia

Migraines

Headaches

Low back pain

Irritable bowel syndrome (IBS)

Neuropathic pain

Muscle pain
CBD can mediate pain by reducing inflammation and affecting receptors and molecules in the endocannabinoid system. Studies have shown that THC and CBD can have up to twenty times more potent anti-inflammatory effects compared to NSAIDs. [2]
Another way hemp alleviates pain is through the combined power of all of its compounds. While you can take CBD separately, taking hemp flower for pain is likely to give you better results. The entourage effects is a term that describes how "whole plant" products are more effective. That is because all compounds in hemp work synergistically to increase the potency and efficiency in pain relief, compared to each compound on its own. [4]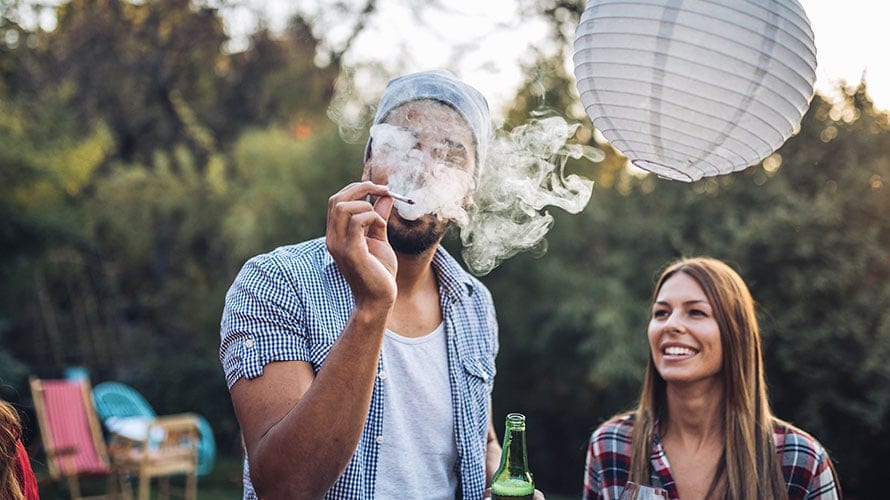 Best Hemp Flower Products for Pain Relief
How to consume hemp flower? What is the best hemp flower product to reduce pain for you? Well, you have more than a couple of options.
CBD Hemp Oil, Gummies, and Capsules
Many avoid using hemp pre-rolls, because of their bad reputation, so you can instead stick to CBD hemp oil, gummies, or capsules. For better results, look for broad spectrum or full spectrum CBD instead of CBD isolate. When taking CBD orally, you can notice that it can take a while for the product to work, but once it does, it lasts longer.
Hemp Pre-Rolls
You can buy hemp pre-rolls, which have become very popular as an affordable and easy-to-use alternative to CBD oil. Finding good hemp pre-rolls in a nearby dispensary can be hard, so you can easily use the option of ordering yours online from MrHempFlower.
Vaping Hemp Flower
You can buy fresh, organic hemp flower, dry it, create your own blunt, or vape it. Both vaping and smoking hemp flower offer the highest absorption of CBD in the blood and fastest results compared to other methods of consumptions.
Hemp Flower Essential Oil
If you are into essential oils, consider hemp essential oil made from hemp flower. Simply put it in an aromatherapy oil diffuser and enjoy its therapeutic effects.
What to Look for When Buying Hemp Flowers
Indicators such as terpene profile, levels of CBD and THC, the quality of the product, and more, should be considered when evaluating the strength and efficiency of an individual strain.
Terpene profile
Most prevalent terpenes to look for in your hemp strain are:
Also found in hops, this terpene has sedative effects that help calm the pain, and is also a great sleep aid and muscle relaxant.
B-caryophyllene
This terpene shows potent anti-inflammatory and analgesic effects that help alleviate pain. It also protects cells and the digestive tract.
Commonly present in most citrus fruits, limonene has anti-anxiety and antidepressant effects. Anxiety and worry can contribute to making the pain even worse, so to alleviate pain, it's important to calm racing thoughts.
A-pinene is anti-inflammatory and may contribute to chronic pain relief by lowering the inflammation.
High CBD Hemp Strains to Reduce Pain
The CBD levels in your hemp flower shouldn't be too low. You should try different strains, but low levels of CBD may not give you the desired pain relief. According to anecdotal evidence, the optimal CBD levels for pain relief should be around 14-16%.
Quality of Product
Pesticide-free hemp products made using quality manufacturing processes is the only way to go. MrHempFlower.com sources organic hemp from licensed USA farms that have more than 5 years of growing experience and provide 3rd party lab results of the CBD content of all hemp products.
THC Levels
Hemp contains less than 0.3% THC, which is not going to get you high, but with its presence, provide you with a lot of benefits. Research has found that CBD exhibits pain-relieving effects both when used on its own and in combination with THC.  
Legal Hemp Strains
Only strains that contain 0.3% or less THC are considered hemp and are legal under the 2018 Farm Bill. Cannabis plants that contain THC content above these legal limits are considered marijuana whose production is not allowed.
Best Hemp Flower for Pain
Looking for high CBD strains to help alleviate pain? Here are the two best strains, great for pain relief:
This is our highest in CBD strain, with sweet berry smell and beautiful pink pistils. Special Sauce is an example of a powerful terpene profile gathered in smaller, but dense flowers. This strain possesses the highest average CBD content which is why it is a top-seller.
The dense flowers of this hemp strain carry a dominant terpene profile and high levels of CBD. Lifter Plus has a sweet flavor and is a good choice for people with chronic pain and anxiety.
FAQ on Best Hemp Flower for Pain