This is the official strain review for Cherry Blossom CBD Hemp Flower. It gives you everything you need to know about the strain and more.
We'll provide a general overview of Cherry Blossom's characteristics, effects, and flavor profile. Then, we'll dive deeper into the strain's genetics, terpenes, and potency.
Read this review until the end to get our best-recommended uses and the official overall rating from Mr. Hemp Flower.
Cherry Blossom Hemp Flower
Cherry Blossom hemp flower is a high-CBD strain packed with cherry and berry flavors. It has a powerfully relaxing and mood-boosting effect.
These flowers are a very light green color and are covered in crystallized trichomes that give the buds a white-green appearance. The dense, sticky buds have quite a bit of orange hairs, but they are largely hidden under the larger calyxes.
This strain has a lovely sweet and floral aroma with cherry and berry flavors. A touch Caryophyllene gives Cherry Blossom a bit of heat on the lips and in the nose when smoked.
Cherry Blossom is a great pick for anyone who needs a high potency CBD flower combined with a terpene profile that encourages resting and relief.
It's also a good choice for hemp flower lovers looking for something with a great overall effect, flavor, and potency profile.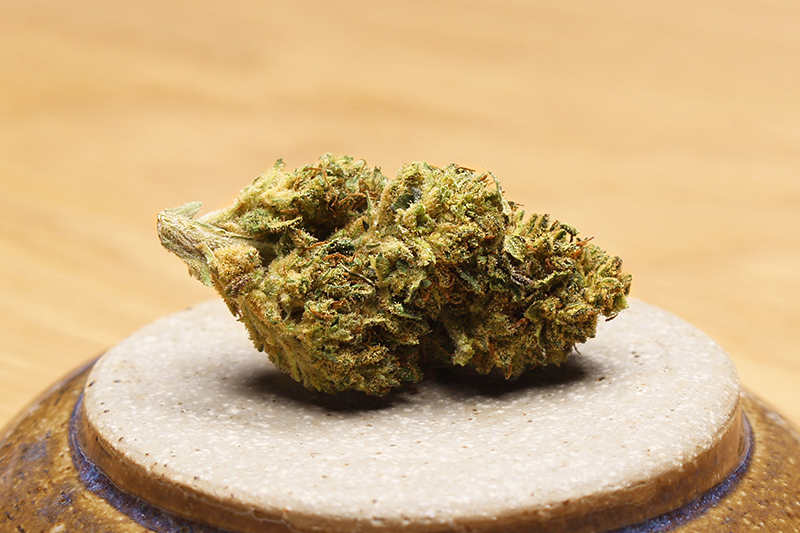 Genetics
Cherry Wine x Berry Blossom
Cherry Blossom was born in western Colorado, that's clear, but what isn't clear is the exact lineage. While Berry Blossom seems to be a common thread in most reports, the other strain isn't as well determined.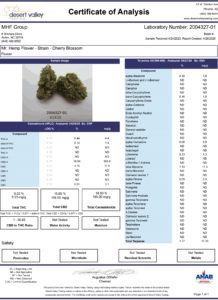 Click here to enlarge lab report 
Rumors are it could be Cherry Wine, Cherry Pie, or a mysterious strain called The Wife that was first crossed with Berry Blossom on those rugged hills in Colorado.
Either way, the resulting cultivar is a well-selected and stabilized phenotype that retains an abundance of Myrcene.
Terpene Profile
Terpenes are aromatic compounds that give hemp flower its iconic aromas and scents. In nature, plants use terpenes to signal pollinators and predators and protect themselves from the environment.
There are countless terpenes naturally produced in hemp, each with particular effects and properties. Understanding a strain's terpene profile helps you to predict its effects.
Let's take a look at Cherry Blossom's terpene profile.
Total terpenes: 17.70 mg/g
Secondary terpenes: Humulene, Limonene, Pinene
Primary terpenes: Myrcene, Bisabolol, Caryophyllene
Myrcene
Cherry Blossom has one of, if not the highest concentrations of Myrcene we've ever seen. Myrcene gives hemp flower a fruity berry-like aroma and encourages resting while boosting mood.
Known as the couch-lock terpene, Myrcene is the most common terpene expressed in hemp and cannabis.
Bisabolol
Bisabolol gives Cherry Blossom its flowery and floral essence. This terpene is cherished for its perceived skin benefits, anti-inflammatory properties, and overall effect on mood.
Caryophyllene
Caryophyllene is most commonly associated with black peppercorn and is synonymous with powerful anti-inflammatory and analgesic effects. This terpene gives Cherry Blossom a clove or spice like aroma and leaves a tingly sensation on the lips when smoked.
Phytocannabinoid Profile
Phytocannabinoids are naturally occurring compounds in the resin of hemp flower that gives it its beneficial properties and effects. There are over 120+ different phytocannabinoids found in hemp, cannabidiol (CBD) being the primary active compound in hemp.
Phytocannabinoids help support the healthy functioning of the endocannabinoid system. Let's dive into Cherry Blossom's phytocannabinoid profile.
Total phytocannabinoids: 18.50%
Total CBD: 15.65%
Total secondary phytocannabinoids: 1.85% (CBC, THC-A)
Cherry Blossom has a mid to high range potency at +15% CBD content, making it powerful enough to use for issues related to pain and inflammation.
It also contains CBC and THC-A, secondary phytocannabinoids that, along with terpenes and flavonoids, contribute to the overall synergistic mechanism known as the entourage effect.
Best Uses
Cherry Blossom hemp flower is best recommended for those seeking physical and mental relaxation, improved sleep, or relief from inflammation-related pain.
This strain's profile also exerts a mood-boosting effect that helps to reduce the effects of daily stress and mental tension.
Cherry Blossom hemp flower is perfect for pairing with desserts and wine tastings. It's sweet, berry and floral aroma highlights foods and sparks the mood at social events.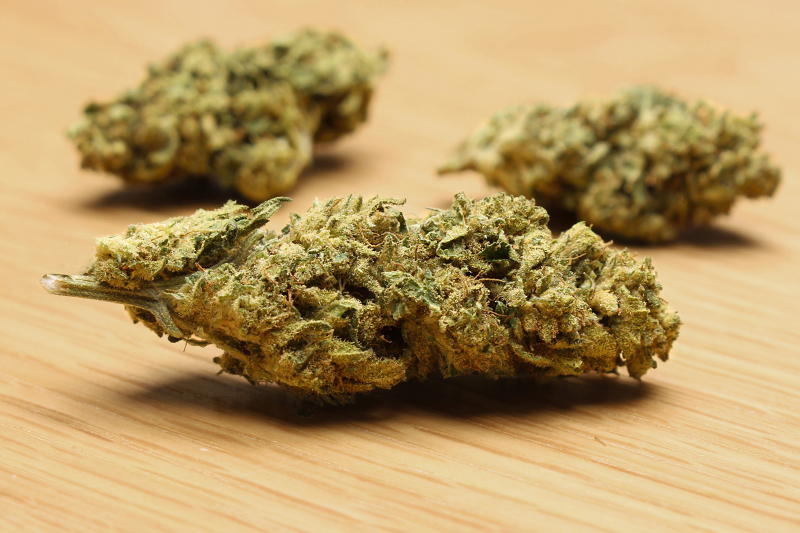 Overall Rating 5/5
Mr. Hemp Flower gives Cherry Blossom CBD Strain a 5/5 overall rating. We love that this strain's Myrcene levels are off the charts.
It's packed with CBD and contains the significant concentrations of additional phytocannabinoids and terpenes that we like to see in a high-quality top-shelf CBD hemp flower strain.
Cherry Blossom is a great pick for anyone who wants both mental and physical relief along with a pleasant, relaxing feel to their hemp flower.
Cherry Blossom Review Highlights
Cherrrry nice!!!!
One of the best for severe pain. Smooth smoke with a bubbler.
Cherry Blossom
Smooth head, smoke evening just before going to bed. Will definitely help with insomnia.
Cherry Blossom Strain Review – Shop Hemp Flower
Thanks for reading the official CBD strain review of Cherry Blossom Hemp Flower. We hope that it helps you with your strain shopping.
Click here to browse our Cherry Blossom hemp flower options.
Didn't find what you were looking for in this one?
Read our other strain reviews to find the one that is fit for your needs by clicking here.
If you've enjoyed this review please consider sharing it with friends that you think could benefit from having some hemp flower in their lives. Thanks for reading!
Browse Our Hemp Flower Catalogue
Thanks for reading Mr. Hemp Flower's Cherry Blossom Strain Review! Be sure to share it with others that you think will find it helpful.
Click the links below to browse our extensive inventory of the freshest strains available from the nation's top hemp cultivators out of Oregon, California, and more.
Is It Legal To Use Hemp Flower?  
Is it legal to use CBD hemp flower? CBD Hemp is legal in the USA and not considered an illicit or controlled substance, and is federally regulated as an agricultural product. This is primarily because CBD-rich hemp flower only contains trace amounts of THC content, which is what separates hemp from cannabis by legal definitions.   
While hemp flower is considered legal in all USA states, laws may vary from state to state or region to region within the USA. Always check that you comply with local and state laws regarding hemp flower.    
Browse Our Hemp Flower Catalogue 
FAQs About Cherry Blossom
Will Cherry Blossom get you high?
Cherry Blossom CBD hemp flower won't make you feel high or stoned. However, it may encourage sleep or relaxation and produce a semi-euphoric blissful sensation.
Is it legal to smoke hemp flower?
CBD-rich hemp flower is legal at the federal level in the United States as long as it contains less than .3% THC content by volume. Always consult local and state hemp flower policies and act under the law.