Are delta 9 gummies with less than 0.3% THC legal in Louisiana? Let's look at the current delta 9 state rules and regulations. 
Last Update: November 26, 2023
Summary
Hemp-derived delta 9 gummies with less than 0.3% THC are legal in Louisiana.
The state permits the sale, possession and use of 'consumable hemp products' registered under the Louisiana Department of Health (LDH).
THC-infused gummies fall into the category of 'consumable hemp product.' These products must not contain more than 8 mg of total THC per serving and more than 0.3% total THC.
You can order delta 9 THC gummies approved by the LDH online or buy them in your local dispensary.
Mr. Hemp Flower offers premium THC gummies compliant with the 2018 Farm Bill.
Where to Buy Legal Delta 9 THC Gummies in Louisiana?
The best option for THC gummies is to order them online. 
Our delta 9 gummies are infused with pure and potent full spectrum hemp extract that and contain terpenes, flavonoids, and an array of minor cannabinoids. 
Louisiana passed laws to regulate CBD in food products. The only hurdle to buying online is that legal products must be registered and approved by the Louisiana Department of Health.   
Mr. Hemp Flower is a leading provider of hemp-derived cannabidiol products. We are one of the most trusted suppliers of whole-plant hemp extracts on the market. 
If you are looking for gummies, pre-rolls, or oils that are rich in naturally extracted cannabinoids and terpenes from organic hemp, our products tick all your boxes. 
We use all-natural ingredients and test every product you see on our website. After six years on the market, we've developed unique formulas and vegan-friendly recipes to create incredibly rich and diverse cannabinoid products. 
Are Delta 9 THC Gummies Legal in Louisiana? 
Yes, hemp-derived delta 9 gummies with less than 0.3% THC are legal in Louisiana. 
The state passed Act 498 in 2022, which legalized food and beverages derived from hemp. Under state law, 'consumable hemp products' must be registered with the Louisiana Department of Health (LDH).
The law defines consumable hemp as any product derived from hemp that contains any cannabinoids and is intended for consumption or topical use. 
Each consumable hemp product must be sold in a clearly measured serving. Edible hemp products like gummies, cookies, capsules, etc., must not contain more than eight milligrams of THC per serving and more than 0.3% total THC.
Prior to this new law, one of the most important laws related to CBD products in Louisiana was HB 491, signed into law by Gov. Bel Edwards in June 2019. 
This law explicitly defines cannabidiol (CBD) and lays out which products are allowed for sale in the state. As said, the previous CBD law explicitly prohibited any sale of food or beverage products derived from hemp unless CBD was approved as a food additive by the FDA.           
The Pelican State also legalized smokable marijuana flower for medicinal uses. This drastic change will bring a huge lift in sales and protect consumers from bad actors on the market.    
What is Hemp-Derived Delta 9 THC?
Cannabis naturally produces more than 400 chemicals, out of which over 60 are cannabinoids. The first most prevalent cannabinoid found in the plant is delta 9 (THC), which produces marijuana's intoxicating effects. 
THC is also found in low amounts in hemp, the federally legal, non-intoxicating cannabis variety. When extracted from hemp's buds and flowers, THC can be legally infused in products and sold in a concentration of less than 0.3% by weight.  
Like other cannabinoids, THC interacts with the body's endocannabinoid system to produce a broad range of beneficial effects. To date, research has found that THC can help with pain and inflammation, poor appetite, nausea and vomiting, insomnia, and more. 
Hemp Compliant Delta 9 THC and Federal Law
Hemp-derived delta 9 THC is legal under the Farm Bill of 2018. This compound naturally occurs in federally compliant hemp in a concentration of less than 0.3% by dry weight. 
The Farm Bill legalized all of hemp's derivatives, cannabinoids, and extracts and removed "THC in hemp" from controlled substances. Generally speaking, this makes hemp-derived delta 9 gummies with less than 0.3% delta 9 THC a fully legal product. It defines hemp as: 
"The term 'hemp' means the plant Cannabis sativa L. and any part of that plant, including the seeds thereof and all derivatives, extracts, cannabinoids, isomers, acids, salts, and salts of isomers, whether growing or not, with a delta-9-tetrahydrocannabinol concentration of not more than 0.3 percent on a dry weight basis [1]."
However, cannabidiol (CBD) continues to be an unapproved food additive by the Food and Drug Administration (FDA). This cannabinoid is not allowed as an ingredient in food, beverages or dietary supplements. 
The industry was expecting the FDA to take action and regulate the substance after the approval of the bill, but that has yet to happen. Luckily, most states have regulated the sale of CBD in food as they noticed a surge of popularity. We can only wait and see the final views on these products by the FDA.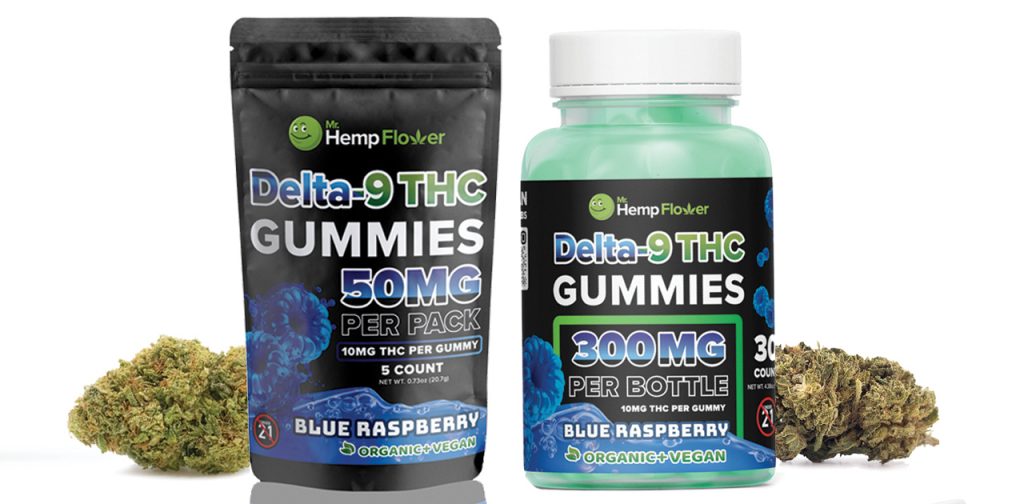 Be Sure to Check Out: 
Delta-9 THC FAQ
Read our legal disclaimer HERE. While we try to stay as up to date as possible on all state laws, you should do your own due diligence and work with a legal professional to ensure you are operating legally in your state or territory at all times.
Checkout our State-by-State Articles: