Historically, Kentucky has been one of the largest suppliers of industrial hemp in the nation. The state re-introduced hemp as a crop after the 2014 Farm Bill but has pretty strict rules regarding the sale of hemp cannabinoid products. Are the brand new delta 9 THC gummies legal in the Bluegrass State? Let's look at the current hemp laws in Kentucky.
What Is Hemp-Derived Delta 9 THC
You've heard about delta 9 THC as the compound in cannabis that gets you"high." This component is the prominent intoxicating cannabinoid in marijuana, which is an illegal substance. So you might be wondering, how is this compound legally sold in gummies? 
It's simple. Delta 9 is compliant with the federal bill of 2018 (which legalized hemp) if two main conditions are fulfilled:
It's naturally derived from the

buds and flowers of hemp

with less than 0.3% THC

It's infused in products in a concentration of less than 0.3%
So, even if a gummy contains 10mg delta 9 THC, it's considered legal under the bill if it falls under the 0.3% threshold. Aside from its intoxicating nature, Δ9-THC also exhibits beneficial effects and can help with inflammation, pain, poor appetite, nausea, insomnia, and more. 
Buy Hemp Compliant Delta 9 THC in Kentucky
We understand the power of hemp cannabinoids and the potential they have to improve your everyday life. That's why we've formulated our new gummies to bring you the entire hemp plant profile in a bite — 10mg of delta 9 THC, 7mg of delta 8 THC, and 15mg of cannabidiol (CBD). 
It's an organic, vegan-friendly formula made with natural ingredients that allow you to experience the full range of the plant. To amplify their synergy, this extract also contains a multitude of minor cannabinoids and terpenes. 
Whole plant hemp products like our Delta 9 THC Gummies are the future. Unfortunately, they are not legal in every state, like it's the case with Kentucky. Our gummies are an illegal product in Kentucky because they contain delta 8 THC. That said, any product displayed on our website that doesn't have delta 8 (or comes in a smokable form) is legal to buy in this state. We encourage you to try our full spectrum CBD products that also offer the benefits of whole-plant hemp — without the delta 8.   
Legality of Hemp Delta 9 THC in Kentucky
Are hemp compliant Δ9-THC gummies legal in Kentucky? Yes, full spectrum hemp delta 9 THC gummies are legal in Kentucky if they contain delta 9 THC levels below 0.3%.
In April 2018, before the Farm Bill was signed into law, state legislators enacted a bill that urged Congress to amend the federal Controlled Substances Act to remove the hemp plant from the definition of marijuana. 
After the passage of the 2018 Farm Bill, Kentucky lawmakers approved House Bill 97, which aligned the state's definition of hemp with that of the federal government. 
Any hemp-derived product with a total Δ9-THC that exceeds the threshold remains a Schedule I controlled substance in the state. Kentucky residents may purchase and consume hemp-derived delta 9 gummies that fit these standards. 
But, there's a catch. In case the product contains even a few milligrams of delta 8 THC — like the new Mr. Hemp Flower gummies — they are illegal in the Bluegrass State. In March 2021, the Governor of Kentucky signed House Bill 307 into law, which outlawed all THC isomers, including delta 8. 
Later on, in April 2021, the Kentucky Department of Agriculture released a guidance letter to hemp licensed holders stating that delta 8 is a controlled substance under federal law. 
So, are these gummies legal in Kentucky? 
Unfortunately, they're not. That's due to the presence of delta 8 THC, which is a banned substance. If the law ever changes in the future, or we offer a pure delta 9/CBD combo, you will be more than welcome to buy those. 
Hemp Compliant Delta 9 THC and Federal Law
The legality of delta 9 is actually less complicated than the legality of delta 8 THC. When derived from hemp and present in less than 0.3% in hemp-derived products, Δ9-THC is a legal compound. 
The 2018 Farm Bill legalized the hemp plant and its derivatives, cannabinoids, and extracts so long as they contain no more than 0.3% delta 9 THC. The bill also removed the hemp plant and "THC in hemp" from the federal list of controlled substances. Hemp is no longer part of the definition of marijuana and is defined as:
"The term 'hemp' means the plant Cannabis sativa L. and any part of that plant, including the seeds thereof and all derivatives, extracts, cannabinoids, isomers, acids, salts, and salts of isomers, whether growing or not, with a delta-9-tetrahydrocannabinol concentration of not more than 0.3 percent on a dry weight basis [1]."
Unless cannabinoids in a gummy form have been banned in a particular state, hemp compliant Δ9-THC gummies are usually legal in that state so long as the THC concentration doesn't exceed 0.3% by weight. Hemp-derived CBD also hasn't been approved as a food additive and a dietary supplement, but the FDA tolerates it if it's not advertised under medical claims. 
How does the intoxicating nature of this cannabinoid affect the legality of THC gummies? While THC gummies are intoxicating, the only indicator for their legality is the levels of Δ9-THC they contain. So, the new gummies with less than 0.3% delta 9 THC are legal federally.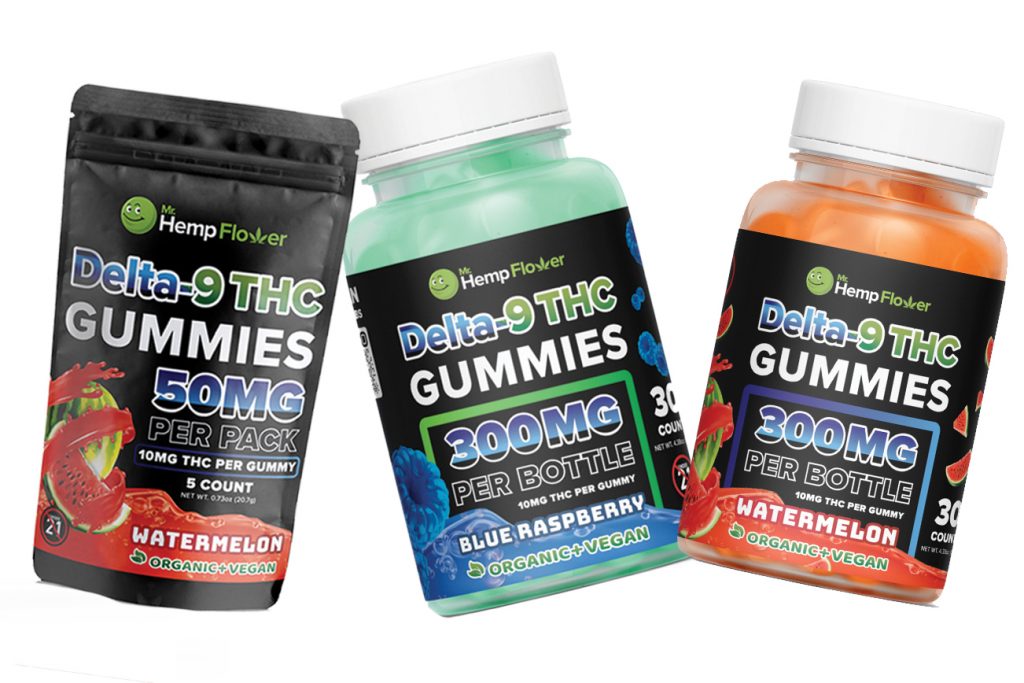 Be Sure to Check Out: 
Delta-9 THC FAQ
Read our legal disclaimer HERE. While we try to stay as up to date as possible on all state laws, you should do your own due diligence and work with a legal professional to ensure you are operating legally in your state or territory at all times.

Checkout our State-by-State Articles: