Become Mr. Hemp Flower's wholesale partner and cash in on the emerging Georgia marketplace. 
Georgia won approval for its hemp plan from the USDA quickly. So, anyone interested in growing or processing the crop in this state can do so with a grower and processor permit from the Georgia Department of Agriculture. 
If you are looking to enter the lucrative hemp market in Georgia as a distributor and reseller, now is the time to partner with an established brand like Mr. Hemp Flower. 
Last Update: August 11, 2023
Article Summary
Georgia appears to allow the retail sale of CBD flower to the end consumer, but the law is murky.
Current law has a provision that prohibits the sale of "unprocessed flower" by a non-licensed person at retail. The state has no regulations that define "unprocessed flower" and doesn't explicitly ban the sale of smokable hemp products.
Mr. Hemp Flower offers pre-packaged and bulk CBD hemp flower and smokable hemp products. Our products are made from premium hemp flower and can be sold across every state under the 2018 Farm Bill.
We also offer full spectrum gummies and edibles, which are, at this time, considered adulterated in Georgia.
Pre-Packaged and Bulk CBD Flower from Mr. Hemp Flower | Wholesale Hemp Flower Georgia
Retail Ready Pre-packaged Hemp Flower 
Partner with Mr. Hemp Flower and expand your business with a range of classic or premium CBD flower strains. Our wholesale partners get access to all of our products.
We work with vetted farmers and manufacture our own products, so you can rest assured you will be getting quality items. All of our CBD flower can be pre-packaged and ready-to-go for your shop.
Our pre-packaged items come in an odor-free, properly labeled bag or glass jar (depending on the type of product) that carries Mr. Hemp Flower's logo on it.
Unlock Mr. Hemp Flower's product collection and select high-quality smokable hemp products you can offer at a great price.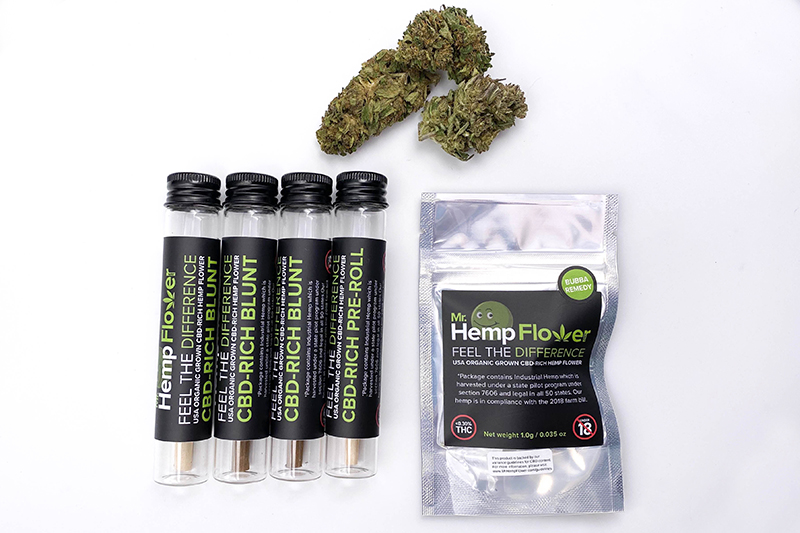 Our hemp flower comes from organic farms in Oregon, Washington State, and Colorado. Regardless of which product you choose, we offer the option of pre-packaging the flower as grams, eighths, or quarters. All of our pre-packaged CBD flower is carefully hand-trimmed by our team and ready to be displayed on shelves. For starters, consider our top-selling hemp flower strains, including Hawaiian Haze Hemp Flower, Sour Space Candy CBD Hemp Flower, and Suzy Q Hemp Flower.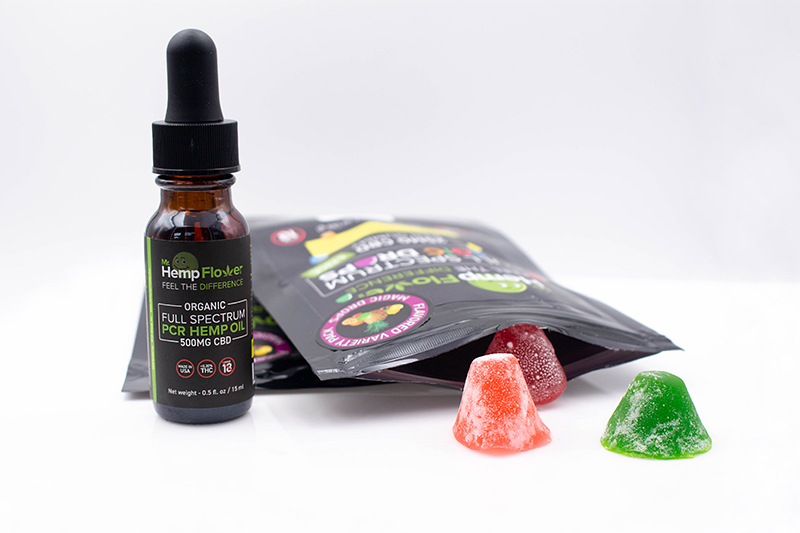 Full Spectrum CBD Gummies (with THC) 
We offer Full Spectrum CBD Gummies (with THC) and Full Spectrum CBN Gummies — both described as great tasting and effective products by our customers. Each package contains six large gummies (we offer different flavors) infused with full spectrum hemp oil rich in cannabinoids and terpenes. Our CBN gummies are infused with full spectrum hemp oil rich in CBN and CBD (10mg+ of CBD and 5mg of CBN in each gummy). Our CBD gummies are infused with full spectrum CBD oil, and each gummy contains 25mg of CBD plus terpenes.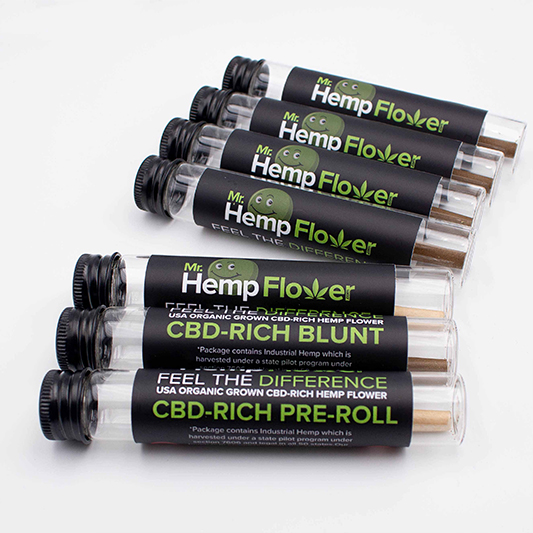 Hemp Pre-rolls and Pre-rolled Blunts
Mr. Hemp Flower's pre-rolls are additive-free, 100% pure CBD flower. Customers love hemp pre-rolls because they offer a quick and easy solution to consuming CBD. Order your 1 gram hemp pre-rolls and pre-roll blunts of any flower available on our website — our pre-rolls come in a glass jar that contains Mr. Hemp Flower's branding. If you need some suggestions on pre-rolls, consider our best-selling pre-rolls. 
Hemp Cigarettes 
Research and anecdotal evidence show that CBD flower may help people quit smoking. Once customers picked up on this major benefit, the sale of hemp cigarettes exploded. Our hemp smokes are one of our best-sellers, which is not a surprise considering they are 100% hemp flower blended with kief. Our smokes are nicotine-free and contain less than 0.3% THC.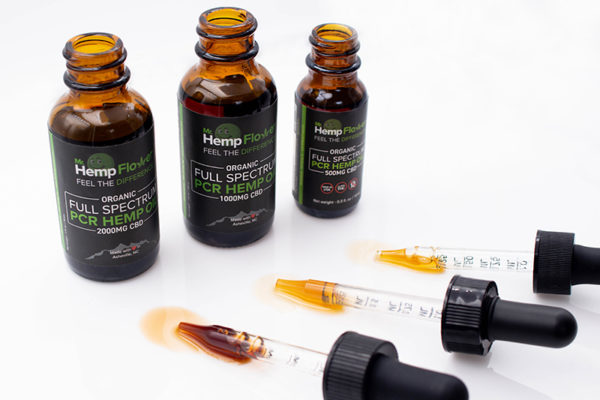 TRUE Full Spectrum Phytocannabinoid-rich (PCR) Hemp Oil 
As the hemp market has evolved, consumers are more aware that whole-plant products are the real deal. Our TRUE Full Spectrum CBD Oil allows customers to consume the benefits of the entire hemp plant profile as opposed to other oils that usually promote only one cannabinoid.
PCR hemp oil contains cannabinoids, terpenes, fatty acids, and other phytonutrients that offer the consumer the potential benefits of all hemp compounds working in synergy, also known as the "entourage effect."
FREE Marketing Materials to Support Your Business
We support retail businesses that are spreading the word about the benefits of the hemp plant. With your order come free marketing materials to help you attract more customers. You'll get: 
Glass magnifying jar

– a mag jar is a perfect weapon to higher sales at retail. Customers love looking at quality CBD flower up-close because it increases their trust in the product they are about to buy.

Hemp flower posters –

Mr. Hemp Flower's posters have an attractive design and share useful information, which makes them perfect for your retail shop.

A 50-page booklet on hemp flower

– if you want to gain more customers, you need to be properly informed on different CBD flower strains and make a recommendation. Our booklet offers everything you need to learn about the hemp plant and help customers make the right choice. 
Bulk Hemp Flower In Georgia (not pre-packaged)
Are you looking to create your own brand? Then you need a trusted wholesale hemp flower partner you can rely on.
Mr. Hemp Flower's wholesale program allows you to buy top-shelf, machine-trimmed, premium CBD flower in bulk, at an affordable price, and create your brand with it. In the growing hemp industry, the quality of the product is the foundation for building trust with your customers.
Partnering with Mr. Hemp Flower means you won't have to spend time and money choosing from different providers, and you can focus on growing your brand. We source our hemp flower from vetted farmers that cultivate hemp on organic farms in Oregon, Colorado, and Washington State. Contact us today and make your order. 
Retail Stats and Potential Margins | Wholesale Hemp Flower Delaware
How much can you make from reselling CBD flower purchased wholesale at Mr. Hemp Flower? Our estimates show that an order of $2,500 from Mr. Hemp Flower — with current discounts — can make you roughly $5,000 to $7,000 in sales.
Stats and Margins
Lifter Plus CBD Hemp Flower
An order of 30 eighths (3.5 grams) of Lifter Plus CBD Hemp Flower at a discounted price of $12.49 each, costs you only $374.8 to buy wholesale. If you sell 3.5 grams at $24.99 ($24.99 x 30 = $749.7), you will make $374.9 in profit, which is a 50% margin. Lifter Plus is a classic strain sought after by customers, so you can sell eighths of Lifter Plus CBD Hemp Flower at $27.99 and have a profit of $464.9 ($27.99 x 30 = $839.7) with a 55% margin.
CBD Hemp Pre-Rolls
If you buy 20 pieces of our hemp pre-rolls (1 gram each) at a discounted price of $5.49 each, it costs you $109.9 to buy wholesale. If you sell the flower at $10.99 ($10.99 x 20 = $219.8), you will make $109.9 in profit, which is a 50% margin. When you choose a unique strain with great benefits and high CBD content (18%), you can sell each pre-roll at a higher price. For example, if you sell one pre-roll at $14.99, you'll have a profit of $189.9 ($14.99 x 20 = $299.8) with a 63% margin.
TRUE Full Spectrum PCR Hemp Oil Tincture 
If you buy 20 tinctures (1000mg, 30ml bottle) of Mr. Hemp Flower's full spectrum PCR hemp oil at a discounted price of $49.99 each, it costs you $999.9 to buy wholesale. If you sell each tincture at $99.99 ($99.99 x 20 = $1999.8), you will make $999.9 in profit, which is a 50% margin. Our full spectrum PCR oil is a true CBD oil that offers incredible benefits to the customer, so you can sell each tincture at $109.99 and have a profit of $1199.9 ($109.99 x 20 = $2199.8) with a 54% margin.
Is Reselling Hemp Flower Legal in Georgia? 
The legality of reselling hemp flower at retail depends on both federal and state laws. Let's take a look at federal laws and Georgia's hemp laws. 
Is Reselling Hemp Flower Legal on a Federal Level?
Yes, reselling CBD hemp flower is legal on a federal level under the 2018 Farm Bill.
The United States Department of Agriculture (USDA) regulates the cultivation of hemp for commercial purposes. To regulate licensing, testing, and disposal of hemp on a federal level, the USDA passed an Interim Rule that became effective upon release.
The Interim Rule sets the ground for Total THC testing of hemp, which entails testing for delta-9 THC and the potential conversion of THCA (the acid form of THC) into delta-9 THC on a dry weight basis. The total THC content in hemp must not exceed 0.3%, otherwise, the hemp is considered "hot" and must undergo disposal. 
Before the Interim Rule, hemp was tested for delta-9 THC only, which was more convenient for growers because, currently, it is challenging to find and grow low-THC, high-CBD hemp varieties. Some states have decided to continue operating under their hemp pilot programs. But states that have received approval by the USDA and have started implementing their new hemp programs under the 2018 Farm Bill require testing of hemp for its total THC content.
Georgia is not an exception where:
"The testing methodology must consider the potential conversion of delta-9 tetrahydrocannabinolic acid (THCA) in hemp into delta-9 tetrahydrocannabinol (THC) and the test result reflect the total available THC derived from the sum of the THC and THC-A content [1]." 
Also, the FDA is still working on proposing regulations on hemp CBD products. As of this writing, the FDA does not allow CBD in food, dietary supplements, or marketing CBD products under medical claims. That said, three is not much talk on hemp smokables as a category on its own.  
Can You Resell CBD Flower in Georgia? 
Georgia legalized hemp in May 2019, after Governor Kemp signed House Bill 213 into law. The state legalized all hemp products but is taking the FDA's position on adding hemp CBD to food and dietary supplements.
Also, the state hemp act contains a provision on retail sales of hemp flower. Namely, Georgia prohibits individuals or businesses to "offer for sale at retail the unprocessed flower or leaves of the hemp plant [1]." 
The law doesn't clarify the term "unprocessed" and doesn't list a category of products that are prohibited under the law. So, the legal situation with smokable flower is a bit murky, and it is safe to say that Georgia is not the friendliest state when it comes to selling hemp smokables at retail.  
Why Mr. Hemp Flower?
Mr. Hemp Flower is your reliable wholesale partner — working with us comes with a few major advantages. We have an established relationship with vetted farmers, and you can rest assured that our products come from high-quality hemp.
Our website is filled with 5-star reviews from happy customers that regularly use our products. We manufacture our own products and offer a premium collection of CBD flower strains and top-shelf full spectrum CBD products exclusive to Mr. Hemp Flower.
All of our products are manufactured, trimmed, and labeled under the highest standards — we guarantee you, you won't be disappointed. Contact us today to unlock the collection of lab-tested, organic U.S. hemp flower and cash in on the emerging Georgia marketplace. 
How to Make Your Wholesale Order? 
Give us a call

—

we'd love to hear from you. We are here to answer all of your questions and help you fill in your order. 

Fill out the form below

—

if you know which products you want delivered and want to make an order, fill out the form below. 

Fill out our wholesale price quote form

—

have a specific product in mind? Fill out the form with the product and its quantity, send the form to [email protected], and we'll get back to you with a price quote within 24 hours.
FAQ Wholesale Hemp Flower Georgia