If you have a hard time keeping up with the demand for smokable hemp flower — but hold high standards on what you put on your shelves — partnering with Mr. Hemp Flower to find USA grown, premium wholesale hemp flower is your answer!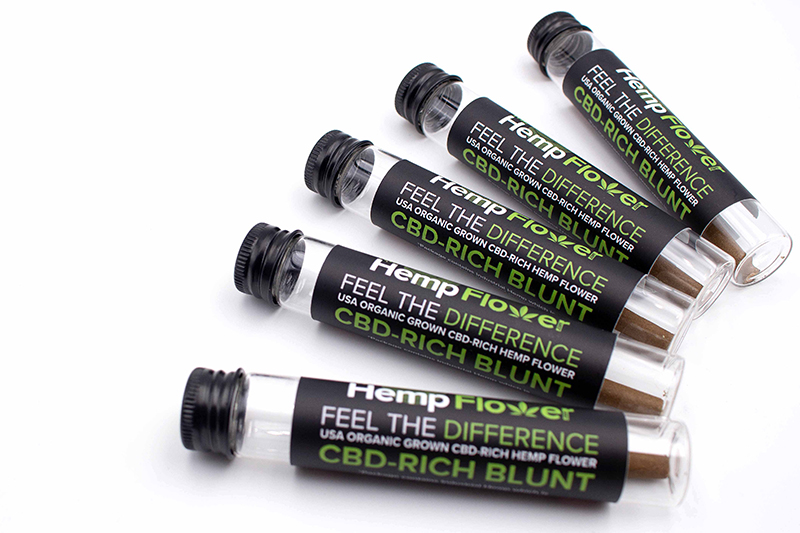 Smokable Hemp Flower- One of the Fastest Growing Hemp Sectors 
Want to get started? Give us a call at 833-387-7579 or fill out the form below!
The Industry
The hemp market noticed explosive growth in 2019. Although the main chunk of sales, headlines, and forecasts went to hemp cannabidiol — CBD tinctures hit about $1 billion in sales in 2019 — the smokable hemp flower market is one of the fastest growing and most lucrative sectors. 
According to Virginia Lee, CBD research manager at Brightfield Group — a Chicago-based cannabis market research firm — an estimated $70.6 million of hemp CBD pre-roll and raw flower were sold in the U.S. in 2019. [1]
That's a massive growth from 2018 when the Brightfield Group estimated the smokable hemp market at $11.5 million, which again, was an expansion of 250% from 2017. [2]
Things are looking up for the hemp industry in 2020 and beyond. 
BDS Analytics and Arcview Market Research

projects that the collective market for CBD sales in the United States will surpass $20 billion by 2024. 

In a recent report, Brightfield Group estimates that the total U.S. CBD market could reach $24.4 billion by 2025. 
The distribution channels for the hemp market are also changing — in 2017, 35% of sales were made online. Now, the entrance of chained retailers is the primary cause of market growth.
According to a Brightfield Group report on hemp CBD, "Large pharmacy, retail, and grocery chains are entering the market with a wide variety of large-scale pilot programs. Given their reach, scalability, and mainstream familiarity, those in this distribution channel are expected to garner 26% of market revenues in 2019." [3] 
The numbers are expected to rise as we loosen up the stigma around smokable hemp, and more and more people learn about the most pristine way of consuming this incredible plant. 
Purchase USA Grown Hemp Flower From Mr. Hemp Flower!
Premium sourced hemp flower is hard to find. Unless… you have an established relationship with vetted growers who provide you with top of the line stuff and strains you won't be able to find anywhere else. 
After years of making connections with expert hemp growers, we're at a point where we can offer you premium sourced hemp flower (both pre-packaged and bulk) and help you keep your standards high.
What Does Mr. Hemp Flower Offer?
Everything you see on our site can be pre-packaged and sold with Mr. Hemp Flower's branding or you can purchase strains in bulk.  
Retail Ready, Pre-packaged Hemp Flower for Your Store
Have you checked our site already? If so, you'd noticed beautiful and large flowers, nice pre-rolls and smokables wrapped in aesthetically pleasing packaging. 
Take a good look because that's exactly what you're going to receive. Our pictures fully represent the CBD-rich flower and smokable products we offer to hundreds of satisfied customers — and now, you can have them in your shop. 
All of our buds in pre-packaged products and premium strains are hand-trimmed.
We offer organic, USA grown CBD flower ready for display. From unique, hard-to-find strains (CBG, Cherry Creme Brulee), to popular classic buds (Elektra, Hawaiian Haze, Sour Space Candy), our flower will impress you with its smoothness and quality. 
All of the buds that you see on our site can be pre-packaged in a nice looking jar that you can place behind glass in your shop. We do all the trimming work for you — you don't have to touch or break down the flower. Just choose your flower, place an order and we'll have the box delivered to your shop.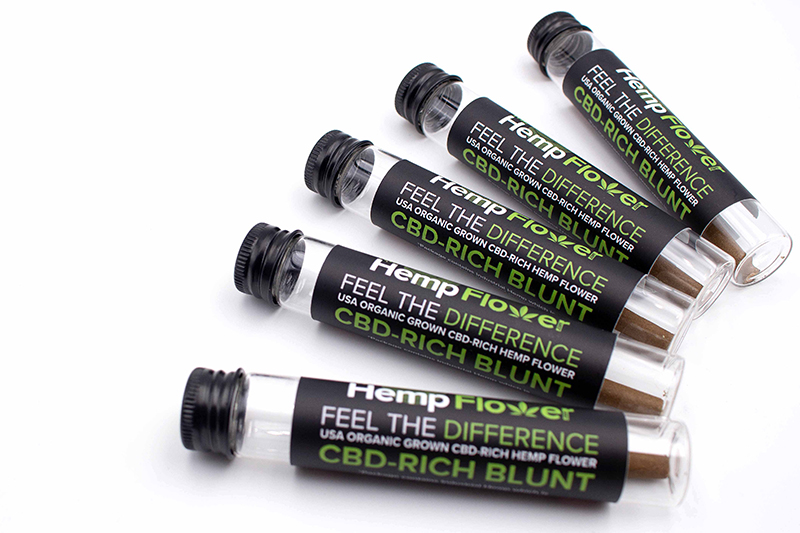 Our premium hemp flower is available in multiple strains and pre-roll size options. You can now get grams, eights, half ounces, and ounces pre-packaged for your shop with Mr. Hemp Flower's branding. 
Our top-shelf pre-rolled blunts are made with organically grown, high cannabidiol flower. They are all-natural and do not contain any additives or synthetics. 
Our sugar-free, full spectrum CBD gummies are customer-favorite. These delicious, whole-plant CBD gummies come as six large gummies per bag and have whooping 25mg of CBD per gummy.
If you are looking for a CBD oil of superior quality, PCR hemp oil is the one. Based on the feedback received from our customers, we've created a truly full spectrum CBD oil that contains the entire hemp plant profile in a bottle — from cannabinoids and terpenes to vitamins, minerals, fatty acids, and proteins.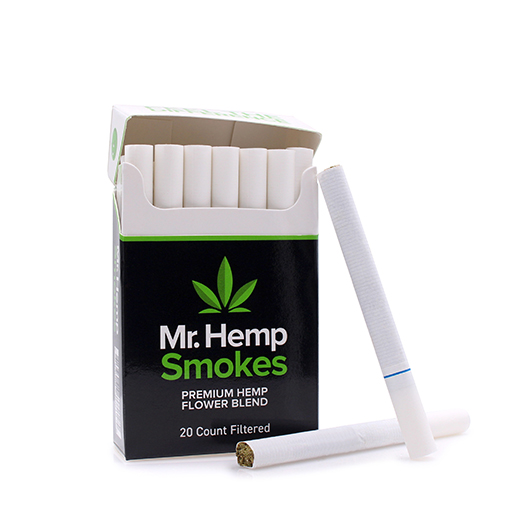 Each cigarette contains 100% organically grown hemp in the USA. Our pre-rolls are premium hemp flower and kief mix, don't contain nicotine, and each of them contains less than 0.3% THC. 
Compared to other cigs on the market (which are a blend of low CBD hemp plants with a little bit of hemp flower), our cigs are packed with different strains of high CBD hemp flower only.
Attract more customers to your shop with the help of our marketing materials. Aesthetics play a huge role in getting the interest of new visitors, so our packaging is designed to make customers want to buy the product.
The Mr. Hemp Flower packaging is a sleek, professional, and discreet packaging that fits well with the aesthetics of every shop. Our packaging has a classy feel to it, is labeled properly, and the box is odor-free. 
Together with your pre-packaged items, you'll get marketing materials designed to help you gain a competitive advantage. Having the right knowledge on each strain will help you and your team guide each customer through the buying process and make the right recommendation. 
Glass magnifying jars

— an essential item to boost customer experience. These jars allow the visitor to smell the bud. 

Well-designed hemp flower posters (with our logo on them)

to put around the shop and inform visitors about the benefits of hemp flower.

A 50 page booklet explaining the benefits of each strain that's available on our website.

Help visitors make the right buying decision on the spot — a sure-fire way to develop repeat customers. 
 Bulk Hemp Flower (not pre-packaged)
If you need a couple of pounds of hemp flower that you can break down and put your brand on it, we've got you covered. 
All our strains are available in bulk. You can order 2-3 pounds of hemp flower, break it down, put it in a jar, and you can create your own brand. We fully support hemp flower businesses that believe in the power of hemp and are spreading the word about it, so we are here for you if you have any questions. 
Our bulk hemp flower is mostly machine trimmed. Premium strains can come perfectly hand trimmed by our team. 
Is Reselling Hemp Flower Legal? 
The hemp market is growing under constant legal changes. The legality of reselling hemp flower depends on current federal and state laws. 
In 2018, President Trump signed the Farm Bill that legalized the production of industrial hemp as an agricultural commodity and removed hemp from the list of controlled substances. 
On October 29, 2019, the USDA released its Interim Rule for regulations establishing a domestic hemp program — a major step in the full implementation of the 2018 Bill. 
The Interim Rule went into effect immediately upon being published in the Federal Register, but, luckily, it's not final.  
The Case for Total THC Testing 
There are two main issues with the USDA's Interim Rule. First, the rule provides that any state plan must include a procedure for testing that can accurately identify the Total THC content in each plant. Second, the rule requires labs that test hemp for THC levels to be registered with the Drug Enforcement Agency (DEA).
Under the Interim Rule, the total THC testing must consider the potential conversion of delta-9 THC acid into THC. It must measure the Total THC concentration derived from the sum of the THC and THC-A content, on a dry weight basis. For comparison, the 2018 Farm Bill calls for the testing of delta-9 THC only. 
In February, the USDA announced that it is willing to make certain changes to its rules based on public response. The agency decided to delay (temporarily) the request for growers to dispose of the so-called "hot hemp" containing excess THC — as well as the request for hemp producers to use a DEA registered lab to conduct potency tests on their crops. 
The lab testing and disposal requirements are being delayed until October 31, 2021, or until the release of the final rule.
Resell-Friendly Hemp Flower States
Arizona 

Montana

Rhode Island

Texas 

Vermont

Virginia 

Washington State

West Virginia

Wisconsin

Wyoming 
States Where Reselling Hemp Flower is Unregulated or Illegal
Alabama — Since October 2019, the sale of CBD buds, cigarettes, smokable hemp, etc., to the public is prohibited. 
Idaho — all hemp is illegal in Idaho as state law doesn't distinguish between hemp and marijuana. 
Louisiana — In Louisiana, no person may process or sell any part of hemp for inhalation. 
Kentucky — the sale of hemp flower is only allowed between licensed individuals, not the general public. 
South Dakota — all hemp is illegal in South Dakota.
Utah — illegal to distribute or market smokable hemp in Utah. 
Mississippi — all hemp is illegal in Mississippi.
New Hampshire — the state doesn't have a program to regulate hemp, will continue operating under their existing program, which only allows growing hemp for research purposes. 
Hawaii — the state allows the production of hemp for agricultural or academic research purposes, and the commercial sale of hemp flower is unregulated.
Nebraska — hemp is legal in Nebraska, but remains unregulated as the state law doesn't define "hemp products," but allows its distribution and sale. 
Delaware — Delaware's hemp plan got approved by the USDA, and the state is in the process of allowing and regulating commercial cultivation of hemp for 2020. The state licensing process is opened until May 7. 
Kansas — In Kansas, it is prohibited to manufacture, market, sell, or distribute hemp cigarettes, cigars, hemp buds, ground industrial hemp floral material, or ground industrial hemp leaf material to anyone that doesn't hold a commercial license. 
*NOTE* Our products are 100% federally legal, and 100% legal in our state (North Carolina). MrHempFlower will sell and ship products to any consumer or retailer in any state, via USPS. It is up to consumers and retailers to abide by their state own state laws.  
Why Mr. Hemp Flower? 
We are a brand known for its quality. Our five-star reviews on both our website and Google tell what we stand for — high-quality hemp flower. 
Over the years, we've built relationships with vetted farmers and go through the dreadful selection process for you — we weed through all the crappy hemp flower that's out there to bring you an amazing product. 
Our hemp flower is so carefully selected that we only offer top of the line stuff —  you won't be disappointed in the product, and neither will your customers. 
On top of that, our products are properly tested and labeled. In essence, they carry a statement of identity on each package (CBD flower, CBD gummies, etc.) and provide a specific amount of each substance contained within a package (including CBD, delta-9 THC, total cannabinoids, and total terpenes). 
All of our products are legal and contain legally accepted levels of THC. 
If you want to elevate your game and offer hemp flower worth sitting on your shelves, contact us. 
FAQ - Wholesale Hemp Flower