Purchase USA grown wholesale hemp flower in Florida
Sales of hemp flower and hemp CBD are booming in retail establishments throughout Florida. Experts predict that the Sunshine State could be the leader in the industry with an estimated billion-dollar market. 
Are you a retailer or distributor in Florida? Want to get into the lucrative hemp market? Get in touch with Mr. Hemp Flower to buy wholesale hemp flower in Florida.
Last Update: August 11, 2023
Article Summary
Florida allows the retail sale of CBD flower to adults 21 and older. The state regulated hemp smokables under a new administrative rule [1].
If your establishment is selling smokable hemp in this state, you need a special permit from the Department of Agriculture and Consumer Services, Division of Food Safety.
Mr. Hemp Flower offers pre-packaged and bulk CBD hemp flower and smokable hemp products you can offer at your store.
Our products are crafted from premium hemp flower and can be sold across every state under the state's regulations.
Pre-Packaged and Bulk CBD Flower from Mr. Hemp Flower | Wholesale Hemp Flower Florida
Pre-packaged Hemp Flower 
We offer pre-packaged, hand-trimmed hemp flower at discounted prices. Our CBD flower is sourced from US licensed growers, primarily in Oregon, Colorado, and Washington State. 
Each product you see on our site can be pre-packaged and ready to go for your shop (even if we don't offer it as pre-packaged on our site, we can wrap them for you). All of our pre-packaged flower is hand-trimmed and comes with free marketing materials that contain Mr. Hemp Flower's logo. 
Our mission is to support your business and help you attract more customers by creating interest and providing quality. That's why our packaging and marketing materials have a classy and sleek appeal, designed to fit with the aesthetics of every shop. Each pre-packaged item is properly labelled, comes in an odor-free box and with lab results. Our pre-packaged goods include: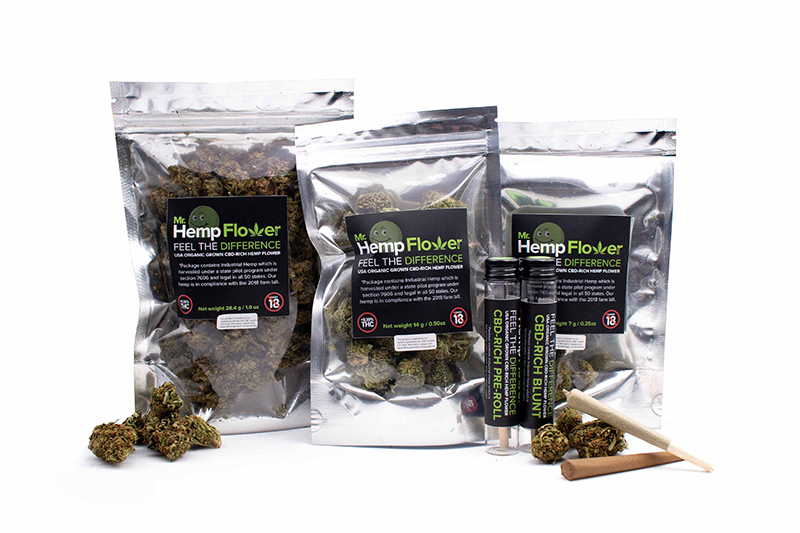 Hand Trimmed CBD-rich Hemp Flower
We offer a variety of strains that come carefully hand-trimmed by our team, meaning you don't have to break down or arrange the flower. Some of our best-selling CBD-rich flower includes iconic strains such as Hawaiian Haze. We work with vetted farmers to provide organically grown hemp flower, high in CBD and terpenes.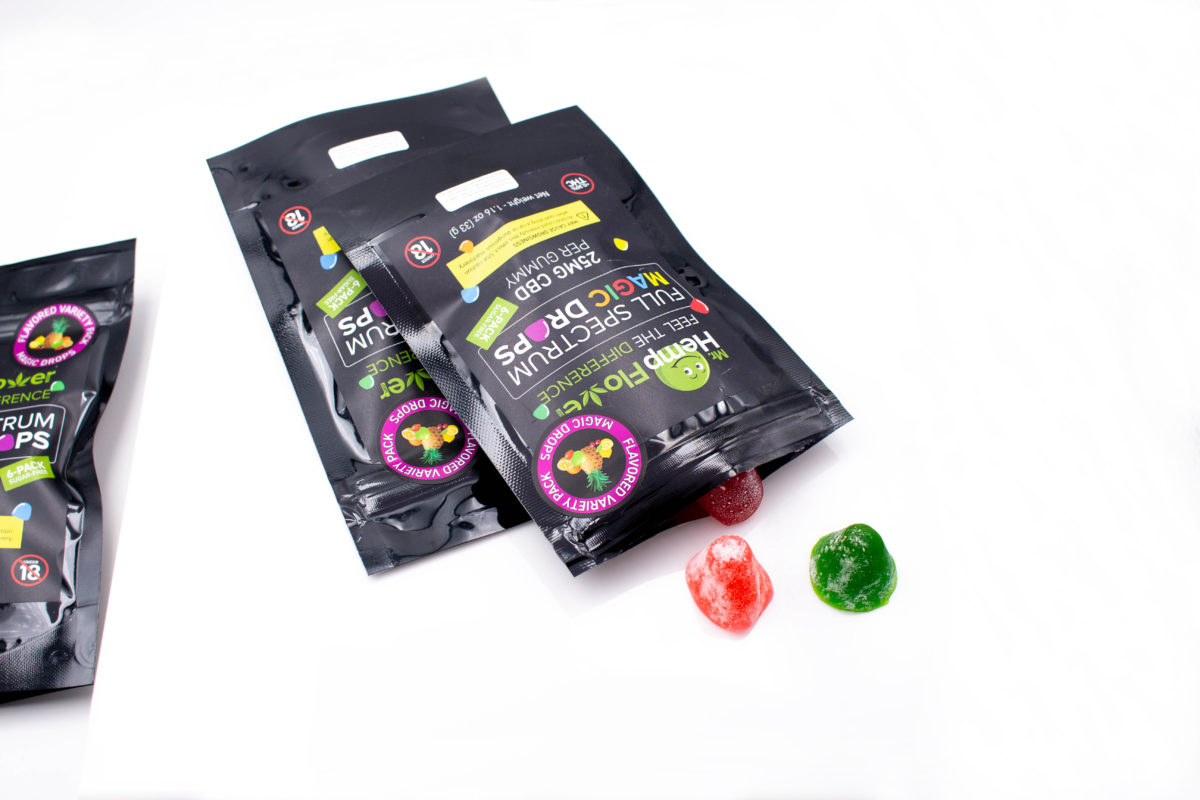 Full Spectrum CBD Gummies (with THC) 
Gummies are one of the hottest products on the market. Our Full Spectrum CBD Gummies come as six large sugar-free gummies that contain full spectrum CBD oil (with THC) with 25mg of CBD each. Not only are they delicious, but are the ideal product to attract new customers.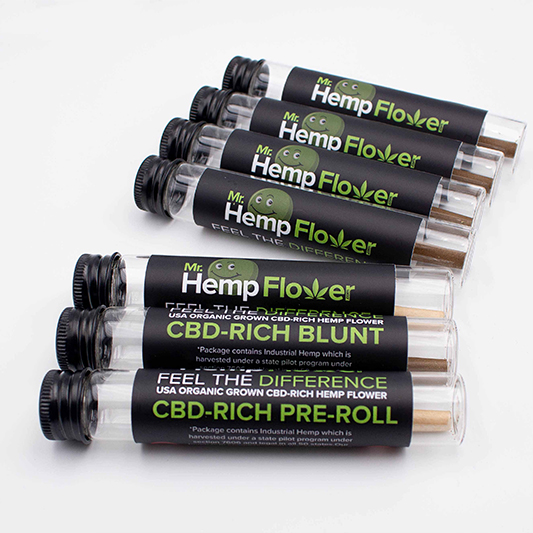 Hemp Pre-rolls and Pre-rolled Blunts
If you're looking to buy pre-packaged grams, eights, and quarters, we've got you covered. Purchase fresh, organically grown hemp flower in multiple pre-roll size options (with Mr. Hemp Flower's branding) you can immediately display in your Florida store — and watch them disappear quickly.
Hemp Cigarettes 
Unlike other hemp cigarettes on the market — made with hemp biomass or low-CBD hemp plant matter such as stalks, leaves, and flowers after extraction — our hemp cigarettes are 100% organic, nicotine-free CBD flower and kief mix that contains less than 0.3% THC.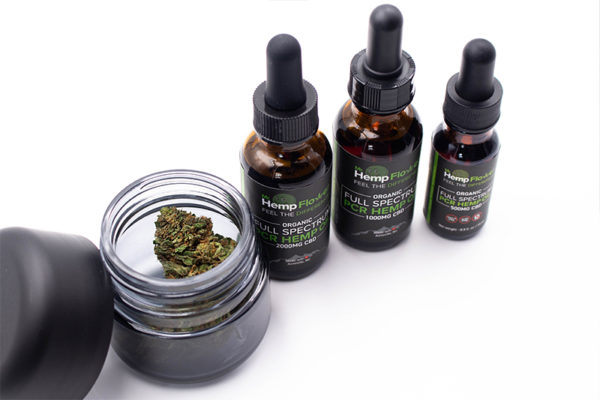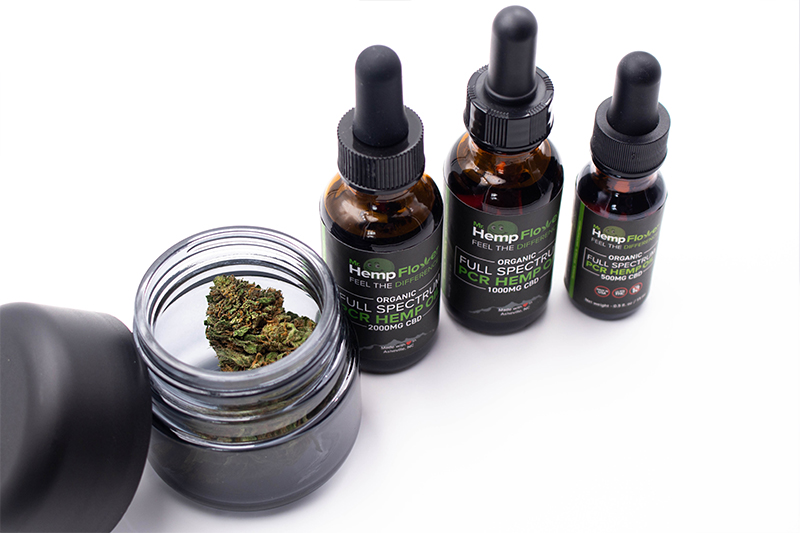 TRUE Full Spectrum Phytocannabinoid-rich (PCR) Hemp Oil 
Consumers are on the lookout for CBD oil that offers quality and works. We created our Phytocannabinoid-rich (PCR) hemp oil with the single thought of providing the true full spectrum CBD oil consumers need. PCR hemp oil is the most potent and quality CBD oil on the market with an unmatched richness in cannabinoids and terpenes.
FREE Marketing Materials to Support Your Business
Glass magnifying jars
A jar where you can put the flower and provide an up-close view and let customers smell the strain.
Hemp flower posters
There is an advantage in selling hemp flower in a retail space. Boost customer experience with informative hemp flower posters. 
A 50-page booklet on hemp flower
Customers appreciate a team that's knowledgeable in the products they want to buy. Our booklet contains all the info you need to know about various hemp flower strains and their benefits.
Bulk Hemp Flower (not pre-packaged)
We offer all of our strains in bulk, perfect if you want to create your own brand. Need 2-3 pounds of CBD flower you can arrange in packaging with your logo on it? Don't hesitate to get in touch! Our bulk hemp flower is machine-trimmed, except for premium strains which can come perfectly trimmed.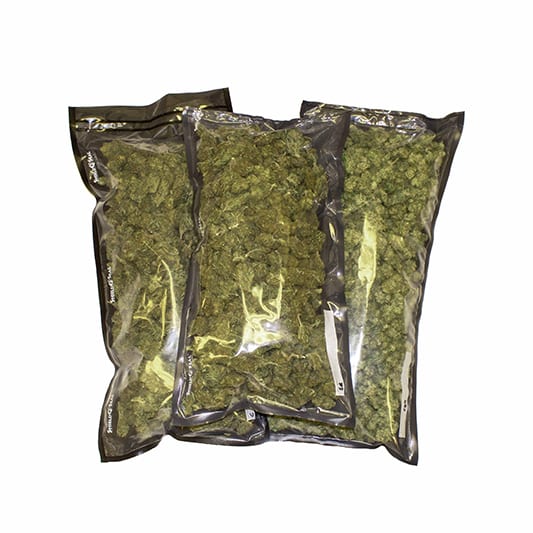 Retail Stats and Potential Margins | Wholesale Hemp Flower Florida
How much can you earn reselling CBD flower? 
CBD flower is one of the most profitable products on the hemp market that comes with the advantages of high demand and discounted wholesale and bulk prices. 
If the retailer spends $2,500 per order on average — with current discounts — this adds up to roughly $5,000 to $7,000 retail sales. 
Stats and Margins
CBD Hemp Flower
An order of 30 quarters (7 grams) of Hemp Flower at a discounted price of $27.49 costs retailers $824.7 to buy wholesale. If the retailer sells this product at $54.99 (54.99 x 30 = $1649.7) it will have a profit of $825, which is a 50% margin. Depending on the market and demand, the retailer can sell hemp flower quarters at $60.00 and have a profit of $975.3 ($60 x 30 = $1800) with a 54% margin.
Hemp Cigarettes 
Ten packs of Hemp Cigarettes will cost retailers $82.99 wholesale. If retailers sell one pack for $19.99 (total sales of $199.9), they will earn $116.9, which is a 58% margin. 
Is Reselling Hemp Flower Legal in Florida?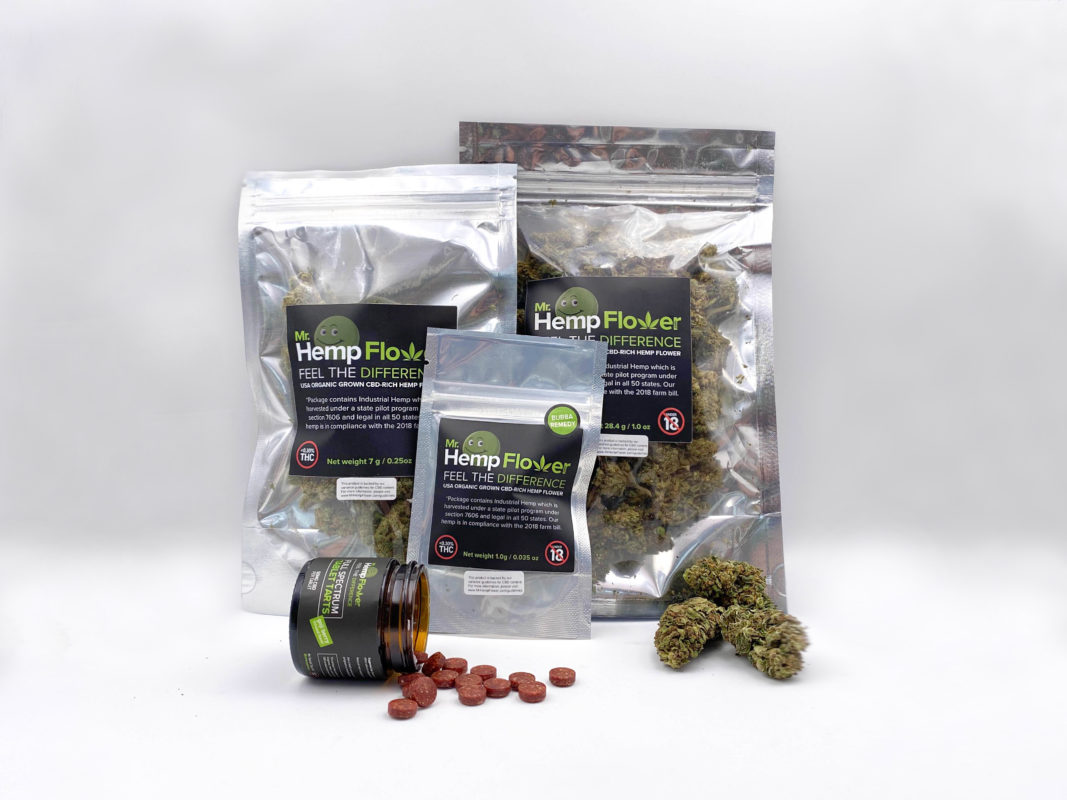 The legality of reselling hemp depends on state and federal laws. 
Federal laws on reselling hemp flower
Hemp is a legal crop that has been removed from the Controlled Substances Act. The USDA has regulatory oversight over hemp in the U.S. States are allowed to regulate hemp production as long as their rules comply with the 2018  Farm Bill, and the USDA approves their hemp plan. 
Recently, the USDA released its Interim Rule to regulate hemp production on the state level. The provisions include requirements for Total THC testing or state-level testing of hemp that considers the sum of the delta-9 THC and the potential conversion of delta-9 tetrahydrocannabinolic acid (THCA) into THC.  
State laws on reselling hemp flower
It's legal to resell hemp flower and smokable hemp products in Florida to adults 21 and older.
To do so, you need a permit from the Department of Agriculture and Consumer Services. The state regulated smokable hemp products with less than 0.3% THC under a new administrative rule, which set testing and labeling requirements for smokable hemp [1].  
Governor DeSantis signed SB 1020 in June 2019 or the bill that legalized hemp for commercial purposes in Florida. 
Soon after, Florida officials released new rules relating to tracking and regulating CBD and hemp products in 2020.
The bill legalizes the manufacture, transportation, and sale of "hemp extract," but didn't initially include any provisions regarding the sale of smokable hemp products.
In Florida, individuals who want to sell food consisting or containing hemp extract, both at wholesale or retail, must obtain a food permit and be registered as a "Hemp Food Establishment."
Senate Bill 1020 legalizes hemp and any part of the hemp plant as long as it contains less than 0.3% THC. 
Why Mr. Hemp Flower?
Mr. Hemp Flower is a brand known for its quality — we have tons of 5-star reviews from our customers on our website and Google reviews that back up our quality products. All of our products are tested by an independent, third-party lab and come with a Certificate of Analysis. 
We understand the importance of sourcing quality hemp. That's why we work only with vetted, US licensed farmers. Most importantly, we weed out the bad flower — we go through a lot of it — and provide a product that'll make our customers happy. 
We believe in hemp — it's the most versatile plant that deserves to be recognized for its powerful effects. If you're also on a mission to fight the stigma around smokable hemp and want to provide top-shelf flower, you have our support through wholesale and bulk quality hemp. 
How to Make Your Wholesale Order? 
Have questions? Want to make your wholesale order? Here is how to get in touch:
Give us a call

—

we'd love to hear from you. We are here to answer all of your questions and help you fill in your order. 

Fill out the form below

—

if you know which products you want delivered and want to make an order, fill out the form below.

Fill out our wholesale price quote form — have a specific product in mind? Fill out the form with the product and its quantity, send the form to [email protected], and we'll get back to you with a price quote within 24 hours.  
FAQ Wholesale Hemp Flower Florida