Kentucky was the top producer of hemp in the United States throughout the 1800s and 1900s and the source of three-fourths of U.S. hemp fiber. Today, the Bluegrass State has imposed certain restrictions on hemp-derived products. What does that mean for the sale of hemp flower in Kentucky? 
Last Update: June 9, 2023 
Article Summary
If you live in Kentucky, you are not allowed to buy CBD flower, hemp cigarettes, hemp pre-rolls and similar products.
Retailers are not allowed to sell certain hemp-derived products to the members of the Kentucky public, including hemp flower, hemp cigarettes, hemp cigars, etc.
State law prohibits the distribution, manufacture, and handling of hemp flower by people who don't hold a license by the state Department of Agriculture.
CBD oil with less than 0.3% THC is legal in Kentucky and can be obtained without a medical card.
Is Hemp Flower Legal in Kentucky?
Unfortunately, hemp flower is not legal in Kentucky. 
State law imposes several restrictions on hemp flower and hemp-derived products. Namely, hemp flower is legal in Kentucky, only if marketed, sold, or distributed by and to a person in Kentucky who holds a license from the Kentucky Department of Agriculture (KDA) or an institution of higher education. 
This means that hemp flower is legal in Kentucky, but can only be distributed among growers, manufacturers, and distributors who hold a license. The law permits licensed individuals to market, sell, and distribute [1]:
Whole hemp buds;

Ground hemp floral material;

Ground hemp leaf material; and 

Any hemp product with a delta-9-THC concentration in excess of zero and three-tenths (0.3%) percent. 
In addition, state law defines hemp products that are prohibited to be sold to the members of the public, including:
Hemp cigarettes;
Hemp cigars;
Chew, dip, or other smokeless material consisting of hemp leaf material or hemp floral material; and 
Hemp leaf material or floral material teas.
This is unfortunate for CBD flower users, while resellers and distributors can offer their smokable hemp products outside Kentucky.
Where to Buy Hemp Flower in Kentucky?
Ever since it became a legal crop in 2018, hemp can be sent by mail. Because the law remains murky in many states, including Kentucky, a good hemp flower market hasn't formed yet. 
So, many people buy their hemp flower online. If you live in Kentucky, ordering you hemp flower online is easy and convenient.  
Kentucky Hemp Flower for Sale 
If you are looking for a clean hemp flower product, we've got you covered. Our hemp flower is organically-grown by licensed growers. If you are worried about the levels of THC in your hemp flower, don't stress it—our products contain less than 0.3% THC. We include a lab analysis report in all of our packages. 
With Mr. Hemp Flower, you will actually get your hemp flower package delivered within 3-5 days after ordering. In case your order is higher than $100, shipping is on us. 
Which hemp flower is the best for you? Well, we want you to get our best products, always. These two beauties contain 0.3% THC and over 16% CBDa, so they should be on your radar: 
The Importance of Licensed Growers 
Hemp by licensed growers? It might come as a surprise to many, but buying hemp flower from licensed growers is your best bet in the unregulated hemp industry. 
When our team decided to start growing hemp, we put an emphasis on looking for experienced growers. That's how our collaboration with farmers with more than 5 years of experience began. Now, all of our hemp flower comes from the best farms in Oregon, Colorado, and Washington State. 
Experience in growing hemp is how top-quality hemp flowers are born. There is no other way. Our growers have created some fantastic strains throughout the years and know what it takes to grow high-quality hemp plants. 
Clean Hemp is The Only Way
You should not accept anything less than organically-grown, non-GMO, and pesticide-free hemp flower. Clean is how we go about our hemp flower, and we have lab analysis done by an independent lab to prove it. 
Avoid Public Appearance
The hemp state law in most U.S. states is murky and collides with federal law which legalized "all hemp parts." So, avoid taking your hemp flower in your car, bringing it to your friend's house, let alone in public areas. Until the state law situation sorts out (hopefully, pretty soon), keep this relationship private.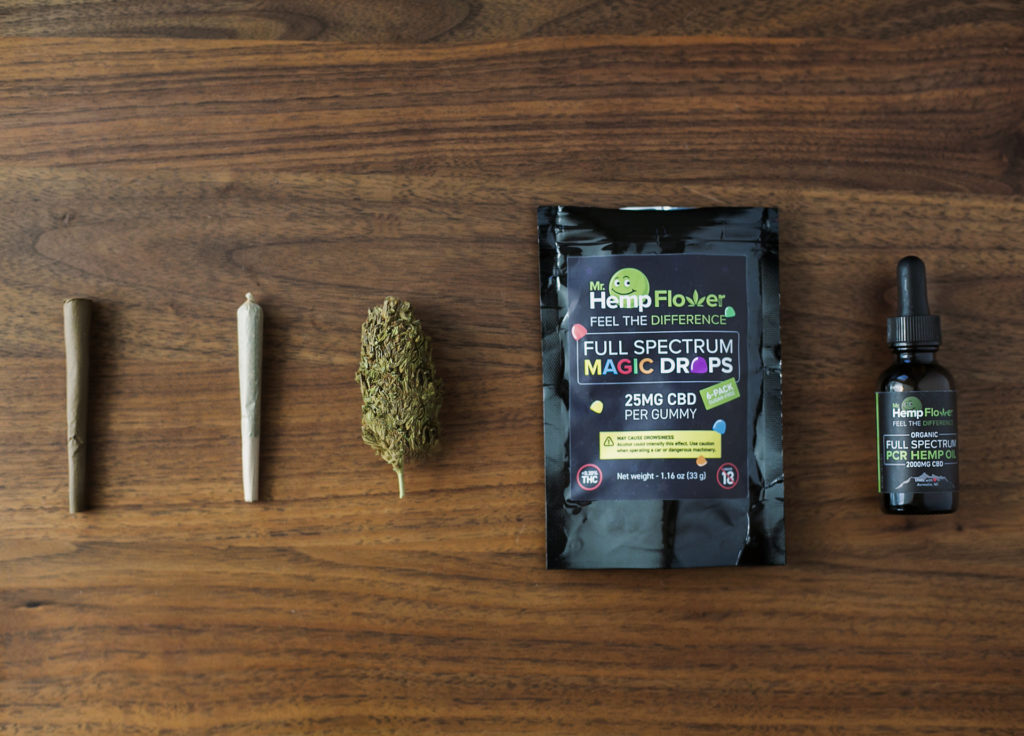 Can You Grow Hemp in Kentucky? 
Yes, you can grow hemp in Kentucky. Kentucky is one of the first states to introduce a framework for future legalization of hemp after the passing of the 2014 Farm Bill. The Bluegrass State launched the Industrial Hemp Research Program soon after the bill was passed. [2]
Under the Kentucky law, hemp is "the plant Cannabis sativa L. and any part of such plant, whether growing or not, with a delta-9 tetrahydrocannabinol concentration of not more than 0.3% percent on a dry weight basis." 
However, the state is pretty strict when it comes to holding a license. In a statement by the Kentucky Department of Agriculture, it says:
"Even though the 2018 Farm Bill removes hemp from the controlled substance list, no person can grow, handle, or process hemp plants, viable seed, leaf or floral materials without a hemp license issued by the Kentucky Department of Agriculture." [3]
The department makes it clear that the penalties for people who cultivate, handle, process, or market industrial hemp without a license are the same as those applicable to people who violate marijuana laws.  
Prohibited Hemp Products in Kentucky 
Kentucky has put restrictions on sales and transfers of industrial hemp. The state established classes or categories of industrial hemp products that are prohibited for sale, transfer, or distribution to members of the public. 
Under the law, the following hemp-derived products shall not be manufactured: [1]
Hemp cigarettes

Hemp cigars
Chew, dip, or other smokeless material consisting of hemp leaf material or hemp floral material

Hemp leaf material or floral material teas
What About CBD?
Hemp-derived CBD with less than 0.3% THC is legal in Kentucky.
The state passed KY HB 333, an Act relating to controlled substances, which legalized cannabidiol (CBD) from hemp. 
The bill excluded CBD from the definition of marijuana and allowed any person holding a license from the KDA to possess living hemp plants, leaf, and floral material, as well as other hemp materials. 
Medical CBD sourced from marijuana is also legal in Kentucky. Cannabis for recreational use is not legal in Kentucky. 
FAQs on Hemp Flower Kentucky State Laws
Best Selling Products