Connecticut has made huge progress on its hemp state laws in a short time. Hemp could easily thrive in the Constitution States, so the lawmakers are not wasting any time.
The state has approved hemp licenses to prospective growers, and farmers are eager to take on the challenge. 
Now that hemp is legal in this state, what does that mean for hemp flower and CBD? Can you buy hemp flower in Connecticut? Is CBD really legal? Let's take a look at the state laws. 
Is Hemp Flower Legal in Connecticut? 
Yes, hemp flower is legal in Connecticut. The state legalized commercial cultivation of hemp and issued grower and manufacturer licenses to applicants. Under the state law, hemp has the same meaning as provided in the federal act, which is defined as
"the plant Cannabis sativa L. and any part of that plant, including the seeds thereof and all derivatives, extracts, cannabinoids, isomers, acids, salts, and salts of isomers, whether growing or not, with a delta-9 tetrahydrocannabinol concentration of not more than 0.3 percent on a dry weight basis" [1]
Solely on this definition, hemp flower with less than 0.3% THC is legal in Connecticut.
But there is more. The Connecticut Department of Consumer Protection (DCP) answered FAQs about hemp manufacturing in this state. According to the DCP, both growing and selling hemp and hemp-derived products are legal in Connecticut, if the individual is properly licensed. [1] Under the state law, hemp products are
"products with a delta-9 tetrahydrocannabinol concentration of not more than 0.3 percent on a dry weight basis derived from, or made by, the processing of hemp plants or hemp plant parts." [2]
Where to Buy Hemp Flower in Connecticut?
Connecticut has just started the regulation of its hemp and hemp-derived products. Which is why many people decide to continue buying their hemp flower online. The state allows buying legally obtained hemp and CBD products from outside Connecticut. 
MrHempFlower.com offers USA organically grown hemp flower with high levels of CBD. Our hemp buds are tested by an independent third-party lab. Together with the lab reports that confirm the levels of THC (less than 0.3%) in each tested bundle, we also include a notice to law enforcement. 
Connecticut Hemp Flower for Sale 
Easy to order quality hemp flower! Free shipping on orders over $100. Quick delivery within 3-5 days. 
Stack up on the best hemp flower in the industry with our organically-grown, high CBD strains. Best selling flower buds by MrHempFlower:
What to expect?
Mid-sized, CBD-dominant flowers coated in glistening resin. You know what that means—more sweet CBD and terpenes. Special Sauce is a top-seller because of its CBDa levels that reach over 16%. Perfect for full-spectrum oil extraction, this strain works well for pain and inflammation. 
Choose a Reliable Supplier
One of the most important things when buying your hemp flower is to choose reliable suppliers. The hemp industry is booming at the moment, and a lot of inexperienced people are going into it just to make money. Hemp is a unique plant that requires special care, so you need to make sure the hemp flower you are buying is coming from a reliable source. 
Our hemp flower is grown by hemp farmers that have already been part of the industry and have experience in growing hemp for more than five years. 
Short Overview of Connecticut State Hemp Laws
2019
—
Connecticut Legalizes Hemp [2]
The state passed Senate Bill 893 concerning the creation of a pilot program for hemp production. The Act enabled the growth of the state's industrial hemp industry and was signed by Governor Lamont on May 9, 2019. 
2015
—House Bill 5780
[
3
]
This bill was passed with the goal of implementing the 2014 Farm Bill by amending statutes to legalize and define hemp. The bill was signed into law by Governor Malloy on July 2015. 
2014
—House Bill 5476 [
4
]
This bill required a study of the feasibility of legalizing hemp production, possession, and sales. The bill was signed by Governor Malloy on June 2014. 
Can You Buy CBD in Connecticut?
Yes, you can buy and sell CBD in Connecticut. The state allows hemp CBD in food. The Constitution State legalized hemp CBD defining it as
"the non-psychotropic compounds by the same name and with a delta-9-tetrahydrocannabinol concentration of not more than 0.3 percent on dry weight bases derived from hemp, as defined in the federal act."  [2]
The state even allows selling hemp and CBD products without a license. The only requirement is that the individual is not processing or manufacturing the hemp.
According to the DCP, selling hemp as a raw consumable product can be done without a license. Individuals interested in purchasing hemp plants to convert them into a byproduct by using heat, solvents, or any method of extraction that creates consumables need a manufacturers license. 
This is required if the person is making hemp products intended for human ingestion, inhalation, absorption, or other internal consumption. For non-consumable hemp products, individuals must obtain a processor license from the Department of Agriculture. [1]
The state allows individuals to obtain hemp and CBD products from outside Connecticut. But, if individuals are converting the hemp product into a consumable in this state, they need to hold a license regardless of where the hemp comes from. [1]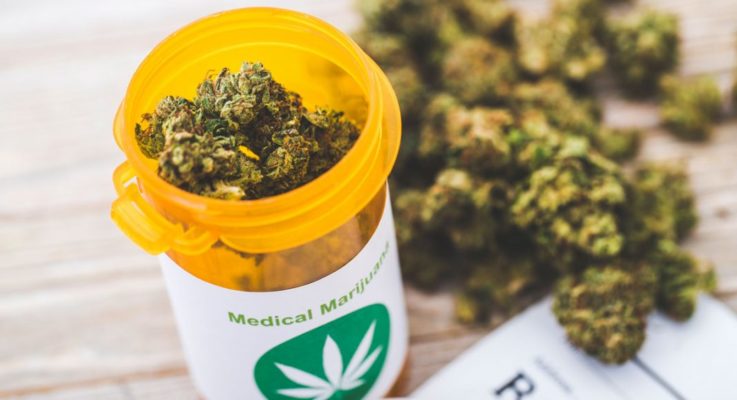 Medical Marijuana is Legal in Connecticut 
Connecticut legalized medical marijuana in 2012, a year after decriminalizing it. Patients that have been diagnosed with a debilitating condition—including cancer, epilepsy, Crohn's disease, Parkinson's disease, Posttraumatic Stress Disorder (PTSD) and more—need to obtain a written certification by a physician that confirms the condition. Patients are allowed to possess an amount of marijuana that ensures uninterrupted availability for a period of one month. 
FAQs on Hemp Flower Connecticut State Laws