This review goes in-depth into the Gorilla Glue CBD Hemp Flower strain. You'll get an accurate and detailed description of its characteristics, profile, genetics, effects, and best uses.
Make sure to read to the end to get Mr. Hemp Flower's official overall rating and special offers on pre-rolls and wholesale flower options.
First, we'll give you a brief characterization, and then we'll unpack the details of this strain's chemical profile and genetics. Let's get started.
Gorilla Glue #4 Hemp Flower
Named for its powerful effect and super sticky resins, Gorilla Glue CBD is a non-psychoactive hemp version of the classic iconic strain.
This strain is easily recognized by the tight, dense spear and spade-shaped buds that have an overall light green appearance. Gorilla Glue hemp has a heavy resin content that's apparent in her copious crystallized trichomes which can be seen from ten feet away.
She has a pleasant earthy, coffee, kind of diesel aroma that screams high-quality flowers and produces a satisfying spicy chocolate-like taste on the tongue.
When smoked it has a smooth tasting pull that creates a slight tickling sensation inside of the nose when exhaled. Gorilla Glue is a favorite among cannabis lovers for its invigorative and cerebrally stimulating effects.
This hemp flower strain is best recommended for clearing the mind, igniting inspiration, and relief from daily stress.
Genetics
Gorilla Glue #4 is an iconic cannabis strain that is well-loved by the masses. It stands to reason then why cultivators would seek to capture its profile in a low-THC high-CBD hemp strain phenotype.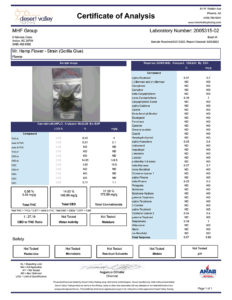 Click here to enlarge lab report 
That's exactly what breeders were able to achieve by crossing Chem Sister x Sour Dubb x Chocolate Diesel strains. You get all the heady high-quality character of the original strain's profile with none of the foggy inebriated sensations or psychoactive side effects.
**New Delta 8 Gummies Available Here**
**Vegan Delta 8 Gummies Available Here**
**Super Strong  Delta 8 Gummies Available Here**
Terpene Profile
Terpenes are aromatic chemicals used by plants for a variety of reasons such as attracting pollinators or deterring predators.
There are tons of terpenes expressed in hemp plants and each compound possesses unique therapeutic properties for humans.
Terpenes in hemp synergize with the naturally occurring phytocannabinoid compounds in hemp such as CBD and CBG. This creates a phenomenon of exponentially enhanced benefits from the overall combination of therapeutic hemp compounds.
Here's the terpene profile for our latest batch of Gorilla Glue CBD hemp.
Total terpenes: 6.69 mg/g
Secondary terpenes: Ocimene, Bisabolol, Pinene
Primary Terpenes:
Caryophyllene
A powerful anti-inflammatory terpene, Caryophyllene gives hemp flower a clove-like spiciness on the tongue and lips. It's most noticeably associated with black peppercorn but is also a prominent hemp terpene.
Humulene
Humulene gives hemp flower a dank and earthy, dry wood type aroma and has anti-inflammatory and analgesic (pain-relieving) properties. It has a sour somewhat earthy green aroma also recognized in hops.
Myrcene
Myrcene, which is also called the couch lock terpene for its relaxing effect, is the most prominently expressed terpene in a hemp and cannabis plants. It gives hemp flower a sweet, ripe, somewhat tangy fruit essence and synergizes with THC in the body.
Terpinolene
Like most other terpenes, Terpinolene has anti-microbial and anxiolytic (relaxing) properties. This terpene gives hemp flower a spicy herbal and floral-esque aroma that can be recognized in lilacs, nutmeg, cumin, and apples.
Phytocannabinoid profile
Phytocannabinoids are chemicals naturally produced in hemp with unique benefits in humans. They help to support healthy endocannabinoid system functioning.
Let's take a look at the chemical analysis of our latest batch of freshly harvested Gorilla Glue CBD.
· Total phytocannabinoids: 17.20%
· Total CBD: 14.65%
· Secondary phytocannabinoids: 2.55% (THC-A, CBC)
Mr. Hemp Flower's latest inventory of Gorilla Glue CBD hemp flower tests at 17.20% total phytocannabinoids and 14.65% total cannabidiol (CBD).
It contains an additional spectrum of secondary phytocannabinoids including THC-A, THC (<0.3%), and CBC. The dynamic array of phytocannabinoids and diverse terpene content allow this strain to exert a precise, unique effect, making it a valuable find for any hemp lover.
Best Uses
This strain is best recommended for anyone seeking relief from daily stress. Gorilla Glue is known for its activating and stimulating effects that can help get you through the day, but each person is unique.
According to user reports and reviews, this strain is particularly effective at improving perceptions related to anxiety-related depression symptoms and enhancing the creative and social aspects of users.
Always consult a medical professional to manage serious medical conditions including anxiety and depression and talk to them about CBD hemp.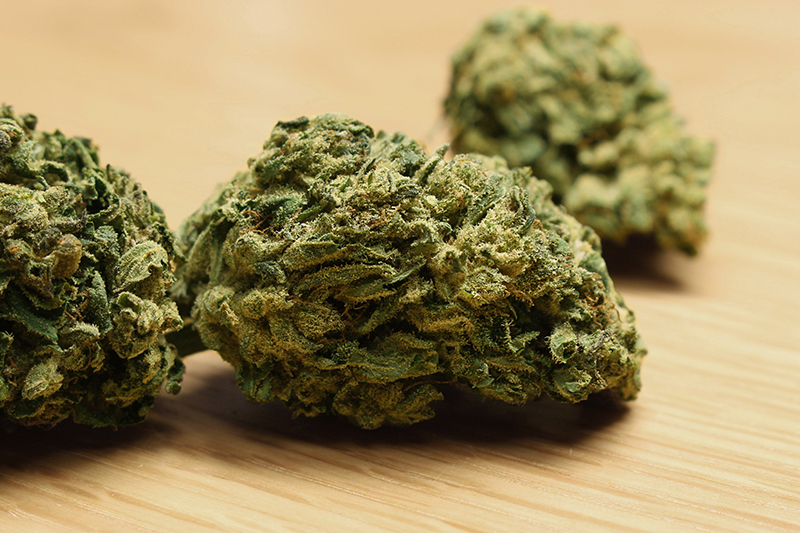 Overall Rating
Who doesn't love Gorilla Glue? We're stoked to have this particular CBD strain in stock now and hope to keep it coming. We love everything about this strain!
From its unique coffee fuel aroma to its powerful cerebral stimulation, this one lives up to its namesake.
Mr. Hemp Flower's official rating is one hundred percent five out five –
· Phenomenon aroma and terpene profile
· Unique coffee diesel flavor
· High resin content and big bag appeal
· Creative and cerebral activation
· Effective for daily stress and mental fatigue
We have no problems with Gorilla Glue. It always has been and remains not only one of the world's favorite strains, but also one of ours.
Gorilla Glue Review Highlights
Good stuff
This strain from MHF was really good. Nice big sticky buds and the smell was loud!!! Will definitely be ordering more!!
Gorilla Glue Strain Review – Shop Hemp Flower
Thanks for reading the official Gorilla Glue CBD hemp flower strain review by Mr. Hemp Flower.
Click here to browse our freshest inventory of high-quality CBD hemp strains including all of our Gorilla Glue options.
We provide pre-rolled joints and blunts, and offer great deals when you buy our bundles. We have something for everyone! From grams to pounds and even wholesale, check out our shop and see the dope deals and amazing savings.
Browse Our Hemp Flower Catalogue
Thanks for reading Mr. Hemp Flower's Gorilla Glue Strain Review! Be sure to share it with others that you think will find it helpful.
Click the links below to browse our extensive inventory of the freshest strains available from the nation's top hemp cultivators out of Oregon, California, and more.
Is It Legal To Use Hemp Flower?  
Is it legal to use CBD hemp flower? CBD Hemp is legal in the USA and not considered an illicit or controlled substance, and is federally regulated as an agricultural product. This is primarily because CBD-rich hemp flower only contains trace amounts of THC content, which is what separates hemp from cannabis by legal definitions.   
While hemp flower is considered legal in all USA states, laws may vary from state to state or region to region within the USA. Always check that you comply with local and state laws regarding hemp flower.    
Browse Our Hemp Flower Catalogue 
FAQs About Gorilla Glue
Is Gorilla Glue a daytime or nighttime smoke?
Gorilla Glue has a particularly invigorating effect that is beneficial for encouraging creative flows during daily activities and alleviating the effects of daily stress.
While the uplifting and focused effect of this strain indicates it may be more of a daytime smoke, each person has unique circumstances and may benefit from phytocannabinoids during any time of day without concern for intoxication.
Will Gorilla Glue get you high?
Gorilla Glue contains only trace legal amounts of the psychoactive compound, THC. Therefore, it won't get you high or stoned. That said, many hemp flower users report semi-euphoric sensations of blissful relaxation and presence in the moment.
Is it legal to smoke hemp flower?
CBD-rich hemp flower is legal in all 50 US states at the federal level. A majority of states do no prohibit hemp. Always consult your local county and state laws on hemp and act accordingly.