This strain review covers everything you need to know about the CBD hemp strain, Ceiba. We'll go over its genetics, chemical composition, and give you the best-recommended uses, plus our overall rating.
This Ceiba review aims to help you make an informed strain decision on hemp flower. Be sure to read it all the way through to the end to get special offers on Ceiba CBD pre-rolls from Mr. Hemp Flower.
Ceiba Hemp Flower
Ceiba CBD is a powerhouse of relief and relaxation, which is what you want in a great CBD strain. Its trichome covered dense flowers are perfect for rolling or for making oil and have an exquisite aroma and flavor.
An east coast cultivar, Ceiba hails from Vermont and was born from a Cannatonic / Harlequin cross that was bred with Sour Tsunami. The result is a great flower structure and high concentrations of uniquely expressed phytocannabinoids and terpenes.
This is an extra sticky strain and our latest batch has all the big beautiful buds from the most recent harvest. Her flowers are spear shaped on the colas, but lower nodes create more rounded buds.
Ceiba CBD hemp's flavor profile presents a pungent and sweet yet spicy taste on the lips with a slight earthy herbal undertone on the tongue. Provoked by copious amounts of terpenes, her smoke creates a tickling sensation in the nose on the way out.
This strain's character and profile are going to be great for anyone seeking relief from stress, overthinking, and depressive thoughts.
Her rare combinations of terpenes produce an exquisite effect on feelings of optimism and joy that bring you a calm sense of presence in the moment. Plus, weighing in at over 17% CBD, Ceiba hemp flower is a great choice for combatting pain, inflammation, and muscle issues.
Let's unpack the genetic, phytocannabinoid, and terpene profile of Ceiba CBD. Then, we'll go over the best-recommended uses and give you Mr. Hemp Flower's overall rating.
Genetics
Cannatonic x Harlequin x Sour Tsunami
Ceiba CBD hemp is an expert-level cultivar out of Vermont created by Northern Roots Nursery. It was created from a phenotype taken from the legendary strain, Cannatonic, crossed with a Harlequin x Sour Tsunami phenotype.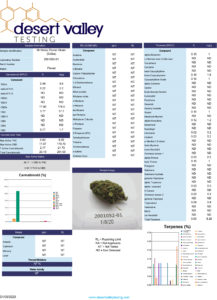 Click here to enlarge lab report 
The result is a synergistic enhancement of all the great things we love about flavorful, phytocannabinoid-rich hemp flower including a dense structure, high concentrations of active hemp compounds, and tastiness that is out of this world.
Terpene Profile
Terpenes are the aromatic compounds found naturally in hemp that give it its unique aromas and flavors. Individually, they possess therapeutic properties that are beneficial to humans. Let's take a look at Ceiba CBD hemp flower's terpene profile.
Total Terpenes: 9.26 mg/g
Secondary terpenes: Guaiol, Limonene, Linalool, Ocimene, Terpinolene
Primary Terpenes:
· Caryophyllene
· Humulene
· Bisabolol
· Pinene
Caryophyllene
Caryophyllene has powerful anti-inflammatory and apoptotic properties. In hemp flower, it gives a touch of heat and spice on the lips and tongue when inhaled and adds a clove-like aroma to Ceiba CBD flower.
Humulene
Humulene gives hemp flower a dank, earthy aroma that is most noticeably recognized in hops and dry wood. It has anti-
inflammatory pain-relieving properties and is also known to suppress appetite.
Bisabolol
Bisabolol has a distinct sweet floral aroma in hemp, and produces a citrusy spiciness to Ceiba CBD flower's overall flavor profile. A known antioxidant, Bisabolol is also found in plants such as chamomile and produces a naturally calming sensation.
Pinene
Pinene is most noticeably recognized in pine forests, pine cones and needs, but is also found in other herbs including hemp and cannabis. It gives Ceiba its earthy herbal taste.
Among its many therapeutic properties, Pinene has powerful cognitive benefits, improves alertness, and produces a calming effect on the mind.
Phytocannabinoid profile
Phytocannabinoids are the active compounds found naturally occurring in hemp flower that produce its therapeutic benefits. Let's take a look at Ceiba CBD's phytocannabinoid profile.
· Total phytocannabinoids: 20.10%
· Total CBD: 17.07%
· Total secondary phytocannabinoids: 3.03% (THC-A, CBC)
Mr. Hemp Flower's most recent inventory in stock of Ceiba CBD hemp flower comes from top shelf growers in Vermont.
Ceiba boasts a whopping 17.07% cannabidiol content and an additional 3.03% of secondary phytocannabinoids including THC-A and CBC.
The total phytocannabinoid content of our Ceiba CBD hemp flower strain is over 20%, which makes this strain among the highest producers of phytocannabinoids on the market.
Best Uses
People use Ceiba CBD hemp overwhelming report positive improvements to perceptions related with stress, anxiety, and symptoms of depression.
We'd recommend this strain for anyone dealing with a lack of focus or concentration during the day due to stress-related problems. This is also a great pick to improve rest and relaxation against inflammation-related pain issues.

Overall Rating
We don't deal with sub-par strains here at Mr. Hemp Flower, so you'd be hard-pressed to find a bad review of our inventory. That said we still hold our strains up to the highest criteria and standards.
Ceiba is a shining star among hemp flower strains on the market today. It has all the flavor and taste you'd expect from a Sativa dominant CBD strain. There is little lacking in its potency or effect either.
All the way to its immaculate bud morphology and structure, this strain is one of the best we've come across. Although there are strains that consistently express higher amounts of CBD, Ceiba's profile is adequately diverse and potent enough for us to give it an official 5 out of 5 with zero reservations.
Ceiba CBD Review Highlights
Sleeping Giant
Smells nice, not harsh when smoking. Helps me relax without getting high. Able to function no problem. If I can't function it does me no good. Helps my back pain a little. When I smoke a full joint it puts me to sleep, no problem. I have tried other strains and for me works this one works the best, of any strain that's legal here in
North Carolina.
Smooth and fresh
Very relaxing well-balanced strain
Ceiba Strain Review – Shop Hemp Flower
Thanks for reading our Ceiba strain review. We hope this helps you make a more informed strain decision while shopping online for hemp flower.
Be sure to check out Mr. Hemp Flower's special offers and deals on Ceiba CBD hemp flower and more. We offer everything from grams to pounds, and even provide huge deals on wholesale hemp flower.
If you've found this Ceiba Strain Review helpful, share it with others that you think could benefit from some hemp in their life, and don't forget to check out our other strain reviews in the blog section.
Browse Our Hemp Flower Catalogue
Thanks for reading Mr. Hemp Flower's Ceiba Strain Review! Be sure to share it with others that you think will find it helpful.
Click the links below to browse our extensive inventory of the freshest strains available from the nation's top hemp cultivators out of Oregon, California, and more.
Is It Legal To Use Hemp Flower?  
Is it legal to use CBD hemp flower? CBD Hemp is legal in the USA and not considered an illicit or controlled substance, and is federally regulated as an agricultural product. This is primarily because CBD-rich hemp flower only contains trace amounts of THC content, which is what separates hemp from cannabis by legal definitions.   
While hemp flower is considered legal in all USA states, laws may vary from state to state or region to region within the USA. Always check that you comply with local and state laws regarding hemp flower.    
Browse Our Hemp Flower Catalogue 
FAQs About Ceiba
Is Ceiba a daytime or nighttime smoke?
Ceiba is a dual-purpose smoke that you can use anytime, day or night. It has enough effect to provide daytime relief without causing drowsiness, and sufficient CBD content to provide adequate relief at night.
Will Ceiba get you high?
No, Ceiba CBD hemp flower will not get you high because it contains only trace amounts of the psychoactive phytocannabinoid, THC.
Is it legal to smoke hemp flower?
Phytocannabinoid rich hemp flower is legal in all 50 US states as long as it doesn't contain more than .3% THC content. This was done under the 2018 Hemp Farm Bill and the Hemp Farming Act, which removed CBD and Hemp from the definition of marijuana.