The Land of Lincoln has made tremendous progress in the cannabis space, legalizing recreational and medical marijuana. But what does state law say about the new class of hemp-derived products high in delta 9? Are they legal to buy, and how are they regulated? Let's look at the current hemp laws in Illinois and where to purchase top-shelf gummies.
What Is Hemp-Derived Delta 9 THC
Delta 9 tetrahydrocannabinol or just THC is a potent intoxicating compound found in cannabis. THC is the prominent active cannabinoid associated with the 'high' caused by marijuana. But, it's also present in hemp in less than 0.3 percent, which is the legal threshold set by federal law.  
Legal Δ9-THC gummies are a new class of hemp products infused with 10mg delta 9 derived from hemp. This cannabinoid is extracted directly from the flowers and buds of legal hemp. 
Delta 9 is known for its stimulating, euphoric 'high,' and therapeutic benefits like appetite stimulation, pain relief, anxiety relief, aiding sleep problems, etc. This cannabinoid performs best when combined with terpenes and other cannabinoids.         
Buy Hemp Compliant Delta 9 THC in Illinois
Online is the best place to buy legal Δ9-THC if you live in Illinois. If you're looking for gummies with the optimal dose of Δ9-THC and cannabidiol (CBD), Mr. Hemp Flower's Delta 9 Gummies will exceed your expectations. 
Enriched with full spectrum hemp extract that contains 10mg delta 9 THC, 15mg cannabidiol (CBD), and 7.8mg delta 8 THC, each bite offers you the power of whole-plant hemp. We source our hemp from local US farmers who grow the plant with special care and per federal and state law. 
These gummies are potent — which means you will definitely feel them — but they won't make you drowsy or overly anxious. Keep in mind that everyone responds differently to Δ9-THC, so if you're a beginner, you should start with half a gummy and see how your body reacts to it. These gummies are subtly stimulative and offer great relief during the day without keeping you couch-locked. 
Aside from major compounds, they contain low concentrations of cannabinoids like CBG and CBN, which are great for sleep and pain relief. Our gummies are made with all-natural, organic ingredients, so you don't have to worry about quality and potency. They come with a Certificate of analysis performed by a third-party, certified lab.  
Legality of Hemp Delta 9 THC in Illinois
Are hemp-derived delta 9 THC gummies legal in Illinois? 
Yes, they are! Full spectrum delta 9 gummies are legal in Illinois if they contain less than 0.3 percent Δ9-THC.  
Our gummies are as legal as any hemp-derived full spectrum CBD product sold on the market. To make our gummies compliant with federal and state law, we've squeezed 10mg Δ9-THC into a 4g bitesize gummy. You can order here. 
The Illinois General Assembly passed several laws that legalize different types of cannabis, including recreational marijuana. Regarding hemp, the state took a more careful approach and passed laws that lifted restrictions on hemp cultivation even before the 2018 Farm Bill was enacted. 
In August 2018, Illinois passed Senate Bill 2298, also known as the Industrial Hemp Act. The Act lifted restrictions that permitted cultivation of the plant for research purposes only and allowed its use for commercial purposes. 
After hemp became legal federally, the state Department of Agriculture adopted a set of temporary rules in early 2019. The rules define hemp the same way it's defined by federal law and set the limit for delta 9 to 0.3 percent by weight. The rules also allow the sale of hemp-derived CBD products with less than 0.3 percent Δ9-THC. 
As of this writing, Illinois lawmakers are actively trying to regulate cannabinoids like delta 8 and delta 10. The state is in the process of debating what's the best way to go with these products to ensure consumer safety.
Until formal law-making takes place, you can legally buy delta-8 infused products in Illinois. Just make sure you choose a reliable seller with positive reviews and tested and safe products, like Mr. Hemp Flower.
Can you buy high-THC cannabinoid products in the Peach State, like the brand new, legal delta 9 THC gummies? Let's look at the current hemp laws in Georgia and where to order the best gummies on the market. 
What Is Hemp-Derived Delta 9 THC
Delta 9 THC, also known as traditional THC, is the primary psychotropic cannabinoid in cannabis. It's prevalent in marijuana, the intoxicating cannabis variety that's associated with the 'high' euphoric sensation. 
The hemp plant does contain THC, but within the legal threshold set by federal law — less than 0.3%.  Legal delta 9 THC is extracted from the buds and flowers of hemp with less than 0.3% THC. 
There's no difference in chemical structure between hemp-derived and marijuana-derived THC. It's the same molecule that, aside from being psychotropic, has medicinal benefits and can help with pain, inflammation, insomnia, poor appetite, nausea and vomiting, etc. 
But, there's a huge difference between them regarding legality, which we discuss in this article. 
Hemp Compliant Delta 9 THC and Federal Law
The 2018 Farm Bill legalized the growth, manufacture, and sale of hemp and hemp products with less than 0.3% Δ9-THC.
Hemp was removed from the Controlled Substances Act
Is hemp-derived delta 9 legal federally? The answer is, yes, it is.  
When the Farm Bill legalized hemp in 2018, it also updated the plant's controlled status. Hemp is no longer defined as 'marijuana' and was removed from the list of controlled substances. If derived from hemp, Δ9-THC is legal, while if derived from marijuana, it's not legal. 
In the past, cannabis plants (hemp and marijuana) were illegal under the Marijuana Tax Act. Federal law considered both the same. Now, it defines hemp as:  
"The term 'hemp' means the plant Cannabis sativa L. and any part of that plant, including the seeds thereof and all derivatives, extracts, cannabinoids, isomers, acids, salts, and salts of isomers, whether growing or not, with a delta-9-tetrahydrocannabinol concentration of not more than 0.3 percent on a dry weight basis [1]."
To be legally sold across all 50 states in the nation, Δ9-THC must be extracted directly from federally compliant hemp. Also, products containing this cannabinoid must not exceed 0.3 percent Δ9-THC by weight. In a 1 gram edible (a gummy), manufacturers can infuse an extract with around 3mg of delta 9 and still have a compliant product. 
Naturally, a 4g gummy will contain up to 10mg delta 9, enough to cause a mild intoxication in the user. This begs the question, how can these products be legal when they're intoxicating? 
It's important to mention that the Farm Bill removed 'hemp' and 'THC in hemp' from the Controlled Substances List. If we go back to the main definition of hemp, it's clear that the only criteria that distinguish hemp from marijuana products is the levels of Δ9-THC. Any product with less than 0.3 percent delta 9 is legal at a federal level. 
That said, one of the main hurdles around hemp edibles is that they haven't been approved by the US Food and Drug Administration (FDA). The agency does tolerate the sale of these products as long as they are not marketed under medical claims. On the other hand, most states have regulated or are in the process of regulating these products despite federal uncertainty.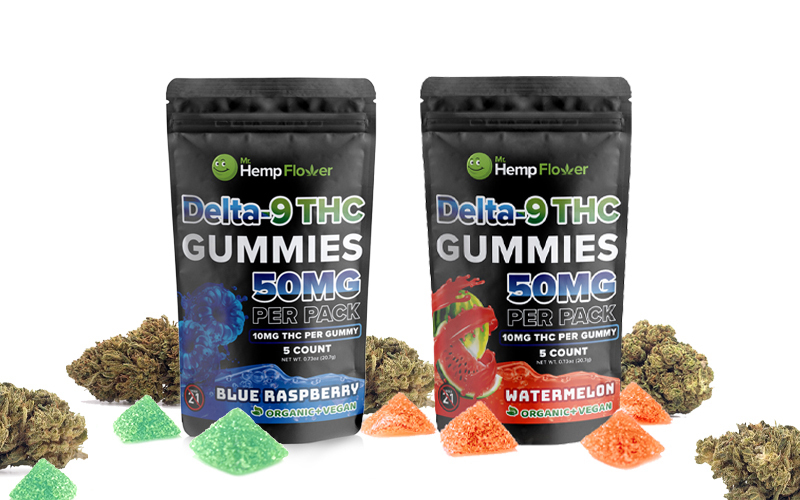 Be Sure to Check Out: 
Delta-9 THC FAQ
Read our legal disclaimer HERE. While we try to stay as up to date as possible on all state laws, you should do your own due diligence and work with a legal professional to ensure you are operating legally in your state or territory at all times.

Checkout our State-by-State Articles: