Everything is brighter in the Sunshine State, including the support for new and unique hemp products. Florida has been a fantastic ally to the hemp industry and its users, so if you live in this state, you can legally order the newest addition to the market — hemp compliant Delta-9 THC gummies. Let's look at the legal status of these gummies in Florida and where to buy the best product.
What Is Hemp-Derived Delta-9 THC
Hemp-derived Delta-9 THC is extracted directly from the buds and flowers of the hemp plant as opposed to the marijuana plant. 
Delta-9 tetrahydrocannabinol (Δ9-THC) is the primary intoxicating compound in the cannabis plant. We all know it as the "cannabinoid that gets you high." Despite recreational uses, this compound has many medicinal benefits and can be used for: 
Pain

Inflammation

Insomnia

Multiple sclerosis

Nausea

Anxiety

Depression

Post-traumatic stress disorder (PTSD)

Poor appetite
In hemp, this cannabinoid is present in no more than 0.3% on a dry weight basis. Producers now extract it from hemp and infuse it into products while maintaining its THC concentration compliant with federal law. 
Buy Hemp Compliant Delta-9 THC in Florida
Mr. Hemp Flower is thrilled to bring you hemp-derived Delta-9 THC full spectrum Gummies now available in two flavors — watermelon and blue raspberry. A pack contains five 4g gummies, each infused with 10mg full spectrum extract.  
To create this product, we use a larger gummy and infuse it with a full spectrum hemp distillate. The final product contains 10mg Δ9-THC and is still compliant. 
The extract is derived from pure, organically grown hemp with .3% Total THC. We source our hemp from licensed US farmers based in North Carolina and Washington. 
Hemp compliant Delta-9 THC products are legal in Florida and federally, so you can buy without a medical marijuana card. We ship the product directly to your Florida home. 
At Mr. Hemp Flower, we believe in the power of full spectrum hemp extracts and are excited to finally offer premium, truly full spectrum gummies high in THC. Our organic and vegan-friendly recipe is what you need if you are looking for easy-to-digest and delicious gummies that produce the entourage effect. 
As you can see from the Certificate of Analysis of this product, these gummies are infused with a tested hemp distillate. The formula contains 10mg Delta-9 THC, 15mg CBD, and 7.9mg Delta-8 THC in the main cannabinoid profile. On top of these, tinier amounts of CBG, CBN, CBC, CBDV, terpenes, and flavonoids are also present. 
These gummies are packed with cannabinoids and are high in THC, so you can expect to get "stoned." 
Legality of Hemp Delta-9 THC in Florida
Since the passage of the 2018 Farm Bill, hemp laws in Florida have undergone several changes. The key law that carved the path for the development of the cannabinoid industry in the state is Senate Bill 1020. Lawmakers passed the bill in July 2019, introducing critical changes like: 
Aligning state with federal law. The bill legalized and defined hemp as a plant with less than .3% THC by weight. 

Legalizing hemp extracts and defining them as any substance or compound derived from hemp that doesn't contain other controlled substances and is intended for ingestion. 

The bill legalized hemp CBD and stated that hemp-derived cannabinoids are not considered controlled substances.  
Meaning, hemp-derived full spectrum extracts with less than .3% THC are absolutely legal in the Sunshine State. 
Florida has one of the most progressive and beneficial public policies towards hemp cannabinoids. The state was unique in its decision to provide a framework for the legal sale of Delta-8 THC. In a statement by the Florida Department of Agriculture and Consumer Services regarding the sale of the controversial Delta-8 THC, they said:
"Any hemp or hemp extract products offered for sale or sold in Florida must comply with all labeling rules and have a certificate of analysis that shows a total THC (THCA x .8777 + THC Delta 9 = total THC) content of 0.3% or less."
Given our gummies contain Total THC levels of 10mg per 4g gummy (but still don't exceed .3% by weight), they are legal in this state. We keep our THC product compliant with federal law by infusing a later gummy with the correct amount of full spectrum hemp distillate. 
The acceptance of cannabis products for medicinal purposes in Florida began in 2014 when the state approved Senate Bill 1030. The bill legalized low-THC (no more than .8%) CBD oil (10% or more) for qualifying patients with cancer, seizures, and terminal illness. 
Two years later, voters approved Amendment 2 and significantly expanded the state's medical marijuana program. The amendment didn't allow the use of smokable marijuana but was later rebuked. Today, both hemp users and medical marijuana users can buy legal cannabinoid products without any limits on possession or use. Recreational marijuana is still illegal in the Sunshine State, but the movement is slowly getting traction.  
Hemp Compliant Delta-9 THC and Federal Law
The 2018 Farm Bill authorized the growth, manufacture, and sale of hemp and hemp products with less than 0.3% Δ9-THC.
Under federal law, hemp is not a controlled substance
The hemp plant was legalized under the 2014 Farm Bill, which allowed states to create pilot hemp programs and grow the plant for research purposes. Under this Act, close to 40 states created pilot programs. 
Recently, the 2018 Farm Bill legalized hemp as an agricultural commodity and removed "hemp" and "THC in hemp" from the Controlled Substances Act. The Farm Bill defines hemp broadly as:
"The term 'hemp' means the plant Cannabis sativa L. and any part of that plant, including the seeds thereof and all derivatives, extracts, cannabinoids, isomers, acids, salts, and salts of isomers, whether growing or not, with a delta-9-tetrahydrocannabinol concentration of not more than 0.3 percent on a dry weight basis [1]."
After this bill was enacted, states implemented the hemp rules into their legislation. So, hemp with less than 0.3% Delta-9 THC by dry weight is legal both federally and in Florida. This bill also made lawful the manufacture and sale of hemp cannabinoid products. 
The main complaint regarding the legalization of intoxicating hemp cannabinoids like THC was that they are marijuana-like and fall close to the illegal category. However, federal law makes a distinction between hemp and marijuana products based on their source of extraction and Total THC levels and not levels of intoxication.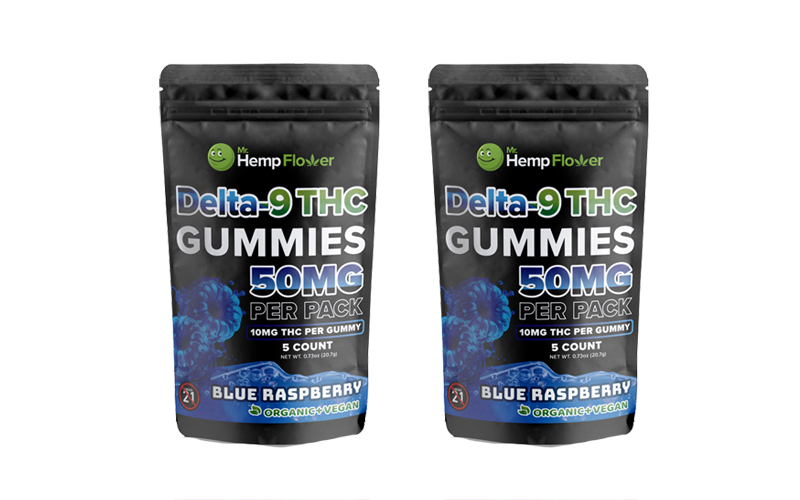 Be Sure To Checkout:
Delta-9 THC FAQ
Read our legal disclaimer HERE. While we try to stay as up to date as possible on all state laws, you should do your own due diligence and work with a legal professional to ensure you are operating legally in your state or territory at all times.

Checkout our State-by-State Articles: