Oregon's new legislation "merged" hemp and marijuana products containing "intoxicating cannabinoids" into the same category. The newest addition to our whole plant hemp product line, Delta 9 THC Gummies, fall into this newly regulated category of products.
Can you buy hemp compliant delta 9 THC gummies in Oregon? Let's look at hemp laws and regulations in the Beaver State.  
Last Update: November 11, 2023
Summary
Hemp-derived delta 9 THC gummies with less than 0.3% THC are legal to buy, sell, and possess in Oregon without restrictions.
High-THC delta 8 and delta 9 gummies are also legal in Oregon, but can be sold only to adults 21 and over.
You can order legal delta 9 gummies derived from hemp online or buy any THC gummies in a local dispensary if you're over 21.
Oregon regulated cannabinoid products containing THC in 2021 under HB 3000.
Marijuana is legal in Oregon for both adult use and medical purposes.
Mr. Hemp Flower offers premium delta 9 and delta 8 gummies that you can buy in Oregon under current requirements.
Where to Buy Legal Delta 9 THC Gummies in Oregon?
Looking for a hemp product with the optimal amount of THC in Oregon? You can find some quality ones in local shops. But, we promise, they won't be as good as our hemp-derived Delta 9 THC Gummies that you can order online from the comfort of your home. 
Formulated with the optimal amount of THC to relax and stimulate your brain, our gummies represent the future of cannabis — potent, whole plant medicine. 
Although marijuana is legal in Oregon, these gummies are still considered hemp because the THC comes from hemp. Also, the THC occurs in a concentration of less than 0.3 percent by weight. 
These gummies contain higher levels of this intoxicating cannabinoid — 10mg THC per gummy — and are perfectly lawful in Oregon. You don't need a medical marijuana card to purchase these gummies. Available in two flavors, watermelon and blue raspberry, they are enriched with other main cannabinoids. Each gummy contains:
Fifteen (15) mg cannabidiol (CBD) 

Eight (7.9) mg Delta-8 THC 

Tinier concentration of cannabigerol (CBG) 

Cannabinol (CBN)

Cannabichromene (CBC)

Terpenes and 

Flavonoids
The current market fails to deliver clean and quality hemp-derived cannabinoid products. Not Mr. Hemp Flower, though. We've been going strong for over five years and have dedicated our time and effort to bring you the most potent whole plant hemp products to your doorstep. 
This vegan-friendly, organic formula is made from clean, locally sourced hemp and is tested by a third-party, certified lab. Expect to feel a "buzz" that will help you unwind in the evenings yet stimulate you and help you focus during the day. 
What is Hemp-Derived Delta-9 THC
Delta 9 tetrahydrocannabinol is the main intoxicating cannabinoid in cannabis. While prevalent in marijuana, delta 9 is present in hemp in no more than .3 percent by dry weight. When extracted directly from hemp buds cultivated under federal and state law, this cannabinoid is considered hemp-derived. 
As you know, Δ9-THC is typically used for recreational purposes because it causes the "high" associated with cannabis. But, this compound is so much more than that because it offers a range of medicinal benefits and can help with:
Pain;

Inflammation;

Nausea;

Depression and anxiety;

Poor appetite;

Ease symptoms of conditions like multiple sclerosis, epilepsy, and PTSD.
Hemp-derived THC is stimulating but comes in a dose that allows the user to reap the benefits of whole plant hemp without feeling too drowsy, fatigued, anxious, or paranoid. 
Are Delta 9 THC Gummies Legal in Oregon?
Yes, delta 9 THC gummies derived from hemp are legal in Oregon. 
The state doesn't restrict the sale, use and possession of hemp gummies and edibles with less than 0.3% THC. But, hemp gummies with a high THC concentration are also legal in Oregon and can be sold to adults 21 and older. 
On July 19, 2021, Gov. Brown signed into law HB 3000, which modifies the way hemp products will be sold in the future in this state. 
In short, the bill allows the sale of industrial hemp commodities or products with over 0.5 milligrams THC (or any "intoxicating cannabinoid" or "artificially derived cannabinoids"). 
Adult Use Cannabis Items 
The new law considers high-THC hemp or marijuana items Adult Use Cannabis Items. There are no specific restrictions on who can buy these products, aside from the typical age restriction that allows sale only to users over 21. 
Further regulations will be set by the Oregon Liquor Control Commission (OLCC). The law authorized the OLCC to set new potency and concentration limits for THC and other intoxicating compounds in hemp products intended for adult-use and sale.
With this bill, Oregon set a precedent in the classification of cannabis and cannabis products. It challenges the current traditional classification into just 'marijuana' or 'hemp.' 
The new classification under Oregon law is called Adult-Use Cannabinoids and Cannabis Items — and blurs the long-held distinction between marijuana and hemp. The bill first establishes the "Adult Use Cannabinoids" category, which defines and includes:
Tetrahydrocannabinols;

Tetrahydrocannabinolic acids that are artificially or naturally derived;

Delta-8 THC;

Delta-9 THC;

The optical isomers of Delta-8 or Delta-9 THC;

Any artificially derived cannabinoid that is reasonably determined to have an intoxicating effect.
The bill also creates a new classification of consumer products, defined under the category "Adult Use Cannabis Item," which includes:
A marijuana item (items derived from marijuana sold in the state's recreational and medical market);

An industrial hemp commodity or product that exceeds: 
– A concentration of Adult Use Cannabinoids (as established by the Oregon Liquor and Cannabis Commission) and
–  A concentration of delta-9 THC that exceeds 0.3% on a dry weight basis (as set by federal law).
This new framework that allows the sale of hemp products infused with Adult Use Cannabinoids is a step towards the future for hemp-derived THC products.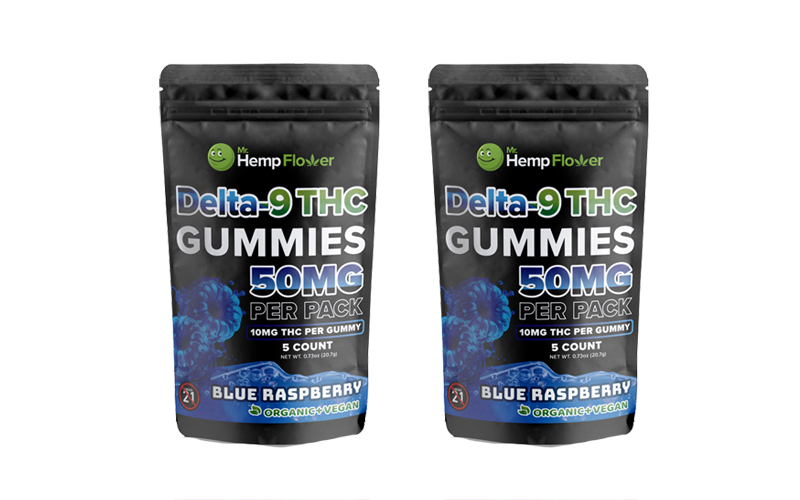 Be Sure to Check Out: 
Delta-9 THC FAQ
Read our legal disclaimer HERE. While we try to stay as up to date as possible on all state laws, you should do your own due diligence and work with a legal professional to ensure you are operating legally in your state or territory at all times.
Checkout our State-by-State Articles: