Purchase wholesale hemp flower in Kansas and join the emerging hemp market 
The Kansas hemp market is expected to spike as big companies have started investing in the Sunflower State's CBD space. If you want to join the developing Kansas hemp market, partner with Mr. Hemp Flower and purchase hemp flower and smokable hemp products wholesale.
Last Update: June 7, 2023
Article Summary 
It's legal to market, sell or distribute hemp flower buds in Kansas only by registered processors.
Products like hemp cigarettes, hemp cigars, teas containing hemp, and hemp preparations intended for vaporizing devices are strictly banned in Kansas.
Mr. Hemp Flower offers wholesale hemp flower for the Kansas marketplace. We offer a range of products, including CBD-rich hemp flower, full spectrum CBD gummies and full spectrum oil.
Potential profit margins from reselling our products range from 50% to 54%, depending on the product.
We also offer free marketing materials, like glass magnifying jars, hemp flower posters, and a booklet on hemp flower strains to help you sell the products.
Pre-Packaged and Bulk CBD Flower from Mr. Hemp Flower | Wholesale Hemp Flower Kansas
Retail Ready Pre-packaged Hemp Flower 
Mr. Hemp Flower offers you access to high-quality hemp flower and smokable hemp products at an excellent price for your retail shop. Become our wholesale partner and unlock our line of products made by our team using quality hemp flower grown by licensed U.S. farmers. We have an established relationship with carefully selected, vetted growers, and we source our hemp flower directly from them. Our wholesale program allows you to easily purchase pre-packaged hemp flower and full spectrum hemp products exclusive to Mr. Hemp Flower and offer them at retail. We package our products in an odor-free bag or jar that is appropriately labeled and contains Mr. Hemp Flower's logo on it. Here is a short overview of our product line: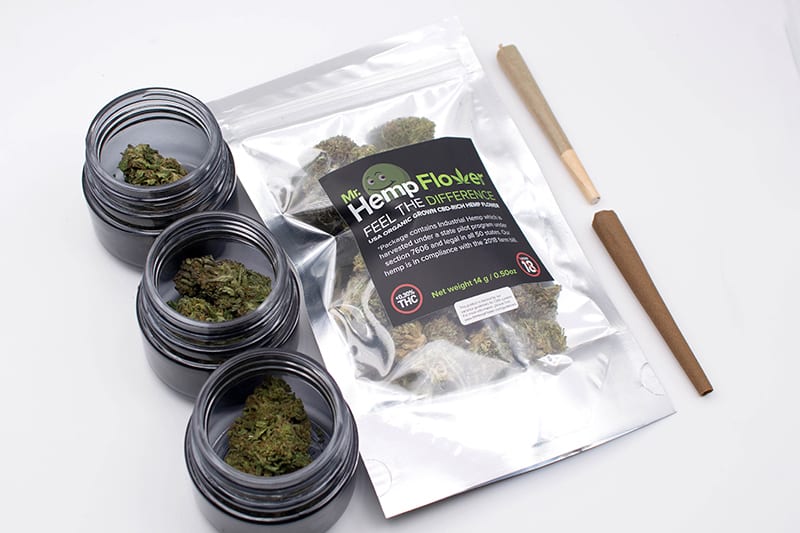 Hand Trimmed CBD-rich Hemp Flower
We offer organic hemp flower rich in cannabinoids and terpenes. Our CBD flower is sourced directly from vetted farmers cultivating CBD-rich hemp flower in the United States. We pay extra attention to our pre-packaged wholesale orders, so your hemp flower will come hand-trimmed. You can order any of the strains available on our website as grams, eighths, or quarters. Mr. Hemp Flower's line includes both indoor-grown and outdoor-grown hemp flower of the highest quality.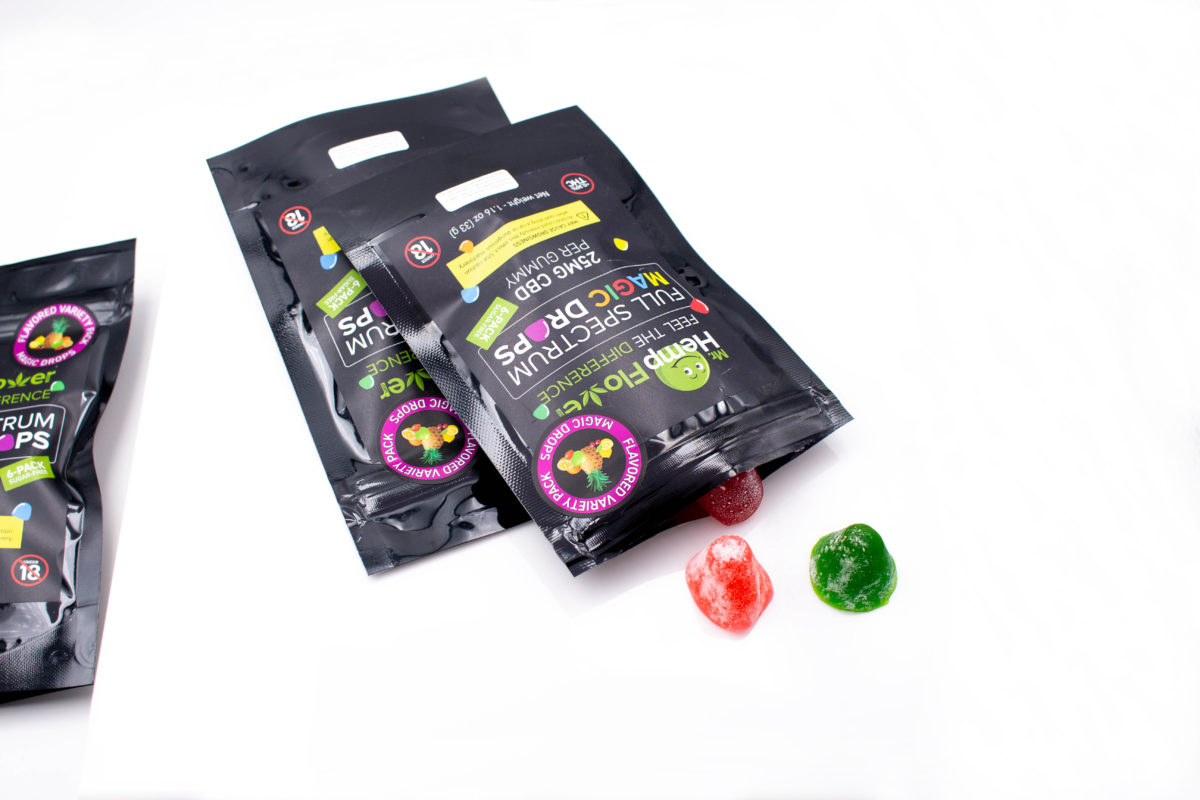 Full Spectrum CBD Gummies (with THC) 
Mr. Hemp Flower offers Full Spectrum CBD Gummies (with THC) and Full Spectrum CBN Gummies, both infused with true full spectrum CBD oil. Our gummies provide relief and taste delicious, which is why they are one of our best selling products. Our CBD gummies contain 25mg of CBD each and are available in several flavors, while our CBN Gummies contain 10mg+ of CBD and 5mg of CBN.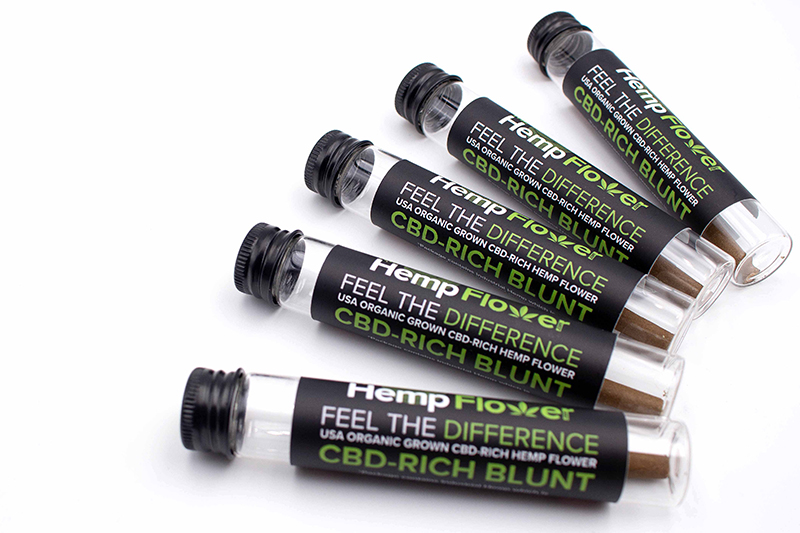 Hemp Pre-rolls and Pre-rolled Blunts
Customers love Mr. Hemp Flower's pre-rolls and pre-roll blunts because they are convenient and offer great value for money. Our hemp pre-rolls and pre-roll blunts are made using hemp flower only and don't contain any additives or CBD-low hemp plant matter. Get any hemp flower strain available on our website as 1 gram pre-roll or pre-roll blunt wholesale, at a great price. We package our pre-rolls and blunts in a well-designed jar that carries Mr. Hemp Flower's logo on it. Offer a smooth, excellent smoke to your customers with Lifter Plus Hemp Pre-Roll and Cheese Hemp Pre-Roll.
Hemp Cigarettes 
Hemp smokes are a popular product that many customers like to buy at retail. Hemp smokes are especially used by cigarette smokers who are looking for a healthier alternative or want to quit smoking. Our hemp cigarettes are pure hemp flower and kief blend, are nicotine-free and contain less than 0.3% THC. We manufacture our own hemp cigarettes, and we guarantee you, there is no low-CBD plant matter in our hemp smokes.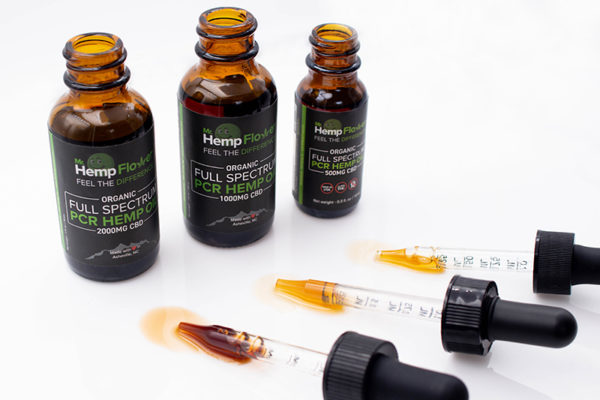 Customers are getting picky with their CBD oil and are increasingly looking for full spectrum CBD oil that comes from organic hemp and is rich in cannabinoids. Our PCR Hemp Oil is a cannabinoid-rich tincture extracted from U.S.-grown organic hemp flower and contains the entire hemp plant profile. Our full spectrum CBD tincture is the perfect replacement for CBD flower to non-smokers.
FREE Marketing Materials to Help You Attract More Customers
With your wholesale order of pre-packaged hemp flower, you'll get free marketing materials to help you sell the products. 
Glass magnifying jars
enhance customer experience and increase their chances of purchasing with our magnifying jar that zooms on the dense trichomes of each hemp flower strain. 
Hemp flower posters
our free posters will bring valuable hemp flower information to your retail shop and are great wall decor pieces.
A 50-page booklet on hemp flower
our booklet is a 50-page tool that contains interesting information on different hemp flower strains.
Bulk Hemp Flower (not pre-packaged)
Buying bulk wholesale hemp flower in Kansas has never been easier. Purchase 2-3 pounds of hemp flower in bulk and create your own brand using top-shelf CBD flower. Our team at Mr. Hemp Flower does all the work for you — we have an established partnership with U.S. farmers who have been growing organic hemp for over five years. Each of the stains you see on our website can be ordered in bulk. All of our bulk hemp flower is machine-trimmed, except for our premium strains that come hand-trimmed.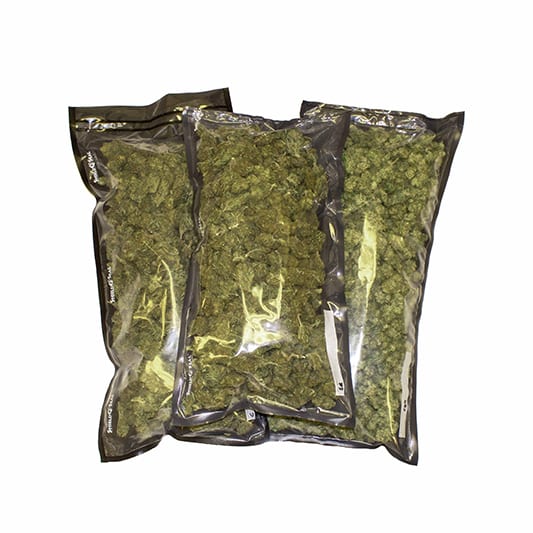 Retail Stats and Potential Margins | Wholesale Hemp Flower Kansas
How much can you earn from reselling hemp flower purchased wholesale? Our estimates show that an order of $2,500 from Mr. Hemp Flower — with current discounts — can make you roughly $5,000 to $7,000 in sales. 
Stats and Margins 
An order of 30 eighths (3.5 grams) of CBD Hemp Flower at a discounted price of $14.99, costs you only $449.7 to buy wholesale. If you sell each eighth at $29.99 ($29.99 x 30 = $899.7), you will make $450 in profit, which is a 50% margin. If the strain is popular for its potency and effectiveness and has dense and large buds you can sell eighths at $31.99 and have a profit of $510 ($31.99 x 30 = $959.7) with a 53% margin.
If you buy 20 pieces of our Hemp Flower Pre-Roll (1 gram each) at a discounted price of $4.49, it costs you $89.9 to buy wholesale. If you sell each pre-roll at $8.99 ($8.99 x 20 = $179.8), you will make $89.9 in profit, which is a 50% margin. Due to high CBD levels, you can sell each pre-roll of this strain at $13.99 and have a profit of $189.9 ($13.99 x 20 = $279.8) with a 67% margin.
Is Reselling Wholesale Hemp Flower in Kansas Legal?
The legality of reselling hemp flower and full spectrum CBD products depends on both federal and state laws. 
Is Reselling Hemp Flower Legal on a Federal Level?
Yes, reselling CBD flower with THC levels of no more than 0.3% is legal under the 2018 Farm Bill. 
Hemp is a federally legal crop, and states are allowed to grow, manufacture, and market hemp for commercial purposes. The Food and Drug Administration (FDA) is still investigating the effects of hemp CBD (and the effects of hemp smokables) on the human body. So FDA prohibits the sale of certain types of hemp products, such as CBD in food. Other hemp products, such as smokables and cosmetics, are unregulated.
In general, manufacturers are not allowed to market their hemp CBD products for human consumption under medical claims or as dietary supplements. The FDA has sent warning letters to companies making health claims on their CBD products, asking them to remove them immediately. After removing the medical claims, companies have continued selling their CBD products, which might indicate that the FDA is tolerating the sale of hemp CBD as long as it's not marketed as a food or dietary supplement. 
The United States Department of Agriculture (USDA) passed an Interim Rule to establish a national regulatory framework for hemp production in the U.S. The Interim Rule includes provisions on hemp testing and disposal, specifically testing of hemp for its total THC levels.
The total THC levels in hemp are the sum of delta-9 THC and the potential conversion of THCA on a dry weight basis (THCA is found in raw hemp plants and when exposed to heat or oxygen converts into THC.) States that have won approval by the USDA have adopted the total THC testing rule and are planting hemp under the 2018 Farm Bill. The interim rule does not affect hemp cultivated under the 2014 Farm Bill programs. 
Can You Resell CBD Flower in Kansas? 
Yes, it's legal to resell CBD flower in Kansas only by individuals and businesses registered as processors. 
Kansas is one of the more restrictive states when it comes to reselling CBD flower and smokable products. Despite hemp being legal in Kansas and the state preparing the new commercial hemp program, Kansas doesn't allow the sale and distribution of certain smokable hemp products.
Kansas law prohibits the manufacture, marketing, selling, or distribution of [1]:
Cigarettes containing industrial hemp;

Cigars containing industrial hemp;

Chew, dip, or other smokeless material containing industrial hemp;

Teas containing industrial hemp;

Liquids, solids, or gases containing industrial hemp for use in vaporizing devices; and

Any other hemp product intended for human or animal consumption containing any ingredient derived from industrial hemp that is prohibited pursuant to the Kansas Food, Drug and Cosmetic Act. 
Kansas Governor signed the new hemp bill that removed hemp from the state list of controlled systems and includes the smokable hemp provisions in May 2019. The new bill set the ground for the state's commercial hemp program and authorizes the commercial sale of hemp and hemp products with less than 0.3% THC [2]. 
Why Mr. Hemp Flower?
Mr. Hemp Flower is an established, trusted brand with hundreds of five-star reviews by real customers. We offer hemp smokables and full spectrum CBD products exclusive to our brand that you can offer at retail. Buying our products wholesale allows you to introduce our products in a location where they are not yet available. We source our hemp flower from vetted farmers and manufacture all of our products, so you can rest assured you are offering hemp smokables of the highest quality to in-person customers. Regardless if your store is focused on natural wellness or is strictly offering hemp flower and smokables, you will benefit from our products. 
How to Make Your Wholesale Order? 
Have questions? Want to make your wholesale order? Here is how to get in touch:
Give us a call

—

we'd love to hear from you. We are here to answer all of your questions and help you fill in your order. 

Fill out the form below

—

if you know which products you want delivered and want to make an order, fill out the form below.

Fill out our wholesale price quote form — have a specific product in mind? Fill out the form with the product and its quantity, send the form to [email protected], and we'll get back to you with a price quote within 24 hours.  
FAQ Wholesale Hemp Flower Kansas