Join Mr. Hemp Flower's Wholesale Program and Buy Premium Wholesale Hemp Flower in Alabama To Resell
After an 80-year hiatus, Alabama farmers received licenses from the Alabama Department of Agriculture to grow hemp in 2018. Only in 2019, the Cotton State approved 157 licenses and 2,000 outdoor acres. Like most U.S. states, Alabama farmers grow their hemp for extraction of CBD and smokable hemp flower. 
A report by Markets and Markets estimates that the hemp industry could reach $26.6 billion by 2025. The sale of CBD products is estimated to grow to 2.6 billion in consumer sales by 2022, writes The Hemp Business Journal. Only in 2019, U.S. retailers sold $70.6 million of hemp pre-rolls and hemp flower, according to research by the Brightfield Group. If you are a retailer or distributor in Alabama looking to buy pre-packaged or bulk hemp flower, here is why you should become our wholesale partner. 
Pre-Packaged and Bulk CBD Flower from Mr. Hemp Flower | Wholesale Hemp Flower Alabama
Retail Ready Pre-packaged Hemp Flower 
Looking to buy premium pre-packaged hemp flower? Our wholesale program gives you access to all of our organic hemp flower strains and full spectrum CBD products. Be a trusted source of hemp flower products by offering organically grown CBD flower and smokables to your customers. All pre-packaged items come hand-trimmed and wrapped in odor-free, properly labeled, and aesthetically pleasing packaging. Together with your pre-packaged items, you'll get free marketing materials to help you push the products. We offer:
Hand Trimmed CBD-rich Hemp Flower
Our CBD flower comes from the best U.S. farms. All of our products are made using organically grown hemp flower cultivated by U.S. licensed farmers, primarily in Colorado, Oregon, and Washington State. Looking for hand-trimmed grams, eights, and quarters? All of the hemp flower strains on our website can be pre-packaged in multiple sized options — including the premium ones. Strains like Hawaiian Haze Hemp Flower, Wu 5 Hemp Flower, and Suzy Q Hemp Flower are on our bestseller list.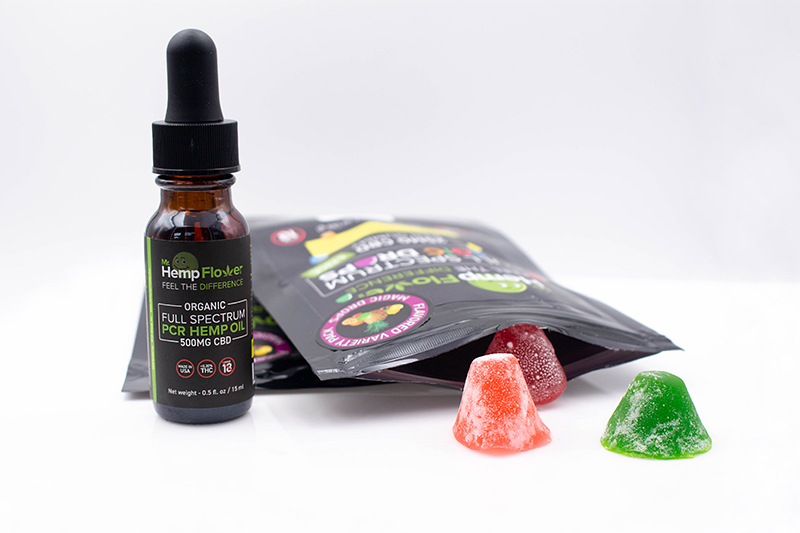 Full Spectrum CBD Gummies (with THC) 
We offer both full spectrum CBD and CBN gummies. Our Full Spectrum CBD Gummies (with THC) are sugar-free gummies infused with full spectrum CBD oil. We've recently added Full Spectrum CBN Gummies to our line of full spectrum products. They are an incredible mix of one of the rarest cannabinoids CBN (each gummy contains 5mg of CBD) and CBD (each gummy contains 10mg+ of CBD).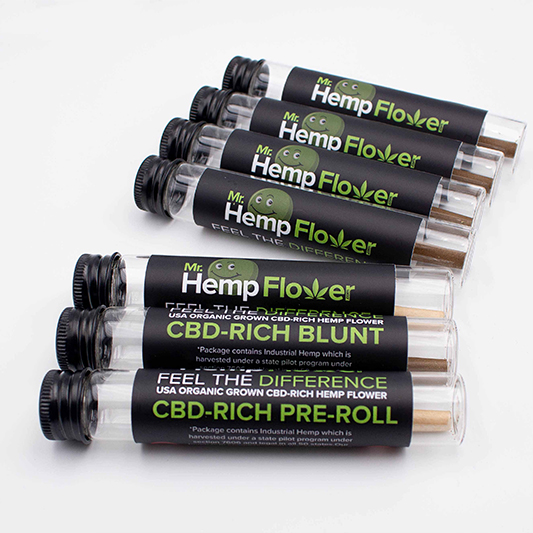 Hemp Pre-rolls and Pre-rolled Blunts
Customers over the world love hemp pre-rolls because they are the most convenient way of using CBD. Our hemp pre-rolls and pre-rolled blunts are 100% organic, hand-trimmed, and additive-free hemp flower. Get 1 gram of each strain placed on our website and display them in your store. Each pre-roll comes in a single glass jar with Mr. Hemp Flower's branding. On our list of best-selling pre-rolls and blunts are Lifter Plus Hemp Pre-Roll Blunt, Baox Hemp Flower Pre-Roll Blunt, and Hawaiian Haze Hemp Pre-Roll.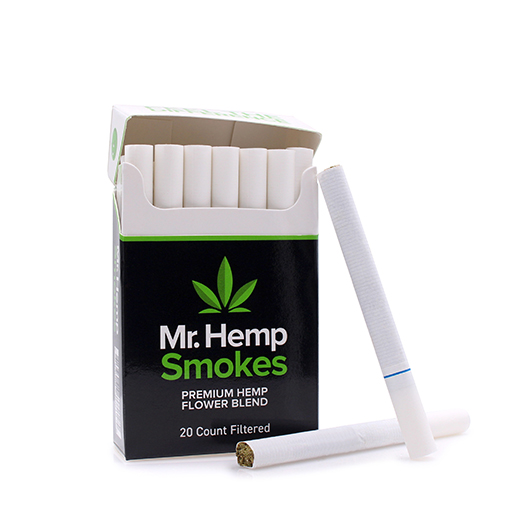 Hemp Cigarettes 
Do you find it challenging to find pure hemp flower cigarettes? Our hemp cigarettes are a blend of 100% hemp flower mix and kief. Mr. Hemp Flower's cigarettes don't have ANY hemp biomass in them, are nicotine-free, and contain less than 0.3% THC.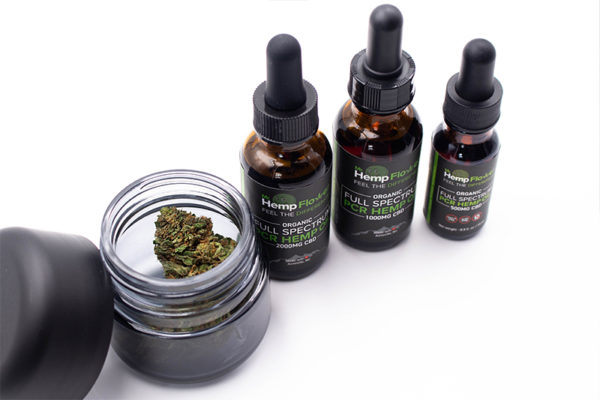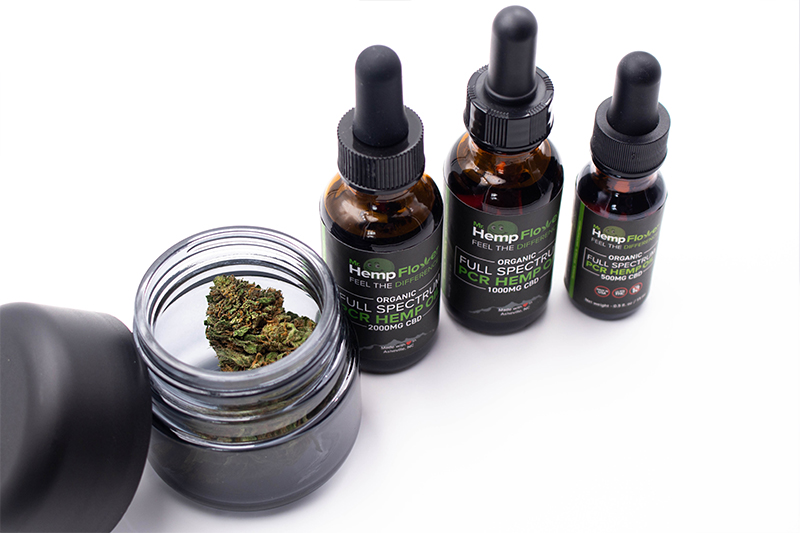 TRUE Full Spectrum Phytocannabinoid-rich (PCR) Hemp Oil 
We are huge proponents of whole plant health and the benefits of hemp cannabinoids and terpenes when working together rather than as isolated compounds. If you're looking for a potent true full spectrum CBD oil to offer to your customers, our phytocannabinoid-rich (PCR) hemp oil is the real deal. 
FREE Marketing Materials to Support Your Business
The way you present your CBD flower products to the customer matters. We support our wholesale partners with FREE marketing materials that they'll get with their order or pre-packaged smokable hemp products. With you order, you'll get:
Glass magnifying jars
Customers want to see the buds they are buying up close. Let customers inspect the beautiful trichomes of the flower through the magnifying jar, which will immediately reassure them they are getting quality buds.
Hemp flower posters
Selling in a retail space comes with an advantage, and we're all about supporting that. Our hemp flower posters are both informative and visually appealing.
A 50-page booklet on hemp flower
Customers appreciate a team that's knowledgeable in the products they want to buy. Our booklet contains all the info you need to know about various hemp flower strains and their benefits.
Bulk Hemp Flower (not pre-packaged)
If you want to buy top-shelf hemp flower for your own brand, our wholesale program is perfect. Mr. Hemp Flower's wholesale partners can buy 2-3 pounds of machine-trimmed hemp flower in bulk. All of our hemp flower is organically grown by U.S. licensed farmers. 
Interested in getting some premium strains? No worries, they come perfectly hand trimmed by our team. You can immediately offer the CBD flower to your customers, just break it down and place it in your own packaging.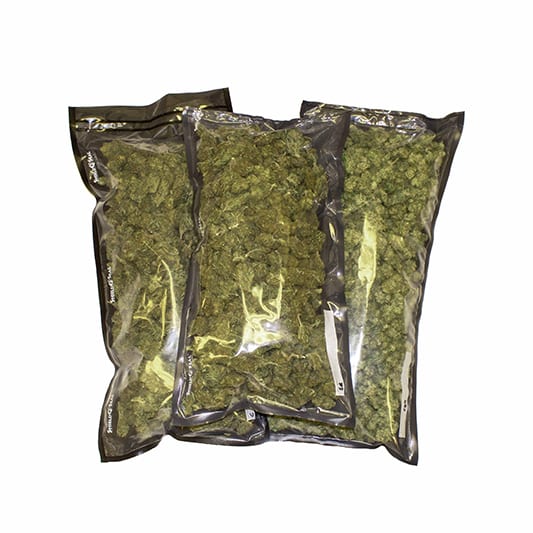 Retail Stats and Potential Margins | Wholesale Hemp Flower Alabama
How much can you earn from reselling hemp flower purchased wholesale? An order of $2,500 from Mr. Hemp Flower — with current discounts — can make you roughly $5,000 to $7,000 in sales. 
Stats and Margins
An order of 20 quarters (7 grams) of Suzy Q Hemp Flower at a discounted price of $27.49, costs you only $549.9 to buy wholesale. If you sell the flower at $54.99 ($54.99 x 20 = $1099.8), you will make $549.9 in profit, which is a 50% margin. Depending on the demand, you can sell 7 grams of Suzy Q CBD flower at $60.00 and have a profit of $650.1 ($60.00 x 20 = $1200) with a 54% margin.
Full Spectrum CBD Gummies (With THC) 
An order of 20 Full Spectrum CBD Gummies (6 large gummies per bag; 25mg+ of CBD in each gummy) at a discounted price of $9.99 costs you $199.8 to buy wholesale. If you sell each bag of gummies at $19.99 ($19.99 x 20 = $399.8), you will make $200 in profit, which is a 50% margin. CBD gummies are one of the most popular products on the market, so you can offer a bag of our CBD gummies at $24.99 and make a profit of $300 ($24.99 x 20 = $499.8) with a 60% margin.
Baox Hemp Flower Pre-Roll Blunt  
If you buy 30 pieces of Baox Hemp Flower Pre-Roll Blunt (1 gram each) at a discounted price of $4.49 each, it costs you $134.8 to buy wholesale. If you sell each blunt at $8.99 ($8.99 x 30 = $269.7), you will make $134.9 in profit, which is a 50% margin. Depending on demand, you can sell Baox Hemp Flower Pre-Roll Blunt at $12.99 and have a profit of $254.9 ($12.99 x 30 = $389.7) with a 65% margin
Is Reselling Wholesale Hemp Flower in Alabama Legal?
The legality of reselling hemp depends on state and federal laws. On a federal level, regulations are in a state of flux, while on a state level, states are allowed to regulate the cultivation, production, and marketing of hemp.
Federal laws on reselling hemp flower
Hemp is now a legal crop in the United States and has been removed from the list of controlled substances. The 2018 Farm Bill set the ground for states to regulate hemp cultivation, processing, transportation, distribution, and sale. The United States Department of Agriculture oversees the state hemp production and approval of hemp plans. Before starting the process of hemp plan approval, the USDA released an Interim Rule that provides regulations on hemp testing and disposal, among other things. 
The Interim Rule sets requirements for testing of Total THC content, which is the sum of delta-9 THC and the potential conversion of delta-9 THCA, on a dry weight basis. Hemp plants that test over 0.3% Total THC are considered "hot" and must be disposed of or destroyed. Luckily, the Interim Rule is not final (but it is in effect). However, it is considered a draft that delays the testing requirements until October 31, 2021, or until the release of the final rule, unless states decide to include it as part of their testing requirements. The official website of the Alabama Department of Agriculture & Industries states that it tests for Total delta-9-THC concentration on a dry weight basis [1]. 
State laws on reselling hemp flower
Alabama is one of the states that prohibits the sale of hemp flower to consumers but allows the reselling of hemp flower between licensed individuals within and out of state. A directive from the Alabama Department of Agriculture states, "a licensed grower can legally sell unprocessed hemp to a licensed processor/handler. However, even licensed growers or licensed processor/handlers are prohibited from selling unprocessed hemp (i.e., buds, cigarettes, smokable hemp, hemp tea bags, etc.) [1]" 
Furthermore, CBD store owners who hold a hemp processor/handler license can lawfully possess dried flower/bud material but are prohibited from selling it to the public. The sale of CBD dietary supplements is legal in Alabama. A new law removed hemp from the state's controlled substances list and allowed pharmacies to carry CBD oil, despite federal prohibitions [1]. Alabama will continue to operate under its pilot program rules for the 2020 growing season.
Why Mr. Hemp Flower?
Our wholesale partners in Alabama get access to a line of premium hemp smokables that our customers award with 5-star reviews on our website and Google. We make our own products from hemp flower sourced from vetted farmers with over 5 years of experience in the industry.  To create top-shelf hemp smokables and full spectrum CBD products, we weed out all of the bad flower, select organically grown strains, trim, and package our products under the highest industry standards. Each product on our site comes with a Certificate of Analysis. 
Mr. Hemp Flower is a brand known for its quality — we guarantee you won't be disappointed with our products. Join the lucrative hemp market by becoming our wholesale partner.   
How to Make Your Wholesale Order?
Have questions? Want to make your wholesale order? Here is how to get in touch:
Give us a call

—

we'd love to hear from you. We are here to answer all of your questions and help you fill in your order. 

Fill out the form below

—

if you know which products you want delivered and want to make an order, fill out the form below.

Fill out our wholesale price quote form — have a specific product in mind? Fill out the form with the product and its quantity, send the form to [email protected], and we'll get back to you with a price quote within 24 hours.  
FAQ Wholesale Hemp Flower Alabama