This review covers the profile, genetics, and best uses for Sour Space Candy Hemp flower. Learn about its incredible flavors and aromas, and how effective this strain may be for you.  
You'll also get Mr. Hemp Flower's official overall review and rating, as well as answers to the most frequently asked questions about Sour Space Candy hemp flower.     
Last Update: June 8, 2023
Article Summary
Sour Space Candy is a sativa-dominant hybrid with high CBD levels. It features contrasting deep purple calyxes and bright orange hairs.
This strain provides an uplifting sensation and energetic feeling, fostering joy and optimism. Its potent citrus aromas and tropical fruit flavors add to its greatness.
The Sour Space Candy strain boasts a rich terpene profile that includes myrcene, terpinolene, and caryophyllene. Myrcene stimulates relaxation, while caryophyllene is associated with anti-inflammatory properties.
It's CBD content goes up to 16%. Secondary cannabinoids like CBC and CBN are present, but typically found in lower concentrations.
This strain contains less than 0.3% THC, which is not enough to get you intoxicated.
Sour Space Candy is best used for achieving a calm, yet activated focus. It can be used both during the day and at night for personal reflection or social occasions.
It potentially benefits individuals dealing with restlessness, worry, fatigues, and stress.
Sour Space Candy Review
This sativa-dominant hybrid CBD strain expresses powerfully pungent citrus aromatics and tropical fruit flavors with earthy-green undertones reminiscent of Guerilla Glue #4 and Sour Diesel.   
The flowers are exquisitely covered with crystallized trichomes, and their contrasting deep purple calyxes and bright orange hairs also make them among the most colorful of strains to enjoy.   
The most commonly reported effects after consuming this strain include a cerebrally uplifted sensation and an activated or energetic feeling accompanied by optimistic and joyful feelings.   
Genetics  
Sour Space Candy is a high-CBD strain bred by CBD Oregon and crosses Sour Tsunami with Early Resin Berry. The combination creates a colorful, sweet, and sour fruity strain that is particularly high in both CBD and terpene content.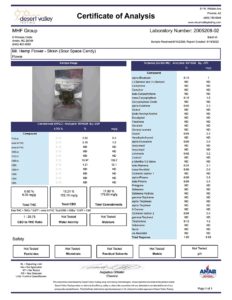 Click here to enlarge lab report 
Sour Space Candy Terpene Profile
Terpenes, or terpenoids, are aromatic compounds with therapeutic properties found naturally in Hemp that give the flowers their unique smell and aroma. Each strain of CBD hemp flower has a uniquely expressed terpene profile according to its genetics and growing environment. Let's unpack the terpene profile of Sour Space Candy.   
Myrcene  .21%
The terpene known as Myrcene, which has an earthy tropical fruit aroma, is the primary aromatic compound found in this strain.   
The most common terpene found in hemp flower, Myrcene has naturally relaxing properties and synergizes the benefits of other terpenes and phytocannabinoids.  
Terpinolene .12%
Sour Space Candy typically tests high in Terpinolene content, a terpene with antimicrobial properties, which is a more rare finding than it is common.   
This terpene has a sweet, herbal, and flowery scent that can also be felt in fruits such as apples, flowers such as lilacs, and spices including nutmeg and clove. 
Caryophyllene  .16%
Caryophyllene is the next most prevalent terpene found in this strain and exhibits a spicy, peppery aroma. Caryophyllene is commonly found in black peppercorn and associated with anti-inflammatory benefits.  
Phytocannabinoid Profile  
Phytocannabinoids are beneficial compounds such as cannabidiol (CBD) that attribute to the benefits of hemp flower.  
Since hemp is an agricultural product, natural variances in the phytocannabinoid expression are expected.    
How much CBD is in Sour Space Candy? Sour Space Candy, in particular, ranges from about 12%-16% CBD content on average. The strain in stock, currently comes in at 15.21%.   
Secondary phytocannabinoids, such as CBC, CBE, or CBN, aren't typically found in high concentrations, which is common in hemp hybrid strains with higher amounts of CBD expressed. Research appears to indicate that the entourage effect is achievable with even low levels of secondary cannabinoids.  
Will Sour Space Candy get you high?   
THC, the primary psychoactive phytocannabinoid associated with the deleterious effects of cannabis use, is expressed only in minute trace amounts in hemp. That means that this strain is not likely to make you feel high or stoned.   
Best Uses
Sour Space Candy is best used when seeking to gain a sense of calm yet activated and relaxed focus.   
Is Sour Space Candy a daytime or nighttime smoke? Depending on your circumstances and disposition, it could be utilized for either day or nighttime use. Also, it can be employed for both personal reflection and creative moments, or extroverted chatty social occasions.   
This strain's unique profile of phytocannabinoids and terpenes combine synergistically in the brain and body to provide several useful effects including a sensation of relaxing presence in the moment and uplifting cerebral stimulation.   
As is with most high-CBD strains, Sour Space Candy has a naturally calming effect that may benefit aspects of restlessness, worriedness, fatigue, and other types of stress-related issues.  
Overall Rating- 5/5
Mr. HempFlower curates only the best CBD-rich hemp strains from around the country. On a scale of one to five, we're going to give Sour Space Candy a five for five in all categories including,  
W

ell balanced terpene and phytocannabinoid profile

 

I

ncredible scent, aroma, and flavor

 

Beautiful and colorful appearance 

 

H

igh-CBD content 

 

P

ositive consumer reviews
Overall, Sour Space Candy has got something for everyone seeking focused relief and relaxation with CBD flowers. 
Mr. HempFlower
'
s 
Sour Space Candy Options
Looking for great deals on CBD Hemp flower strains like this one? Mr. Hemp Flower offers a variety of diverse options for hemp flower lovers. Get the freshest flower from top-vetted growers from across the USA all in one spot.   
We have available in our catalog bundles of Sour Space Candy pre-rolls, along with pre-packaged flower sold in single grams, eighths, quarters, half-ounces, and ounces.   
Shop Mr. HempFlower and browse our extensive selection of CBD flowers, oil, and other products. You'll also find great discounts when you purchase wholesale quantities! 
Is It Legal To Use Hemp Flower?  
Is it legal to use CBD hemp flower? CBD Hemp is legal in the USA and not considered an illicit or controlled substance, and is federally regulated as an agricultural product. This is primarily because CBD-rich hemp flower only contains trace amounts of THC content, which is what separates hemp from cannabis by legal definitions.   
While hemp flower is considered legal in all USA states, laws may vary from state to state or region to region within the USA. Always check that you comply with local and state laws regarding hemp flower.    
Browse Our Hemp Flower Catalogue