Are hemp delta 9 gummies with less than 0.3% THC legal in Virginia? These gummies exhibit a subtle intoxication and are legal in most states. Can you can buy them in Virginia? If so, where to find the best gummies? Let's dive in. 
Last Update: November 8, 2023
Summary
Hemp-derived delta 9 gummies with less than 0.3% THC are legal in Virginia with some restrictions.
The state regulated hemp-derived products under HB 2294 in 2023. Under the new provisions, only hemp products with less than 0.3% THC that contain no more than 2 mg total THC per package are allowed for sale in this state.
Cannabinoid-infused edibles, like gummies, are not prohibited in Virginia.
Cannabis is legal in Virginia for recreational and medical purposes.
Where to Buy Hemp Delta 9 Gummies in Virginia?
You can find and purchase the best delta 9 gummies online from specialized shops like Mr. Hemp Flower. 
Our premium delta 9 THC gummies are a blend you'll absolutely love. It's a vegan-friendly formula made with natural ingredients in two delicious fruity flavors, Watermelon and Blue Raspberry (a customer favorite). 
At Mr. Hemp Flower, we believe in the power of whole-plant hemp extracts and tested formulas. All our gummies are cannabinoid-rich blends, but what makes these THC gummies so special is the optimal ratio of THC and CBD.
Multiple research studies show the importance of the presence of THC in a hemp-derived product. Our delta 9 gummies are enriched with an evenly-distributed cannabinoid-rich extract that won't get you too intoxicated.
The CBD in them balances out the effects of THC and produces a subtly stimulative effect that doesn't bring you the typical THC euphoria and side effects. 
According to users, our gummies are perfect for combating daytime fatigue and work like magic as a pre-bedtime treat. Just make sure you go slow on the dose, so if you're a beginner, start with half a gummy. Also, keep in mind that edibles take a while to work, so wait for 30-45 minutes to feel the effects before taking more. 
You don't need a prescription to buy our THC gummies, and you can rest assured they are a tested, quality product shipped to you by Mr. Hemp Flower as the maker.    
Are Hemp Delta 9 Gummies Legal in Virginia?
Hemp-derived delta 9 THC gummies with less than 0.3% THC are legal in Virginia with some restrictions. 
The state regulates hemp-derived products under HB 2294, enacted in 2023. Under this bill, the distribution, sale, use and possession of hemp products is allowed under specific requirements.
To be lawfully sold at retail, the product must contain a total THC concentration of no more than 0.3%. In addition, hemp-derived products must not contain more than two milligrams of total THC per package.
These provisions make it more challenging to find quality delta 9 gummies that will fit the legal landscape.
The state established a hemp research program back in 2015 when governor McAuliffe signed SB 955 into law. The bill created the program and redefined hemp as cannabis with no more than 0.3% delta 9 THC. Virginia lawmakers amended this program several times through the years. 
In 2018, the state passed HB 532, lifting restrictions on the hemp cultivation program. The issue with this bill was that it lacked compliance with the 2018 Farm Bill, so it was amended by Senate Bill 247. This bill ensured Virginia's hemp program was in compliance with the federal bill by replacing the previous licensing system with a new one. 
Read more: State-by-State Hemp Delta 9 Gummies Legality Guide 
What is Hemp-Derived Delta 9 THC?
Hemp-derived delta 9 THC is THC extracted from the mature buds and flowers of the hemp plant. The hemp plant is legal Cannabis sativa with low THC content, specifically less than 0.3% by dry weight. So, hemp-derived THC gummies are infused with several milligrams of delta 9 and don't exceed the federally allowed THC limit. 
For comparison, when derived from marijuana, delta 9 THC is a federally illegal substance. Marijuana-derived gummies are only legal in states that allow their use for recreational purposes.
While the source of extraction has a legal implication, THC is THC regardless if derived from hemp and marijuana. It exhibits the same benefits and can help with pain, inflammation, sleep issues, appetite loss, and nausea.      
Legal Delta 9 THC and Federal Law
There's been a lot of discussion on the legality of hemp-derived cannabinoids and federal law. While CBD remains an unapproved compound by the FDA, the situation with THC is less complicated. 
Delta 9 THC naturally present in the hemp plant in a concentration of no more than 0.3% is fully legal federally and on state level. 
Hemp-derived THC is legal thanks to the Farm Bill of 2018, which legalized 'hemp' and removed 'THC in hemp' from the list of controlled substances. This opened the doors for the distribution and sale of various cannabinoid blends with less than 0.3% delta 9 THC. 
The bill defines hemp as "the plant Cannabis sativa L. and any part of that plant, including the seeds thereof and all derivatives, extracts, cannabinoids, isomers, acids, salts, and salts of isomers, whether growing or not, with a delta-9-tetrahydrocannabinol concentration of not more than 0.3 percent on a dry weight basis [1]."
The new THC gummies contain 10mg of delta 9, which is below the federal threshold, making them legal on a federal level. On the contrary, THC derived from marijuana remains illegal and is a controlled substance under federal law. Of course, this depends on the state you live in because states that allow cannabis use for recreational purposes have legalized THC from marijuana.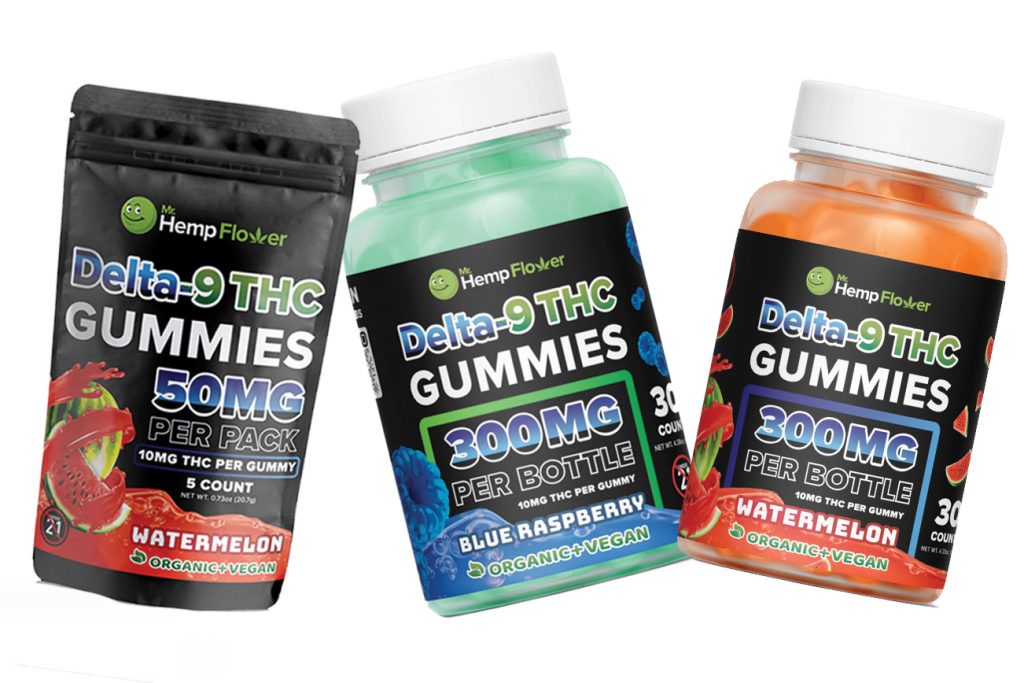 Be Sure to Check Out: 
Delta-9 THC FAQ
Read our legal disclaimer HERE. While we try to stay as up to date as possible on all state laws, you should do your own due diligence and work with a legal professional to ensure you are operating legally in your state or territory at all times.
Checkout our State-by-State Articles: