North Dakota amended its hemp laws to exclude several cannabinoids from the legal hemp market. You can buy hemp delta 9 THC gummies in this state, but you need to know the restrictions to help you choose a legal product. Here's more about the legality of delta 9 gummies in North Dakota. 
Last Update: October 27, 2023
Summary
Hemp-derived delta 9 gummies with less than 0.3% THC are legal in North Dakota.
The state legalized hemp under HB 1349 in 2019. State law allows the sale of hemp and hemp-derived products with less than 0.3% total THC.
You can lawfully order delta 9 gummies derived from hemp online or purchase them in a local dispensary.
Cannabis is illegal in North Dakota for recreational use and legal for medical use.
Mr. Hemp Flower offers premium delta 9 gummies and full spectrum hemp products that you can buy in North Dakota.
Where to Buy Hemp Delta 9 Gummies in North Dakota?
The best place to buy hemp delta 9 gummies with less than 0.3% THC is online.
Our delta 9 THC gummies are fully legal in North Dakota. They are a pure and potent product that contains delta 9 THC balanced out with cannabidiol (CBD) and terpenes. These gummies are perfect for anyone looking for a quality and effective product because they fulfill the requirements for creating the "ensemble effect." 
The ensemble effect describes the interaction between these natural compounds, which delivers stronger therapeutic benefits. At Mr. Hemp Flower, we strive to bring you whole-plant products made from organic hemp that present the ensemble effect in a bite. 
Our full spectrum CBD and CBN gummies and our PCR hemp oil also offer the ensemble effect. Because they are quality, we'd describe them as products that "pack a punch," meaning you'll definitely feel them. 
Are Delta 9 Gummies Legal in North Dakota? 
Yes, hemp-derived delta 9 gummies with less than 0.3% THC are legal in North Dakota.   
In March 2019, the state enacted HB 1349, officially legalizing the commercial production of hemp within the state. The bill created a framework for the way the hemp industry will operate. It also defined the plant as cannabis with less than 0.3% THC, which aligned with the federal definition of hemp. 
The popularity of delta 8 prompted many states to issue bans and restrictions surrounding products containing this compound. North Dakota passed HB 1045 into law, which explicitly prohibits delta 8 THC, together with all forms of THC made via chemical conversion. 
The bill also amended the state definition of hemp to prohibit products that exceed the 0.3% total THC threshold. Now, THC in North Dakota also includes delta 8 and delta 10. 
That said, this bill doesn't affect the legality of hemp-derived CBD products with less than 0.3% THC. Meaning, as long as the gummies you're buying are not over 0.3% total THC, you're good to go. Despite the FDA not approving CBD in consumable products, gummies are being sold in North Dakota without any restrictions.
What is Hemp-Derived Delta 9 THC?
Hemp and marijuana are both cannabis. They often get mixed up because of how similar they are by appearance because the main difference between the two is internal, in the level of delta 9 THC.
Hemp is the federally legal variety because it contains less than 0.3% delta 9 THC. Marijuana is illegal because of the high THC levels that get the user intoxicated. 
So, when extracted from the hemp plant, delta 9 THC is a legal component that can be used in full spectrum products. These products contain low levels of THC but are slightly intoxicating. Aside from relaxation, delta 9 also provides the user with therapeutic benefits and can help with sleep, pain, and inflammation. 
Legal Delta 9 THC and Federal Law
THC gummies contain less than 0.3% delta 9 and are derived from hemp, which is a legal cannabis variety. The 1970 Federal Controlled Substances Act classified hemp as a Schedule I narcotic, with substances that have no accepted medical use and cause a high likelihood for addiction. 
The 2018 Farm Bill removed hemp from prohibited substances and legalized it as an agricultural commodity. It also permitted the distribution and sale of hemp-derived cannabinoid products. The bill defines hemp as: 
"The term 'hemp' means the plant Cannabis sativa L. and any part of that plant, including the seeds thereof and all derivatives, extracts, cannabinoids, isomers, acids, salts, and salts of isomers, whether growing or not, with a delta-9-tetrahydrocannabinol concentration of not more than 0.3 percent on a dry weight basis [1]."
Although hemp products that contain less than 0.3% delta 9 are legal federally, there are some uncertainties. These gummies typically contain cannabidiol (CBD), which hasn't been an approved food additive by the US Food and Drug Administration (FDA). 
The 2018 Farm Bill gave authority to the FDA over the regulation of CBD in food. It's been a few years since the bill was enacted, and the FDA still doesn't approve of using CBD in foods and beverages. 
Cannabidiol (CBD) is an approved drug for epilepsy, but the agency needs more study to officially allow its everyday use. Hemp is under-researched because it was considered illegal cannabis in the past. 
For now, the FDA seems to tolerate the sale of hemp-derived CBD food products, so long as they are not marketed under health and medical claims.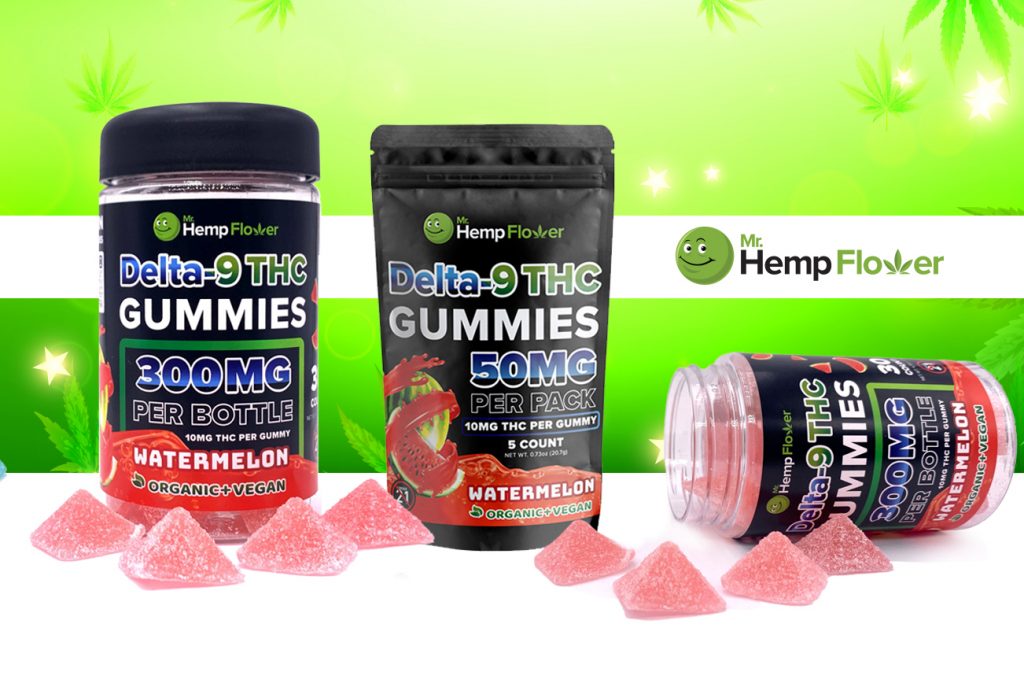 Be Sure to Check Out: 
Delta-9 THC FAQ
Read our legal disclaimer HERE. While we try to stay as up to date as possible on all state laws, you should do your own due diligence and work with a legal professional to ensure you are operating legally in your state or territory at all times.
Checkout our State-by-State Articles: