There's been a lot of talk around the delta 8 loophole that made the production and sale of high-THC hemp products possible. As you may know, Connecticut is one of the states that restricted businesses from selling delta 7, delta 8 and delta 10 products with over 0.3 percent THC.
What does that mean for the newest hemp complaint delta 9 THC products that are legal to buy in most states? Let's look at the laws and whether you can buy our gummies if you live in Nutmeg State. 
What Is Hemp-Derived Delta 9 THC
Delta 9 THC is a potent cannabinoid with intoxicating properties present in hemp and marijuana. Hemp plants can legally contain no more than 0.3 percent Δ9-THC, while some marijuana strains are bred to reach up to 25% delta 9 THC. 
Hemp-derived Δ9-THC is extracted from the flowers and buds of federally legal hemp. If present in hemp products with less than 0.3 percent, delta 9 THC is a legal cannabinoid. Regardless if derived from hemp or marijuana, this chemical compound stimulates the user's brain and causes the euphoric effect associated with cannabis. 
Aside from getting the user "high," this molecule works with the receptors in the body and can help with pain, inflammation, anxiety, depression, nausea, poor sleep, etc. Research shows that THC works best in combination with other cannabinoids and terpenes.
Buy Hemp Compliant Delta 9 THC in Connecticut
In Connecticut, you can legally buy hemp products with less than 0.3 percent delta 8, delta 9, or delta 10. However, our gummies are currently illegal in this state because they offer a combination of delta 9 and delta 8 that exceeds the legal limits of 0.3 percent THC (of any kind) requested by the law. 
But, any other future product offered by Mr. Hemp Flower with high THC levels that don't exceed the legal limit can be purchased if you live in the Nutmeg State. 
If you're a delta 8 fan, we offer some of the best products on the market — at affordable prices. Since starting our brand, we've advocated for the power and medicinal potential of whole-plant hemp extracts. Our products are designed to help you reap the benefits of the full spectrum hemp profile. 
The Mr. Hemp Flower Delta 9 THC Gummies contain 10mg of delta 9, nearly 8mg of delta 8, and 15mg of cannabidiol (CBD). Also, there are minor but important cannabinoids like CBG, CBN, CBC, fragrant terpenes, and flavonoids. 
Made with organic ingredients, these gummies are the most effective hemp product and will definitely pack a punch. They are tested by a certified lab and made with hemp extract sourced from organically grown hemp from local farmers in North Carolina and Oregon.
Legality of Hemp Delta 9 THC in Connecticut
Are hemp-derived Δ9-THC gummies legal in Connecticut? 
Full spectrum hemp delta 9 THC gummies are legal in Connecticut only if the total amount of THC (of any type) doesn't exceed 0.3 percent by dry weight. 
Under the new state law in Connecticut, for a hemp product to be legal, it must contain less than 0.3 percent THC (of any type) by dry weight. This includes delta 8, delta 10, and delta 9. 
Effective July 1, 2021, Senate Bill 1201 established a cannabis marketplace for recreational purposes. Under the bill, any product with more than 0.3 percent THC is considered marijuana and can only be sold by licensed adult-use or medical marijuana dispensaries. 
The change in the law ensures proper regulations of hemp products that contain any type of THC over 0.3 percent by weight. 
Connecticut Hemp Laws
In 2019, Connecticut passed Senate Bill 893, which legalized hemp production and hemp-derived CBD products. This law defines hemp products as products with a THC concentration of not more than 0.3 percent. 
In Connecticut, hemp-derived cannabidiol products can be sold as food and are not considered controlled substances or adulterated products. Product labeling cannot make health claims or list medicinal benefits and effects. You can legally buy all forms of hemp products in this state, including edibles, drinks, smokables, vapes, topicals, etc. 
Medical marijuana has been legal in this state since 2012. Patients with qualifying medical conditions can buy cannabinoid products derived from marijuana. Since July 1, adult-use marijuana is also legal in this state. 
Hemp Compliant Delta 9 THC and Federal Law
The 2018 Farm Bill legalized the growth, manufacture, and sale of hemp and hemp products with less than 0.3% Δ9-THC.
Federal law removed hemp from the Controlled Substances Act
The 2018 Farm Bill removed hemp from the list of controlled substances and placed a cap on the amount of Δ9-THC that hemp plants can contain. The main idea behind the legalization of this plant on a federal scale was to allow users to reap the benefits of low-THC, non-intoxicating cannabis. Here's how federal law defines hemp:
"The term 'hemp' means the plant Cannabis sativa L. and any part of that plant, including the seeds thereof and all derivatives, extracts, cannabinoids, isomers, acids, salts, and salts of isomers, whether growing or not, with a delta-9-tetrahydrocannabinol concentration of not more than 0.3 percent on a dry weight basis [1]."
During the legalization process, legislators removed "hemp" and "THC in hemp" from the Controlled Substances Act and the definition of marijuana — which is still federally illegal. 
Now, the appearance of high-THC hemp-derived products, like delta 9 gummies, raised questions around the legality of intoxicating items made from hemp. This prompted states to legalize high-THC hemp-derived items as recreational or medicinal cannabis. 
Yet, these products remain fully legal under federal law as long as their delta 9 THC levels don't exceed 0.3 percent. Due to CBD being an approved drug for epilepsy, the Food and Drug Administration hasn't approved the use of hemp-derived CBD in consumable products. However, it tolerates its use as long as product labeling doesn't contain any health or medical claims.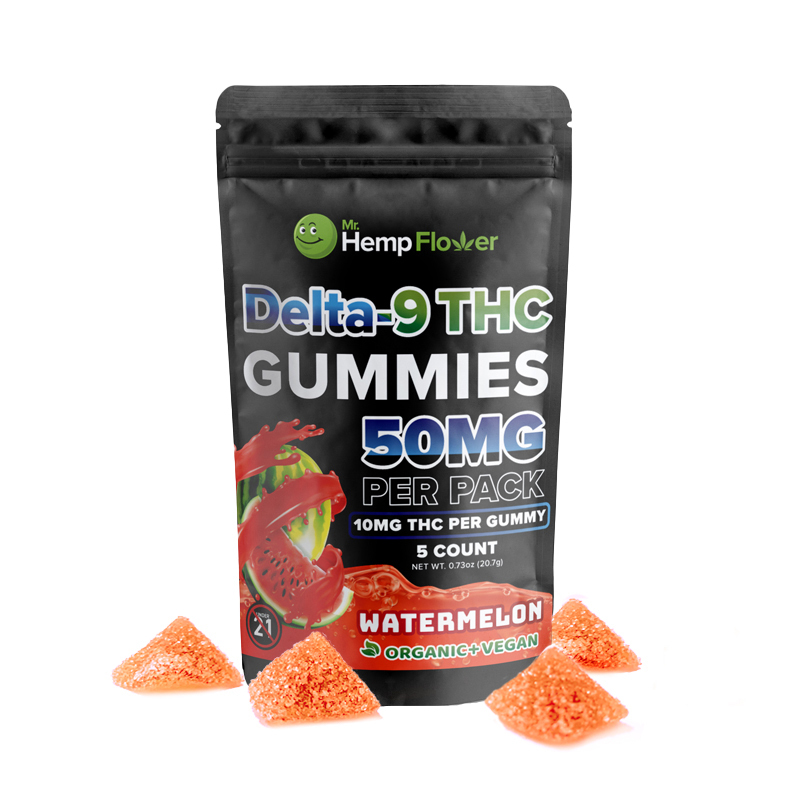 Be Sure to Check Out: 
Delta-9 THC FAQ
Read our legal disclaimer HERE. While we try to stay as up to date as possible on all state laws, you should do your own due diligence and work with a legal professional to ensure you are operating legally in your state or territory at all times.

Checkout our State-by-State Articles: