This is the official review of The Bubba Kush CBD hemp flower strain. Designed to help you find the strain best fit for your needs, this review gives you everything you need to know about this strain of hemp.
We'll first give you a broad overview of Bubba Kush's characteristics and effects. Then, we'll do a deep dive and unpack the third-party lab results of our latest batch.
You'll get accurate info on genetics, potency, terpenes, and more! And be sure to read this review until the end to receive a special offer on Bubba Kush CBD hemp flower pre-rolls.
Bubba Kush Hemp Flower
Bubba Kush is an indica leaning high-CBD hemp hybrid with the iconic character and smell of the Kush family lineage.
This batch is particularly well-trimmed and processed giving its rounded buds a wonderful aesthetic. Her beautiful dark and light green buds are brushed with touches of purple to the calyxes and contrasted with red to orange hairs peaking out.
This strain has gives you a blast of that classic dank, herb smell out of the bag. It' thick smoke has a pleasant floral aroma, and it leaves a flowery citrus taste on the lips when smoked.
Bubba Kush has a deeply relaxing effect on the body and an uplifting effect upon the mind. Overall, this strain is a great pick for those seeking a pleasant, calming sensation in the muscles, nerves, and mind.
Genetics
Bubba Kush x Unknown CBD-rich hemp mother
In the 1990s, OG Kush was born on the West Coast and quickly became one of the world's most cherished strains. The cultivar hosts a well-balanced high potency profile with predominantly indica leaning characteristics.
Click here to enlarge lab report 
Along the way, OG Kush was cross-pollinated in by an unknown indica phenotype presumed to be Northern Lights to create the now well-loved Bubba Kush.
Crossing this strain with an unknown high-CBD hemp hybrid mother by an unknown cultivator led to the CBD hemp flower version of the Bubba Kush we know and love today.
Keep reading to unlock the terpene and phytocannabinoid profile of Bubba Kush, and also to get Mr. Hemp Flower's overall rating and best-recommended uses.
Terpene Profile
Terpenes are naturally occurring aromatic compounds that give hemp flower its iconic scents and aromas. In nature, plants use terpenes to signal pollinators and predators and to protect themselves from the environment.
In humans, terpenes have unique therapeutic benefits and properties. Understanding a strain's terpene profile helps to predict its potential effects, ultimately helping you to pick the best strain fit for you.
Let's take a look at Bubba Kush's terpene profile.
· Total terpenes: 5.21 mg/g
· Secondary terpenes: Guaiol and Limonene
· Primary terpenes: Bisabolol, Caryophyllene, Humulene
Bisabolol
Commonly found in chamomile flower, Bisabolol gives Bubba Kush a subtly sweet floral scent. This terpene has naturally calming properties and has been cherished for ages for its perceived skin benefits.
Caryophyllene
This terpene gives Bubba Kush a bit of spice or clove-like aroma and taste when smoked. Caryophyllene is most known from black peppercorn and has a powerful analgesic anti-inflammatory effect among its beneficial properties.
Humulene
Humulene gives Bubba Kush a dank, earthy green aroma that's noticeably present in hops. It has strong anti-microbial, anti-inflammatory, and appetite suppressing properties that add depth and complexity to this strain's overall effects.
Phytocannabinoid Profile
Phytocannabinoids are the active compounds in hemp that give it most of its beneficial effects and properties. CBD is the primary active phytocannabinoid in hemp, but there are 120+
different phytocannabinoids found naturally occurring in hemp.
Understanding the phytocannabinoid profile of a strain helps to predict its potency and effects. Let's take a look at the phytocannabinoid profile found in our latest inventory of Bubba Kush hemp flower.
· Total phytocannabinoids: 17.70%
· Total CBD: 15.01%
· Total secondary phytocannabinoids: 2.69% (CBD-V)
Our most recent reserve of Bubba Kush tests at a total of 17.70% phytocannabinoid content. This breaks down into over 15% total CBD and an additional 2.69% secondary phytocannabinoid content that includes CBD-V.
Best Uses
Bubba Kush is a great strain choice for those seeking a calmer body and mind. It provides relief from stress and inflammation, allowing the body to shift into rest and relax mode.
This pick is a good "end of the day" joint but is also useful for creative or anxious types that have difficulty staying still and staying on task during the day.
Many people choose Bubba Kush to start their CBD journey for its simple profile, but they come back to it time and time again for its pleasant natural hemp flavors and aroma.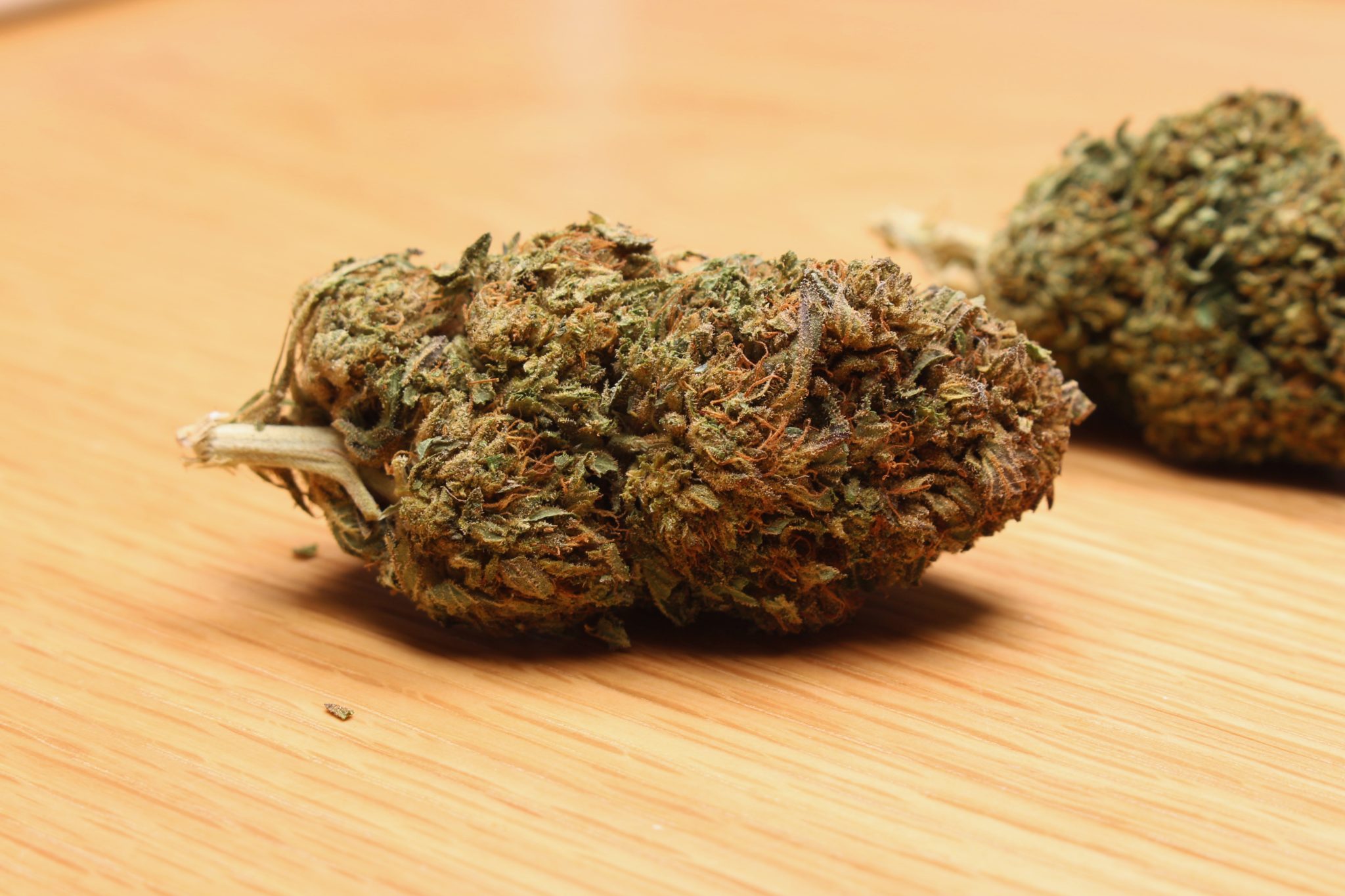 Overall Rating 5/5
We like Bubba Kush, but it's not the most potent strain in our catalog. It contains over 15% of CBD, which isn't super low potency, but most of our strains tend to rank between 18%-25% overall CBD.
Bubba Kush is packed with flavor and has great aromatics and flavor. It exerts a relaxing effect as hemp flower should, but we'd like to see a bit more from this strain. It gets a four out of five from us.
Bubba Kush Review Highlights
Great smell, great taste.
Wasn't sure what to expect since this was my first time buying flower. Fired up my bong and it was a nice smooth hit & tasted so good. Definitely going to be order this again!
A multi- sensory delight
I will give Bubba Kush hemp five stars because of the beautiful green color, the feel of the moist and well trimmed bud, the wonderful aroma, and the full-bodied taste. There…that satisfies four of my five senses. I would also add that the delivery arrived three days early. Mr. Hemp Flower is a pleasure to do business with.
Bubba Kush Strain Review – Shop Hemp Flower
Thanks for reading the official strain review for Bubba Kush hemp flower. We hope this helps you in finding the right strain fit to your needs.
Click here to shop our Bubba Kush hemp flower options, including special deals on pre-rolls.
Didn't find what you were looking for in this strain. Mr. Hemp Flower offers dozens of strain choices to pick from.
Click here to browse our catalog of official strain reviews to find the right one for you.
If you've found this content helpful please share it with others that you think will also benefit from hemp flower by using the convenient share buttons on this page.
Browse Our Hemp Flower Catalogue
Thanks for reading Mr. Hemp Flower's Bubba Kush Strain Review! Be sure to share it with others that you think will find it helpful.
Click the links below to browse our extensive inventory of the freshest strains available from the nation's top hemp cultivators out of Oregon, California, and more.
Is It Legal To Use Hemp Flower?  
Is it legal to use CBD hemp flower? CBD Hemp is legal in the USA and not considered an illicit or controlled substance, and is federally regulated as an agricultural product. This is primarily because CBD-rich hemp flower only contains trace amounts of THC content, which is what separates hemp from cannabis by legal definitions.   
While hemp flower is considered legal in all USA states, laws may vary from state to state or region to region within the USA. Always check that you comply with local and state laws regarding hemp flower.    
Browse Our Hemp Flower Catalogue 
FAQs About Bubba Kush
Is Bubba Kush a daytime or nighttime smoke?
Bubba Kush can easily be deployed for both daytime and nighttime enjoyment. It doesn't have a particularly drowsy or stimulating effect, but rather exerts a naturally calm sensation.
Will Bubba Kush get you high?
Bubba Kush won't get you high because it doesn't contain enough active THC, the psychoactive phytocannabinoid compound most commonly found in cannabis flower.
Is it legal to smoke Bubba Kush hemp flower?
Smoking hemp flower is legal at the federal level in the United States as long as it contains less than .3% THC content by volume. Always consult local and state policies and act under the law