Each strain has unique properties and benefits. Is Wu 5 hemp flower right for you?
This official review goes in-depth into the Wu 5 CBD hemp flower strain. It is designed to help inform your selection of hemp flower.
We'll first give you an overview of the strain's character and properties. Then we'll zoom in on the genetics, and Wu 5's terpene and phytocannabinoid profiles.
Finally, we'll provide you with the best-recommended uses for the Wu 5 strain and give you Mr. Hemp Flower's overall rating.
Be sure to read until the end to get special deals on hemp flower pre-rolls! Let's get started by introducing you to the strain, Wu 5.
Wu 5 Hemp Flower
This strain is super sticky and fluffy. Wu 5's high CBD content and rare terpene profile make it stand out in the hemp flower field.
Wu 5 is a high CBD phenotype of an indica dominant hybrid crafted from two of the industry's leading strains, OG Kush and Sour Diesel.
The Christmas tree-shaped buds exhibit wonderful light and forest greens with an abundance of short red to white hairs. An excessive amount of crystallized trichomes is a bold declaration of Wu 5's potency potential.
A potent herbal sour, spicy scent gives Wu 5 flowers an easily identifiable aroma. This strain strikes a great balance between the pungent smell of fuel and a fresh herbal scent.
Wu 5 hemp flower gives off a pleasant herbal aroma and leaves a tingly, spice-like sensation with floral undertones on the lips when smoked.
This strain is a very well-rounded cultivar. It's has a rare terpene profile loaded with Pinene, which has an uplifting, clear-minded type of calming effect.
It also exhibits considerable amounts of secondary terpenes with benefits to stress and mood, such as Limonene and Linalool. Taken all together, Wu 5 is a potent strain with potential benefits for both mind and body.
This strain is a great choice for nighttime enjoyment to help enhance relief in the body as well as calm and soothe the mental mood and processing.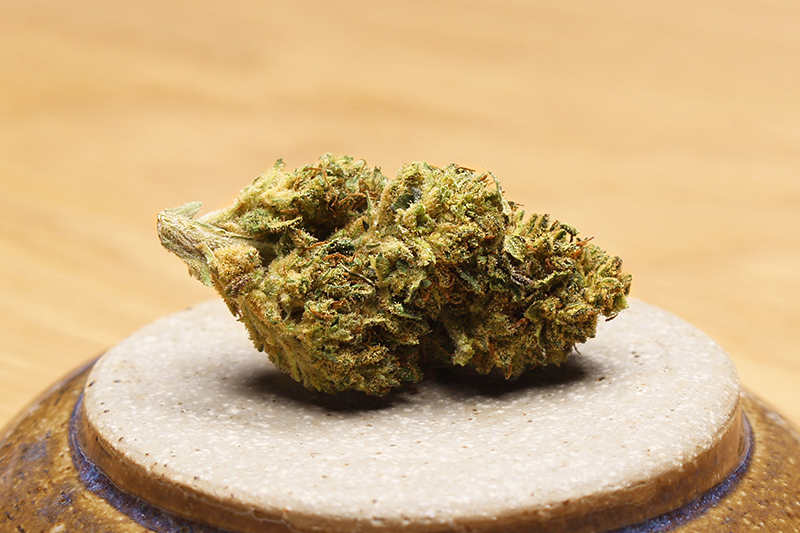 Genetics
Wu 5 is a magnificent mix of indica and sativa genetics with low-THC and high CBD content. It's a direct descendant of a cross between two of the world's most cherished and beloved strains, OG Kush and Sour Diesel.
Click here to enlarge lab report 
The Kush family is known for skunk and fuel aromas and high potency indica vibes. Sour Diesel is more known for a spicy sweetness and potent heady sativa vibes.
The offspring of these two strains crossed with an unknown high-CBD hemp strain has created a beast of a hemp flower named Wu 5.
Terpene Profile
Terpenes are the aromatic compounds in nature that give plants their unique aromas and flavors. In nature, they serve a variety of purposes including signaling pollinators and predators.
In humans, each terpene exerts unique types of properties that often translate to diverse types of health benefits. In hemp flower, the terpene profile can help you predict how a strain might affect you or make you feel.
This is why understanding terpene profiles help you to pick the best strain for your circumstances. Let's take a closer look at the t
Total Terpenes 12.80 mg/g
Secondary terpenes:
Terpineol, Myrcene, Cedrene, Humulene, and Limonene
Primary terpenes: Pinene, Bisabolol, and Caryophyllene
Pinene
Pinene is an invigorating terpene that gives Wu 5 a very fresh, woody, herbal aroma that has an almost mint-like quality on the lips when smoked.
Most commonly recognized in the scent of a fresh pine forest, this terpene has anti-stress and bronchia-dilatory properties that help to improve cognition and create a sense of well being.
Pinene
Pinene terpenes give Remedy hemp flower its fresh, pine scent that is sweet and subtle compared to more pungent strains. This terpene is commonly noticed in fresh pine forests, pinecones and needles, and some herbs, including hemp.
Bisabolol
Bisabolol is common in both chamomile and hemp and has known anti-inflammatory, anti-irritant, antioxidant, antimicrobial, antifungal, and analgesic properties.
This terpene is mostly used for its perceived skin benefits and naturally calming effect on mood.
Caryophyllene
Caryophyllene is found in black peppercorn and, of course, hemp. It gives Wu 5 a spice or clove-esque scent and taste that can be recognized in crushed pepper.
This terpene has many potential benefits but is generally noted for its prominent anti-inflammatory and analgesic properties.
Phytocannabinoid profile
Phytocannabinoids, sometimes just called cannabinoids, are the active compounds within hemp that give its flowers their therapeutic properties and benefits.
Phytocannabinoids from hemp help to support the healthy functioning of the human endocannabinoid system. Let's take a look at what phytocannabinoids are found in Wu 5 hemp flower.
· Total phytocannabinoids: 21.60%
· Total CBD: 18.30%
· Total secondary phytocannabinoids: 3.3% (CBC, THC)
Third-party analysis reveals that our Wu 5 hemp flower contains over 18% CBD content and an additional 3.3% secondary phytocannabinoid content, including Cannabichromene (CBC).
Best Uses
Wu 5 is an excellent CBD strain choice for anyone seeking stress relief combined with physical relief related to inflammation, pain, and discomfort.
This strain's superpower is a well-balanced profile combined with high phytocannabinoid potency that activates the synergistic phenomenon known as the entourage effect.
This exponentially enhances the properties and benefits of the hemp flower, which translates to powerful relaxation and improvements in comfort and mood.
Overall Rating 5/5
Wu 5 has us shouting Woo-hoo and high-fiving here at Mr. Hemp Flower. Maybe the only thing we'd like to improve is that this flower's structure was a bit denser.
That said the fluffiness of the flower is not necessarily a bad character. This aspect allows the plant to have more airflow during maturity, in turn, ensuring higher quality trichome growth and crystallization.
This strain has a magnificent flavor profile and potency. It's something wonderful to behold. They just don't make hemp like this anymore. 5/5
Wu 5 Review Highlights
Favorite strain!
Love the taste, calm and relaxed, ready for bed. Mr. Hemp Flower I appreciate your service
Wow ! Great CBD! Smooth
Wow ! Great CBD! Smooth taste. Sit on the couch and let it take care of you! Sweet sleeper!
Wu 5 Strain Review – Shop Hemp Flower
Thanks for reading the official Wu 5 CBD strain review by Mr. Hemp Flower.
If you've found it helpful, then please share it with friends you think would benefit from having hemp in their lives too.
You can shop our Wu 5 hemp flower and pre-roll selections by clicking the link here.
Don't forget to check out our catalog of strain reviews designed to help you pick the best strain for your needs linked here.
Browse Our Hemp Flower Catalogue
Thanks for reading Mr. Hemp Flower's Wu 5 Strain Review! Be sure to share it with others that you think will find it helpful.
Click the links below to browse our extensive inventory of the freshest strains available from the nation's top hemp cultivators out of Oregon, California, and more.
Is It Legal To Use Hemp Flower?  
Is it legal to use CBD hemp flower? CBD Hemp is legal in the USA and not considered an illicit or controlled substance, and is federally regulated as an agricultural product. This is primarily because CBD-rich hemp flower only contains trace amounts of THC content, which is what separates hemp from cannabis by legal definitions.   
While hemp flower is considered legal in all USA states, laws may vary from state to state or region to region within the USA. Always check that you comply with local and state laws regarding hemp flower.    
Browse Our Hemp Flower Catalogue 
FAQs About Wu 5
Is Wu 5 a daytime or nighttime smoke?
Wu 5 is best reserved for nighttime use to reduce daily stress related to perceptions of anxiety. For daytime relief, Wu 5 doesn't have overly drowsy effects but can exert a substantial relaxing effect on physical mood.
Will Wu 5 get you high?
Wu 5 hemp flower will not get you high. Hemp flower only contains trace amounts of THC, the psychoactive phytocannabinoid in cannabis, therefore it won't make you feel high or stoned.
Is it legal to smoke Wu 5 hemp flower
Hemp flower is legal at the federal level in all 50 states as long as it contains less than .3% THC content. CBD and hemp flowers are not controlled substances. They are agricultural products and are not regulated by the DEA.