Get Top-Shelf CBD Flower Wholesale and Join the Profitable Colorado Hemp Market. 
With over 80,000 acres permitted, 52,275 acres planted, and 51,851 acres harvested in 2019, Colorado is undoubtedly the leader in hemp cultivation. The state was among the first to start hemp production under its pilot program as well as legalize all cannabis [1].
Hemp is the hottest agricultural plant at the moment, and it's only expected to grow. A research report by MarketsandMarkets, estimates the growth of the hemp market to reach $26.6 billion by 2025. CBD flower is one of the fastest-growing segments of the hemp market. 
In 2019, U.S. retailers sold $70.6 million of hemp pre-rolls and hemp flower, an expansion of 250% from 2017 when the smokable market was at $11.5 million [1]. 
If you are a retailer or distributor in Colorado looking to jump into the profitable hemp flower market, read on. 
Pre-Packaged and Bulk CBD Flower from Mr. Hemp Flower | Wholesale Hemp Flower Colorado
Retail Ready Pre-packaged Hemp Flower 
Our wholesale partners get access to pre-packaged hemp flower and smokable hemp products they can resell in Colorado. All of the strains on our website can be pre-packaged, including premium strains. We make our own products from organic hemp cultivated by licensed U.S. growers. Pre-packaged items are hand-trimmed by our team. An independent third-party lab tests all of our products.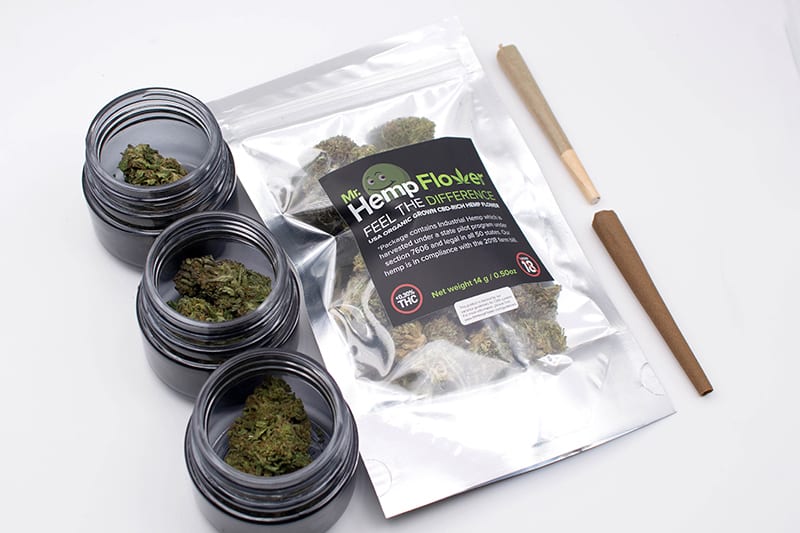 Hand Trimmed CBD-rich Hemp Flower
Our CBD flower comes from organic U.S. farms in Oregon, Washington State, and Colorado. All of the strains on our website can be pre-packaged, including the premium strains. We offer multiple size options, including grams, eights, and quarters. Consider our best-selling CBD and CBG flower, such as Hawaiian Haze Hemp Flower, Suzy Q Hemp Flower, and White Widow CBG Hemp Flower.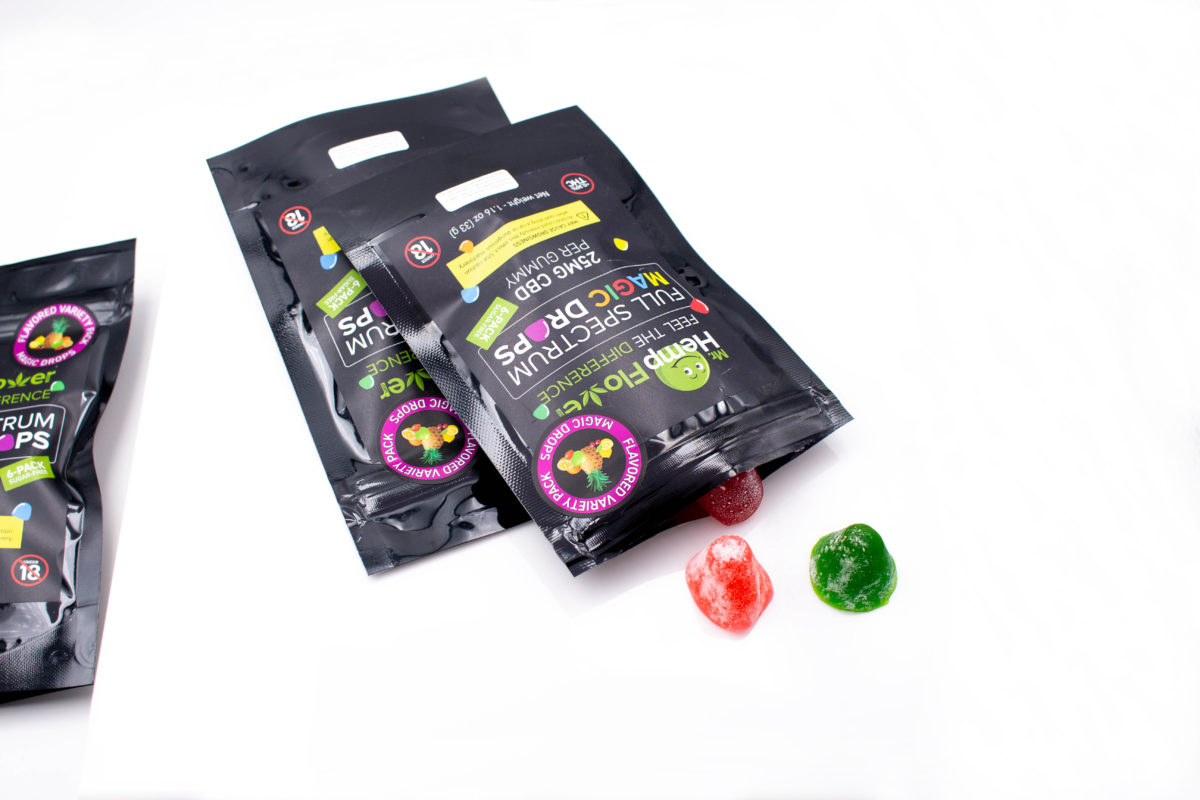 Full Spectrum CBD Gummies (with THC) 
We recently started offering Full Spectrum CBN Gummies (10mg+ of CBD and 5mg of CBN) after seeing great success with our Full Spectrum CBD Gummies (contain THC, each gummy contains 25mg+ of CBD). Definitely a customer favorite, these gummies are delicious, sugar-free treats that offer a strong cannabinoid delivery. Each package contains six large gummies.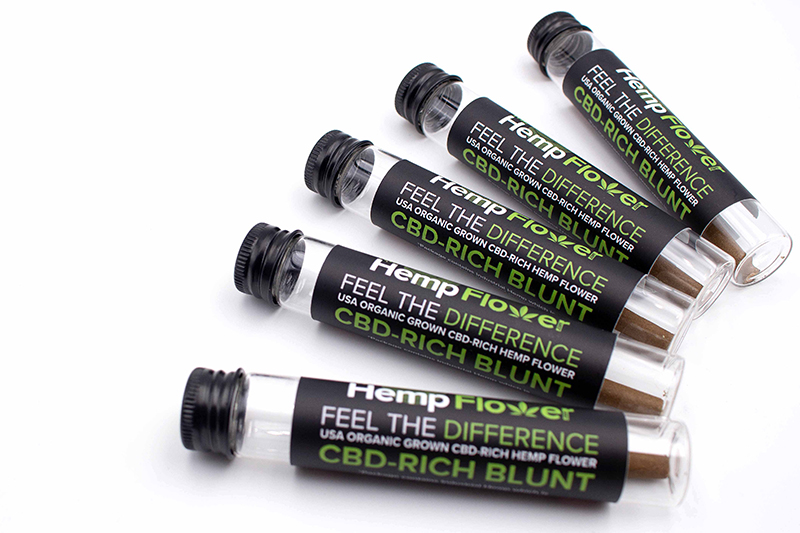 Hemp Pre-rolls and Pre-rolled Blunts
Each strain on our website is available as 1 gram pre-roll blunts that come in a properly labeled glass jar that contains Mr. Hemp Flower's logo on it. Each blunt contains 100% hemp flower with no additives. Consider some of our top-rated pre-rolls and pre-roll blunts like Baox Hemp Flower Pre-Roll Blunt and Lifter Plus Hemp Pre-Roll Blunt.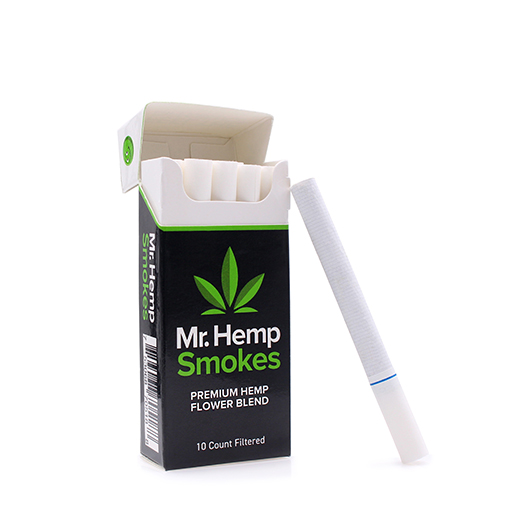 Hemp Cigarettes 
Our hemp smokes are the real deal. We make them using 100% pure hemp flower mix of different strains and kief. You won't find any hemp biomass or low-CBD plant matter in our hemp smokes. Customers have recognized a great product that burns nicely, is nicotine-free, and contains less than 0.3% THC, so our cigarettes are among our best selling products.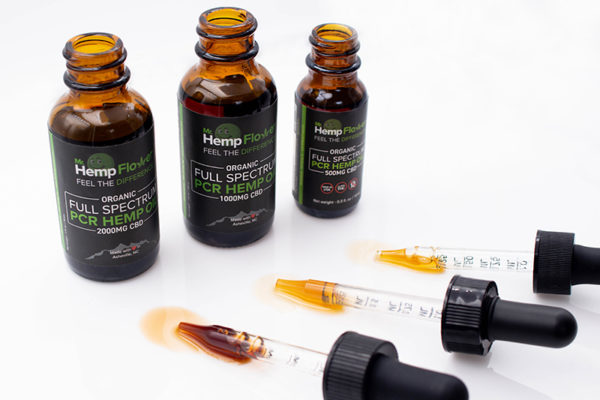 TRUE Full Spectrum Phytocannabinoid-rich (PCR) Hemp Oil 
There is a shift in customer behavior from CBD isolate to full spectrum CBD oil. Customers understand the importance of the entourage effect and are more informed on the benefits of full spectrum CBD oil. That's why we make our own Full Spectrum Phytocannabinoid-rich (PCR) Hemp Oil that offers the entire hemp plant in a bottle and is one of the most potent products on the market.
FREE Marketing Materials to Support Your Business
Your order of pre-packaged hemp items comes with free marketing materials that you can use to attract more customers. You'll get: 
Glass magnifying jars
Customers look for fresh CBD flower with lots of trichomes. Use this magnifying jar to show customers you're offering amazing hemp flower.
Hemp flower posters
Details matter, so we've designed our hemp posters to help you create a visually appealing space that radiates good vibes.
A 50-page booklet on hemp flower
We've packed a lot of insightful info on different hemp flower strains in our 50-page booklet to help you make a good recommendation to your customers. 
Bulk Hemp Flower (not pre-packaged)
Create your own brand and get into the profitable hemp flower Colorado market. Order 2-3 pounds of machine-trimmed CBD flower in bulk and put it in your own packaging. When you partner with us, you can rest assured you are getting fresh, organic hemp grown by U.S. licensed farmers. If you are looking to get some premium strains along the way, they'll come perfectly hand-trimmed.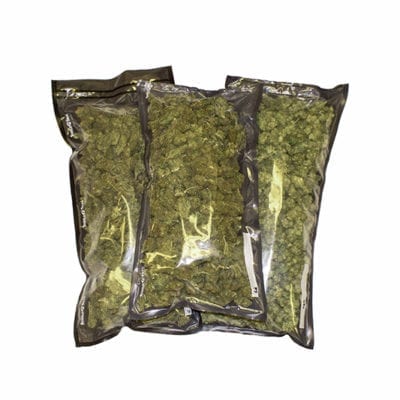 Retail Stats and Potential Margins | Wholesale Hemp Flower Colorado
How much can you earn from reselling Mr. Hemp Flower's CBD flower and smokable products purchased wholesale? 
An order of $2,500 from Mr. Hemp Flower — with current discounts — can make you roughly $5,000 to $7,000 in sales.
Stats and Margins
An order of 35 gram (1g) pieces of Afghan Maple Hemp Flower at a discounted price of $6.49, costs you only $227.3 to buy wholesale. If you sell the flower at $12.99 ($12.99 x 35 = $454.6), you will make $227.3 in profit, which is a 50% margin. Afghan Maple is a premium strain, so depending on demand and market prices, you can sell 1 gram of Afghan Maple Hemp Fower at $15 and have a profit of $297.7 ($15 x 35 = $525) with a 56% margin.
Full Spectrum CBN Gummies
An order of 25 bags of our premium Full Spectrum CBN Gummies at a discounted price of $13.99 costs you $349.8 to buy wholesale. If you sell each pack at $27.99 ($27.99 x 25 = $699.7), you will make $349.9 in profit, which is a 50% margin. Our CBN Gummies are sugar-free and contain one of the rarest hemp cannabinoids, so depending on demand, you can offer one bag of CNB Gummies at $30 and make a profit of $400.2 ($30 x 25 = $750) with a 53% margin.
Bubba Remedy Hemp Pre-Roll 
If you buy 30 pieces of Bubba Remedy Hemp Pre-Roll (1 gram each) at a discounted price of $4.49 each, it costs you $134.8 to buy wholesale. If you sell each blunt at $8.99 ($8.99 x 30 = $269.7), you will make $134.9 in profit, which is a 50% margin. As the demand for smokable hemp products is growing and hemp pre-rolls are one of the most convenient ways of selling hemp flower, you can offer each blunt at $12.99 and have a profit of $254.9 ($12.99 x 30 = $389.7) with a 65% margin.
Is Reselling Wholesale Hemp Flower Legal in Colorado? 
Federal laws on reselling hemp flower
Federal hemp flower laws are in a state of flux. As of this writing, states are submitting or implementing their hemp plans under the 2018 Farm Bill and in accordance with the United States Department of Agriculture (USDA) Interim Rule. USDA has regulatory oversight over the cultivation of the hemp plant. After President Trump signed the 2018 Farm Bill, hemp became a commodity and was soon removed from the controlled substances list. The released USDA Interim Rule contains provisions on testing and disposal of raw hemp, which caused public outrage. 
Namely, the rules require states to test for Total THC (Total THC content is the sum of delta-9 THC and the potential conversion of delta-9 THCA, on a dry weight basis) that should not exceed 0.3%. Hemp plants that will test over 0.3% total THC are considered "hot" and must be destroyed. Most states have implemented the total THC testing rule on their hemp, including Colorado. Because the testing requirement caused public outrage, a USDA official said that the interim rule might be taken as a draft until the release of the final rule on October 31, 2021.  
State laws on reselling hemp flower
For the 2020 growing season, Colorado continues to operate under its pilot hemp program under the 2014 Farm Bill. That is until the state adopts the USDA approved state plan on November 1, 2020 [1]. 
The state doesn't seem to require registration of retailers that sell smokable hemp products. The biggest emphasis is placed on food products that contain hemp CBD. The Colorado Department of Public Health and Environment has regulatory oversight over-processing and processed hemp materials and products intended for human consumption. The state regulates hemp-derived CBD as either a food ingredient or a nutritional supplement [1]. 
Under Colorado law, a hemp product is "a finished product containing hemp that [1]: 
Is a cosmetic, food, food additive, or herb;

Is a product meant for human consumption;

Contains any part of the hemp plant, including naturally occurring cannabinoids, compounds, concentrates, extracts, isolates, resins, or derivatives;

And contains a delta-9 tetrahydrocannabinol concentration of no more than three-tenths of one percent. 
Colorado hemp product manufacturers, extractors, processors, and storage facilities who manufacture, store, wholesale, distribute, and process hemp products intended for human use and consumption must be registered with the Colorado Department of Public Health and Environment [1]. 
Finished hemp products must have a delta-9-THC concentration of 0.3% or below and be properly labeled. All labels must contain an identity statement, a net weight statement, a list of all ingredients, and the company name with an address. Additionally, each label must clearly identify hemp and CBD (and the amount of CBD) as ingredients, stay clear from any health claims, and include the statement that "FDA has not evaluated this product for safety or efficacy."
Why Mr. Hemp Flower?
Because we do the work, so you don't have to. We're reliable and offer only quality CBD flower, hemp smokables, and full spectrum CBD products. We work with licensed, vetted farmers. We create our own products. You don't have to wait weeks on end to get your wholesale order. We understand the market and know that speed and quality are key to creating a regular customer base. Before offering any product to our customers, we weed out the bad flower and select the best CBD flower farmers have to offer. We package, test, and label our products to the highest standards. Mr. Hemp Flower is a brand known for quality, with hundreds of 5-star reviews both on Google and our website.
Give us a call

—

we'd love to hear from you. We are here to answer all of your questions and help you fill in your order. 

Fill out the form below

—

if you know which products you want delivered and want to make an order, fill out the form below. 

Fill out our wholesale price quote form

—

have a specific product in mind? Fill out the form with the product and its quantity, send the form to [email protected], and we'll get back to you with a price quote within 24 hours.
FAQ Wholesale Hemp Flower California