Purchase pre-packaged, bulk and wholesale hemp flower in Alaska
Alaska has had its struggles with establishing a hemp program, but the sale of hemp-derived products remains without restrictions.
If you are a distributor or retailer in Alaska looking to buy pre-packaged or bulk CBD flower, become our wholesale partner.
Last Update: August 14, 2023
Article Summary
Alaska doesn't explicitly regulate the distribution and sale of CBD hemp flower to the end consumer. But, it also doesn't ban or prohibit it.
Under state law (SB 6), hemp products like smokable hemp, are legal as long as their THC levels don't exceed 0.3% THC.
Alaska permits the sale of CBD products by registered retailers, but the sale of CBD in food remains murky.
Mr. Hemp Flower offers an array of premium wholesale and bulk CBD flower and smokable hemp products compliant with state and federal regulations.
Premium Pre-packaged and Bulk Hemp Flower from Mr. Hemp Flower- Wholesale Hemp Flower Alaska
Every CBD flower strain you see on our site can be pre-packaged and ready to go for your shop. Anytime you order from us, you'll get premium sourced, hand-trimmed pre-packaged hemp flower.
Together with your order of pre-packaged items, we offer FREE marketing materials (with Mr. Hemp Flower's logo on them) to help you push your products. 
Our pre-packaged items are wrapped in sleek packaging that fits well with the aesthetics of every shop. Our packaging is properly labeled, and the box is odor-free. 
If you've noticed that some of the CBD flower on our site is not offered in a pre-packaged form, please note that each CBD flower on our site can be pre-packaged to suit your needs. We offer: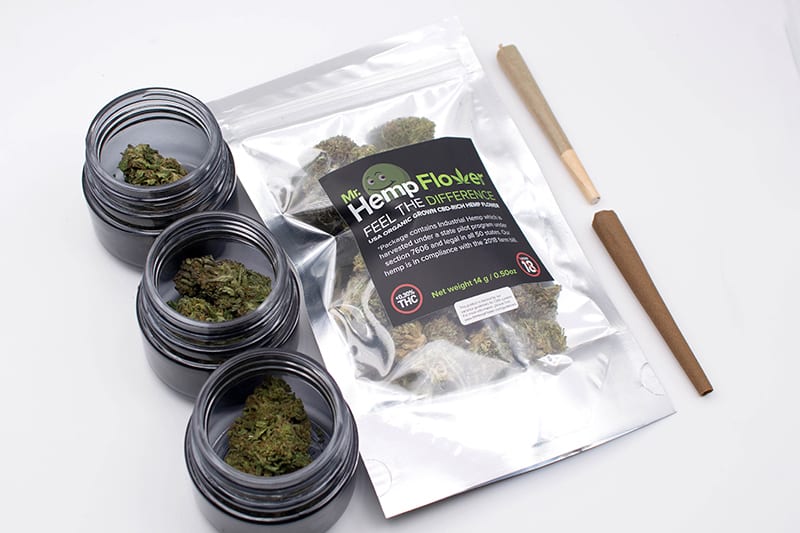 Hand Trimmed CBD-rich Hemp Flower
All of our pre-packaged flower is carefully hand-trimmed by our team, so you don't have to touch or break down the flower. Our hemp flower is organically grown by licensed US farmers primarily located in Oregon, Washington State, and Colorado. 
When we discover a unique hemp flower strain that's in demand, we source it from reputable farmers. That's why we offer a wide variety of strains — some of these can't be found anywhere else. You can get unique strains, but we also keep stacking the classics like Hawaiian Haze.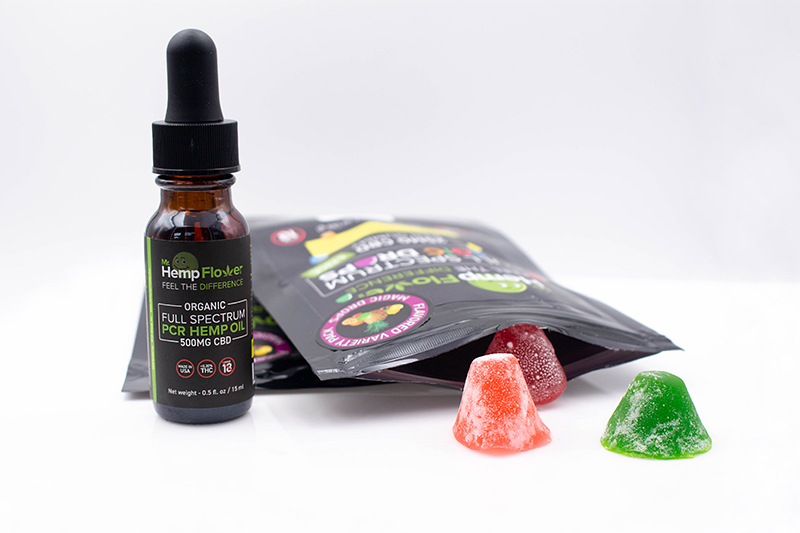 Full Spectrum CBD Gummies (with THC) 
A customer favorite, our sugar-free, full spectrum CBD gummies (with THC) are the perfect product to attract repeat customers to your store. The Mr. Hemp Flower CBD Gummies have a great taste, come as six large gummies and each gummy contains 25mg of CBD.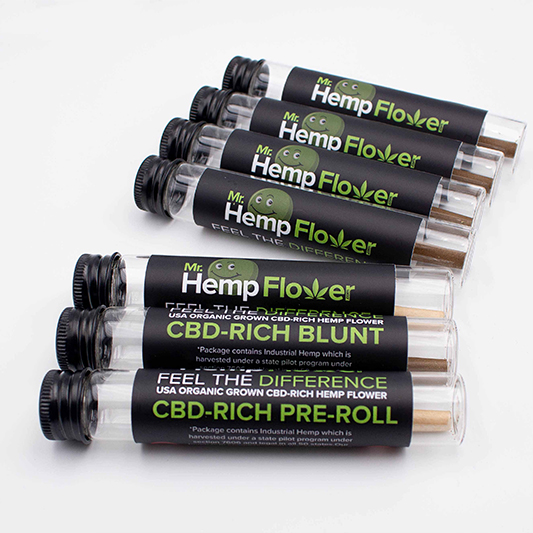 Hemp Pre-rolls and Pre-rolled Blunts
Looking to buy pre-packaged grams, eights, and quarters? We've got you covered. All of our fresh and quality flower is available in multiple pre-roll size options. Our blunts are made from organic hemp and are additive and contaminant free. Purchase all-natural, hand-trimmed hemp pre-rolls and blunts offered in a nice looking packaging with Mr. Hemp Flower's branding and put them in your store. 
Hemp Cigarettes 
If you want to offer hemp cigarettes in your Alaska store, but keep it real for your customers, consider Mr. Hemp Flower. Why? Because unlike other hemp cigarettes made with hemp biomass — aka, low-CBD hemp plants mixed with a tiny bit of hemp flower — our hemp cigarettes are 100% organically grown, premium flower and kief mix. They are nicotine-free and contain less than 0.3% THC.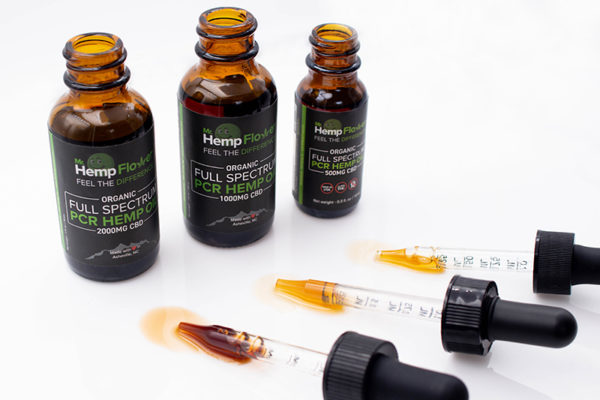 TRUE Full Spectrum Phytocannabinoid-rich (PCR) Hemp Oil 
Phytocannabinoid-rich (PCR) hemp oil is a true full spectrum CBD oil your store needs. This CBD oil takes the number one spot among CBD oils on the market because of its potency, richness, and flavor. The reason we've created our PCR hemp oil is that our customers were looking for a CBD oil that really works and contains all of the hemp nutrients in a bottle.
FREE Marketing Materials to Support Your Business
With your pre-packaged items, you'll get FREE materials to help you attract more customers, including:
Glass magnifying jars; 

Hemp flower posters; 

A booklet on hemp flower;
All of these items are created to help you push your pre-packaged Mr. Hemp Flower goods and attract more customers. The materials contain the Mr. Hemp Flower logo. Visitors can smell the flower through the magnifying jar. The posters and the 50-page booklet are there to help you and your employees educate and inform customers on all the different hemp flower strains that your store offers. 
Bulk Hemp Flower (not pre-packaged)
All of our strains are also available in bulk. If you need 2-3 pounds of hemp flower that you can break down, put it in a jar, and create your own brand, we support your mission. We offer machine trimmed bulk hemp flower, but if you'd like to get some of the premium strains, they can come perfectly hand trimmed. Have questions? Get in touch!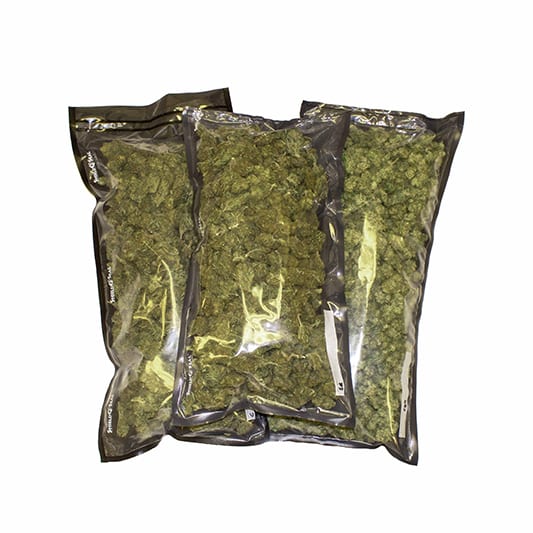 Retail Stats and Potential Margins- Wholesale Hemp Flower Alaska
How much can you earn from reselling hemp flower? 
Wholesale and bulk flower is offered at discounted prices, but the demand for smokable hemp products is high, so this market is highly lucrative for retailers. 
If an average retailer spends $2,500 per order — with current discounts and depending on the market — this adds up to roughly $5,000 to $7,000 retail sales. 
Stats and Margins
An order of 30 eighths of Afghani Maple CBD flower at a discounted price of $14.99 costs retailers $449.85 to buy wholesale. If the retailer sells this product at $29.99 (29.99 x 30 = $899.70) it will have a profit of 449.85, which is a 50% margin. Depending on the market and demand, the retailer can also sell Afghani Maple eights at $35.00 and have a profit of $600.15 ($35 x 30 = $1050) with a 57% margin.
Fifty 1 gram Bubba Kush Hemp Pre-Roll (each $3.99 wholesale) will cost retailers $199.5 wholesale. If retailers sell each blunt at $7.99 (total sales of $399.5), they will earn $200, which is a 50% margin. 
Is Reselling Hemp Legal in Alaska? 
The legality of reselling hemp depends on state and federal laws. 
Federal laws on reselling hemp flower
After the singing of the 2018 Farm Bill, hemp became a legal crop in the United States. In late 2019, the U.S. Congress removed hemp from the Controlled Substances Act and gave oversight over hemp to the U.S. Department of Agriculture (USDA). After a year, the USDA came up with a framework for regulating hemp, or the Interim Final Rule. The rule is in effect but is not final. 
The rule includes provisions for Total THC testing. Any state plan must include a testing procedure that can accurately identify the Total THC content in each hemp plant. Also, the testing must be done by a lab registered with the Drug Enforcement Agency (DEA). 
The rules provide that states must test not only for delta-9 THC, like provided in the Farm Bill, but also consider the potential conversion of delta-9 tetrahydrocannabinolic acid (THCA) into THC. So, the Total THC content must be derived from the sum of the THC and THCA on a dry weight basis. 
Is It Legal to Resell CBD Flower in Alaska?
Alaska doesn't prohibit the distribution and sale of CBD hemp flower with less than 0.3% THC. 
The state legalized hemp under SB 6, which removed hemp from the definition of marijuana. Therefore, the distribution and resell of CBD flower and other CBD products with less than 0.3% THC is lawful in Alaska, but remains unregulated. 
State rules require retailers to register before selling "processed industrial hemp or processed industrial hemp products" to consumers. The rules define "processing" as:
"All means of converting, extracting, refining, altering, manufacturing, or turning industrial hemp into finished industrial hemp or an industrial hemp product ready for market [1]."
A registered retailer can import, sell, distribute, transport, and test processed industrial hemp or industrial hemp products. Retailers must ensure that the hemp products are free from prohibited substances and appropriately labeled. 
Why Mr. Hemp Flower?
With the massive growth of the hemp industry, almost every U.S. farmer started growing hemp. Unfortunately, that resulted in tons of really bad hemp flower — and a challenge to find quality.
Luckily, quality is not a problem for Mr. Hemp Flower. For several years, we've been working with established farmers and weed through all the bad flower so that we can provide a great product. 
If you are looking for an established brand in the industry, we are here to help you serve your customers in the best way possible. Mr. Hemp Flower is a brand known for its quality with tons of 5-star reviews both on our site and on Google.
How to Make Your Wholesale Order? 
Have questions? Want to make your wholesale order? Here is how to get in touch:
Give us a call

—

we'd love to hear from you. We are here to answer all of your questions and help you fill in your order. 

Fill out the form below

—

if you know which products you want delivered and want to make an order, fill out the form below.

Fill out our wholesale price quote form — have a specific product in mind? Fill out the form with the product and its quantity, send the form to [email protected], and we'll get back to you with a price quote within 24 hours.  
FAQ Wholesale Hemp Flower Alaska