This review will take you in-depth into White Widow CBG hemp flower. It includes a zoomed in look at the strain's profile and genetic lineage.  
First we'll provide a general review of the strain's characteristics and highlights. Then, in the following sections we unpack White Widow CBG's profile including terpene and phytocannabinoid content.
Be sure to read this review all the way through to the end to find exclusive deals on White Widow CBG hemp flower pre-rolls by Mr. Hemp Flower.
White Widow CBG Hemp Flower
White Widow CBG flower is a one of a kind creation that is primarily highlighted by copious quantities of the phytocannabinoid, Cannabigerol.
Its flowers are densely formed into an elongated Christmas tree shape and are beautifully coated with a heavy dusting of frosty crystallized trichomes.
The aroma and flavor of this strain are best described as floral, earthy, and spicy with a pungent undertone. Its high-CBG
content and impressive terpene profile make this a great strain for relieving perceptions of inflammation related issues.
White Widow CBG's diverse terpene content also makes this strain a great choice for anyone seeking an uplifting, clear headed and optimistic effect.
In the next sections we unpack this strain's profile and genetics and afterwards we'll give you Mr. Hemp Flower's official rating for White Widow CBG hemp flower.
Genetics
White Widow is named as such because it has a white, frosted appearance thanks to its heavy resin content, and, of course, for its powerful effect.
Click here to enlarge lab report 
This strain is a sativa dominant hybrid with cerebrally energizing effects. White Widow was born out of crossing two landrace strains from separate continents, an Indica from Brazil and a Sativa from India.
CBG is the building block of most primary phytocannabinoids including CBD and THC. Cultivators harvest White Widow hemp prior to CBG's transformation into other compounds in order to create high CBG content version of White Widow.
This creates a novel strain with the terpene profile of the iconic White Widow that compromises higher CBG concentrations for lower levels of cannabidiol and other cannabinoids.
Terpene Profile
Terpenes, along with flavonoids, are the aromatic compounds found naturally in hemp that give the flowers their unique scents and flavors.
They also have therapeutic benefits in humans and play a primary roll in activating the synergistic phenomenon of the entourage effect. Let's take a look at the White Widow CBG terpene profile.
Total terpenes 2.58 mg/g
Secondary terpenes include Nerolidol and Myrcene.
Primary terpenes
· Bisabolol
· Guaiol
· Pinene
· Caryophyllen
Bisabolol
A delicately sweet and floral aroma a touch of citrus and spice, Bisabolol has a warm fragrant smell similar to chamomile, apples, and honey.
This terpene is traditionally known for perceived skin benefits related to inflammation. It also has antioxidant, antimicrobial, and apoptotic properties and produces naturally calming effects.
Guaiol
Also found naturally in cypress pine and the natural oils of the Caribbean plant guaiacum, Guaiol gives White Widow are particularly woodsy and floral scent.
Long treasured for its potential anti-tumor and antibacterial properties, this terpene has been used for ages as a natural remedy against issue related to pain and inflammation.
Pinene
Pinene is mostly found in fresh pine trees, pine needles and cones, but it can also be noticed in certain herbs such as hemp. It has an invigorating effect on mental clarity and focus and an uplifting sensation in the body.
This terpene is considered a bronchodilator for its beneficial effect to breathing pathways. Pinene also has antimicrobial and antispasmodic properties.
Caryophyllene
Most commonly associated with black pepper, Caryophyllene is one of the most common terpenes found naturally in hemp flower.
This terpene gives White Widow CBG a spicy sensation on the lips and mouth when it is smoked.
Caryophyllene has known anti-inflammatory and apoptotic properties and may improve perceptions of pain.
Phytocannabinoid profile
Our limited quantity batch of White Widow CBG contains a total of 17.4% Cannabigerol and an additional .36% secondary phytocannabinoids.
· Total Phytocannabinoid content 17.40%
· Total CBG 17.04%
· Total secondary phytocannabinoids 0.36%
Cannabigerol is a building block used by hemp and cannabis to produce other primary phytocannabinoid compounds. In other words, the hemp plant first creates CBG before it creates most other compounds.
CBG has many potential benefits and therapeutic properties that may be useful to people suffering from problems related to pain or inflammation. Be sure to keep reading to learn more about the best uses for White Widow CBG hemp.
Best Uses
White Widow CBG is best used for reducing perceptions of pain-related inflammation and boosting mental calmness and clarity. With improved symptoms related to stress and pain, it's also easier to relax in the evening, rest well and sleep at night.
Phytocannabinoids such as CBG provide benefit and support the healthy functioning of the endocannabinoid system. The particular potential benefits related to the profile of this strain include,
· Joint pain
· Neck and face pain
· Migraines and headaches
· Lower back pain
· Stress
· Mental fog
· Fatigue
· Muscle stiffness or spasms
· And more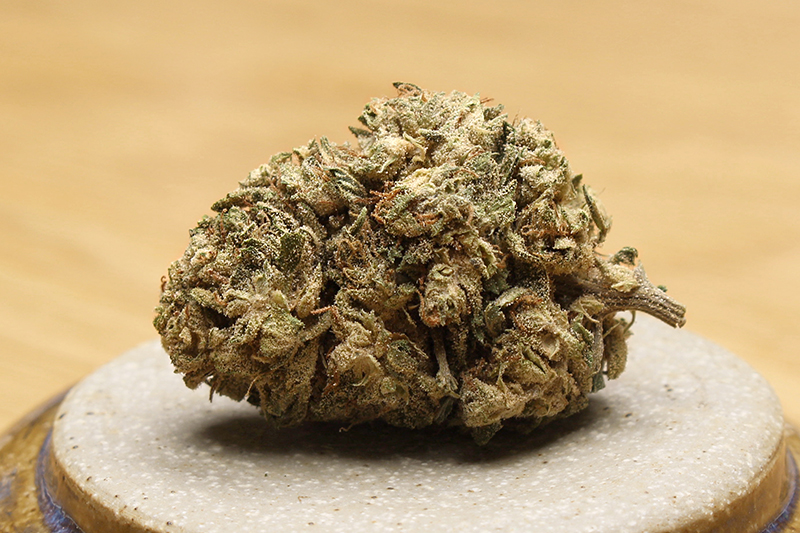 Official Rating
After our in-depth review of White Widow CBG, we're pretty impressed. We've got a terpene-rich strain with some of the highest concentrations of Cannabigerol ever recorded in hemp.
Although we typically like to see more cannabidiol expressed in strains of this caliber, we're still granting this strain a well-deserved 5/5 and recommend it to anyone new to hemp and phytocannabinoids.
White Widow CBG Review Highlights
Noice!!
Nice looking buds and smoked really well. Nice, calling effect and really takes away pain.
Found great relief
Found great relief from my pain in my hands and shoulders..thanks for a great product..
White Widow CBG Hemp Flower
Thanks for reading our White Widow strain review! If you've found it helpful then please share it with others you think would also enjoy hemp flower strain review.
Mr. Hemp Flower offers something for everyone! From grams to pounds and beyond, we have the freshest hemp flower from the top rated growers in the United States.
Check out our great deals on pre-roll bundles and more linked here!
Browse Our Hemp Flower Catalogue
Thanks for reading Mr. Hemp Flower's White Widow Strain Review! Be sure to share it with others that you think will find it helpful.
Click the links below to browse our extensive inventory of the freshest strains available from the nation's top hemp cultivators out of Oregon, California, and more.
Is It Legal To Use Hemp Flower?  
Is it legal to use CBD hemp flower? CBD Hemp is legal in the USA and not considered an illicit or controlled substance, and is federally regulated as an agricultural product. This is primarily because CBD-rich hemp flower only contains trace amounts of THC content, which is what separates hemp from cannabis by legal definitions.   
While hemp flower is considered legal in all USA states, laws may vary from state to state or region to region within the USA. Always check that you comply with local and state laws regarding hemp flower.    
Browse Our Hemp Flower Catalogue 
FAQs About White Widow
Is White Widow CBG a daytime or nighttime smoke?
White Widow CBG can serve both day and nighttime purposes. Improving mental clarity and reducing perceptions of pain-related inflammation with phytocannabinoid rich hemp flower throughout the day may also benefit how you feel in the evenings allowing you to rest better.
Will White Widow CBG get you high?
No, CBG won't make you high. Phytocannabinoids support a healthy functioning endocannabinoid system. Compounds such as CBG and CBD do not have psychoactive properties that impair cognition or motor coordination like THC.
Is it legal to smoke White Widow CBG hemp flower?
CBD and Hemp were removed from the definition of marijuana, a controlled substance by the DEA, under the 2018 Farm Bill, making hemp flower legal in all 50 US states.
Always check your local and state regulations regarding hemp and act in accordance with the law.