Indiana has legalized hemp in May 2019 and is expected to issue 700-1000 commercial licenses for 2020. The state is still in the hemp research mode for 2019, for which has issued approximately 100 research licenses to eligible farmers. While those are great news for farmers in the Hoosier State, retailers are not happy with the passed bill.
[UPDATE: Jan 2020]
Update regarding the federal lawsuit filed by retailers against the state of Indiana. 
Indiana retailers received fantastic news on September 17th, 2019, as a federal judge ruled Indiana smokable hemp ban as unconstitutional. According to Judge Sarah Evan Barker, banning one type of hemp because law enforcement can't easily distinguish from marijuana is unconstitutional. 
As a reminder, the state of Indiana passed a law that legalized industrial hemp but banned smokable hemp products. 
In the words of Judge Sarah Evan Barker, "The fact that local law enforcement may need to adjust tactics and training in response to changes in federal law is not a sufficient basis for enacting unconstitutional legislation."
Also, judge Barker granted an immediate injunction blocking the unconstitutional law that banned smokable hemp. 
Let's take a look at the status of smokable hemp flower in Indiana and whether you can legally buy hemp flower in this state.
Is Hemp Flower Legal in Indiana?
Hemp flower got banned in Indiana. The state passed Senate Bill 516 in April 2019, legalizing the growth and sales of hemp in the state. Governor Eric Holcomb signed the bill into law on May 2019, but, to the surprise of everyone, the bill that went into effect on July 2019 also outlawed smokable hemp. 
Since hemp flower has been banned in this state, it is not allowed to sell the product within state boundaries. The ban was primarily done because of the resemblance of hemp flower to marijuana and concerns about officers' inability to distinguish between the two. 
However, because hemp is a legal crop, Indiana retailers filed a federal lawsuit against the State of Indiana and Gov. Eric Holcomb who signed the hemp bill into law. [1]
The lawsuit is based on the conflicts between state and federal law. By outlawing hemp flower, the state narrowed the federal definition of hemp and criminalized the manufacture, financing, delivery, or possession of smokable hemp despite the federal legality of all hemp derivatives. 
Where to Buy Hemp Flower in Indiana?
Hemp is a legal crop that can be sent by mail, and many people in Indiana buy their hemp flower online.
Organically-Grown Hemp Flower
Hemp flower is the most natural way of consuming CBD and the rest of the good components in hemp. So, it's important that your hemp flower is grown in clean soil. MrHempFlower offers non-GMO and pesticide-free hemp flower with rich terpene profile and high CBD levels.
Hemp Flower by Licenced Growers
All of our hemp flower is grown by licensed growers and is tested by an independent, third-party lab. Hemp is a special plant, so producing high-quality hemp flower requires previous knowledge and experience. 
That's why we work only with farmers that have more than 5 years of experience in the industry and who have grown some great strains through the years. Our hemp flower is sourced from the best farms in the US, including Oregon, Washington State, and Colorado.
Avoid Carrying Hemp Flower in Public
In most US states, including Indiana, where state law collides with federal law, it is important to avoid taking your hemp flower in public. So, try not to carry hemp flower in your car and use it strictly in the privacy of your home.
Indiana Hemp Flower for Sale
MrHempFlower offers organically-grown hemp flower with less than 0.3% THC to all 50 states. Expect a quick delivery within 3-5 days and free shipping on all orders over $100. We include a lab analysis report and notice to law enforcement in all of our packages.
If you are looking for CBD flower with 0.3% THC, and over 16% CBD, here are our best products: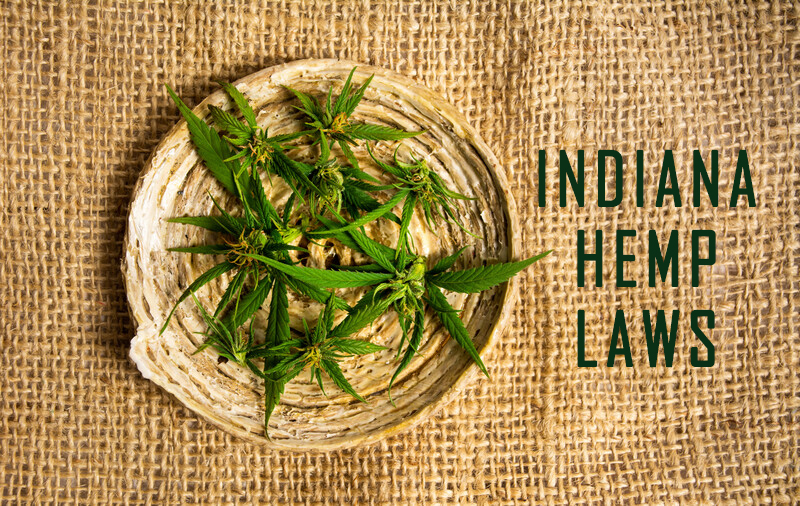 Retailers vs. Indiana on Hemp Flower Ban
Seven Indiana companies filed a federal lawsuit against the State of Indiana and its governor because of the hemp flower ban. Hemp flower is a legal hemp derivative under federal law, but, in Indiana, it is illegal to manufacture, deliver, or possess smokable flower. 
According the Indiana Industrial Hemp Act,
"hemp means the plant Cannabis sativa L. and any part of that plant, including  the seeds thereof and all derivatives, extracts, cannabinoids, isomers, acids, salts, and salts of isomers, whether growing or not, with a delta-9-tetrahydrocannabinol concentration of not more than three-tenths of one percent (0.3%) on a dry basis, for any part of the Cannabis sativa L. plant." [2]
Under this definition, the Indiana law legalizes all parts of hemp as long as they contain 0.3% THC or less. However, under the section "hemp product," the law excludes smokable flower from the previous definition of hemp. 
The law defines, "hemp product" as a product derived from or made by, processing hemp plants or plant parts including derivatives, extracts, cannabinoids, isomers, acids, salts, and salts of isomers. However, the term does not include: [2]
Smokable hemp or;

Products that contain a total delta-9-tetrahydrocannabinol concentration of more than three-tenths of one percent (0.3%) by weight. 
This means that Indiana law legalizes CBD from hemp, but outlawed smokable hemp flower. The state also criminalized the transportation of smokable hemp "despite federal law explicitly stating that states have no power to do so." [1]
A Short Overview of Indiana Hemp Laws
2018—House Bill 1137 [3]
This bill removes the excluded industrial hemp commodities or products form the definition of industrial hemp and specifies that the definition of industrial hemp includes the resins of Cannabis. 
2018—Senate Bill 370 [4]
This bill requires the Department of Agriculture to establish the industrial hemp products and development program. 
2016—House Bill 1228 [5]
This bill allows the state seed commissioner to adopt rules to implement industrial hemp laws. Also, it encourages hemp research by educational institutions. 
2014—Senate Bill 357 [7]
The bill authorizes the Department of Agriculture to license the cultivation and production of industrial hemp. The bill was signed by Governor Pence in March 2014. 
Can You Buy CBD in Indiana?
Yes, you can buy hemp-derived CBD in Indiana. The Indiana law didn't specifically legalize cannabidiol (CBD), but all cannabinoids, aside from THC. So, as long as the CBD products you buy are derived from hemp and contain THC levels of 0.3% or less, you are doing a legal activity. 
Marijuana is illegal in Indiana, and the state even failed to legalize medical marijuana in 2015. Prior to the legalization of hemp CBD oil, in 2017, Indiana legalized CBD oil with 0.3% THC for epilepsy. 
Disclaimer: This article is for informational purposes only and does not provide legal advice. MrHempFlower only provides visitors with free information regarding hemp laws and policies.
FAQs on Hemp Flower Indiana State Laws
Best Selling Products