Indiana's had a long history with hemp flower, but with the introduction of the 2018 Farm Bill, we've seen an increase in access to a wide range of CBD products, to the point where a vast variety of CBD products have been made available even in drug stores, from tinctures to topicals. However, there's been an increase in interest for hemp cigarettes and other hemp smokables.
And if you're a CBD lover in Indiana, you may be wondering: are hemp cigarettes legal in my state?
Never fear, Mr. Hemp Flower's got you covered.
In this guide, we'll cover:
Benefits and Uses of Hemp Cigarettes 
Is It Legal To Buy and Sell Hemp Cigarettes in Indiana?
Choosing the Best Hemp Cigarettes Online
Proof in the Results: Terpenes, Service, and Quality
Benefits and Uses of Hemp Cigarettes 
Hemp cigarettes and other forms of smokable hemp are becoming a favorite for those trying to quit tobacco, as well as those simply seeking an enjoyable, relaxing way to get a rapid dose of full-spectrum CBD.
It should be noted that while inhaling the burnt plant matter of anything may pose health risks, hemp cigarettes pose a safer alternative to carcinogenic tobacco products. Plus, the lack of nicotine in hemp cigs makes them non-addictive and has even helped individuals quit smoking.
That being said, hemp flower possesses its own unique qualities, and the growing research suggests that it possesses components that make it a strong candidate for soothing a variety of conditions, including anxiety and certain forms of chronic pain.
These factors are made possible because of the unique relationship our bodies have with hemp. This stems from the endocannabinoid system, which is a series of receptors found throughout the human body known to manage functions such as stress, pain, sleep, and appetite.
When consuming CBD in the form of smokables like hemp flower cigarettes, individuals tend to enjoy the benefits of hemp faster, with none of the grogginess caused by THC. This may have to do with the research that smoking hemp flower may increase both its bioavailability and absorption rate.
And according to a University College London blind study, subjects with a nicotine dependency were given CBD reduced cigarette usage by 40%, while those who took placebos noticed no difference.
Plus, you're still getting the same benefits of CBD and terpenes that you'd enjoy from any other CBD product, but more quickly and without the digestion process of tinctures or edibles.
But how have hemp laws in Indiana changed since the 2018 Farm Bill?
Is It Legal To Buy CBD Cigarettes in Indiana?
While the Hoosier State's CBD laws are making some progress with clarifying their language, there have been some obstacles in place when it comes to laws regarding smokable hemp. And this due largely to lawmakers' worries that because hemp flower looks and smells like marijuana, they are making both de-facto illegal. 
While the lower courts halted the 2019 Indiana law criminalizing hemp cigarettes and other forms of smokable hemp, the federal appeals court  overturned the order.
Additionally, Indiana legislators passed a law that legalizes the commercial production of hemp while setting up a system of regulation. In this same law, smokable hemp, such as hemp joints and cigarettes, were banned. And according to that law, anyone who possesses or manufactures smokable hemp can be charged with a misdemeanor.
Choosing Quality: Where to Buy the Best CBD Cigarettes in Indiana
While smokable hemp can't be bought in Indiana, you can still buy hemp-derived CBD products as long as the THC levels are within the limit.
While CBD products are available in-store and online, the internet is likely to be your only CBD cigarette source for a while, making it more crucial than ever that the brand you shop from is reputable.
When you shop from Mr. Hemp Flower, you're getting quality through world-class customer service and top-quality CBD cigarettes.
Proof in the Results
When enjoyed in its whole-flower form, smokable hemp can grant full-spectrum benefits. This means that you're going to get all the naturally-occurring compounds found in hemp, including CBD, CBG, and a wide variety of beneficial terpenes.
And we know that an amazing CBD cigarette starts with amazing hemp, so we put painstaking effort into every step of the cultivation process, alongside experienced farmers throughout Oregon, Colorado and Washington state.
On our site, we have all of our certificates of analysis fully accessible, and you can see our lab tests for CBD cigarettes here.
(H4)Alpha-Bisabolol-1.31 mg/g (.13%)
Alpha-bisabolol is a terpene known for its delightful scent and calming effects; you may especially recognize it from chamomile tea, and research has shown that its anti-inflammatory properties may give it a special affinity against pain.
Guaiol-1.02 mg/g (.10%)
This terpene is found especially in cannabis and cypress, is known for their antibacterial, antimicrobial, and antioxidant properties, but it may also be a viable source of defense against systemic inflammation.
Beta-Pinene-.626 mg/g (.06%)
Beta pinene has an especially piney fragrance, and while it, too, has evidence of working well against pain symptoms, beta-pinene also acts as an expectorant, meaning that it helps promote the clearing of air passageways to help treat coughs.
Beta pinene has a piney fragrance that lends a deep, rich aroma to our hemp cigs while adding to this smoke's overall relaxing effect.
Trans-Caryophyllene .464 mg/g (.05%)
Found in hops, rosemary and cloves, caryophyllene has actually been researched for longer than many other terpenes, and has been shown to act as a neuroprotective agent by interacting with the CB1 and CB2 receptors to bring down inflammation.
Quality Craftsmanship & Customer Service
Quality means putting in the time, effort, and manpower into creating an amazing product, and when it comes to your smoke break, there should be no exception.
That's why we make our hemp cigarettes with kief, and not just pure hemp flower alone.
For those who don't know, kief is made up of the resinous glands in terpenes–basically where all the good stuff is, but ultra-concentrated. And while it's as fine and light as dust, just a pinch can alter your entire experience.
On top of that, our hemp flower cigarettes are nicotine and tobacco-free, making them a popular alternative to traditional cigarettes.
Last but not least, we have unbeatable customer service. Here are some of our reviews from real customers:
"Love this company and every one of their products!! Amazing quality products and great customer service/updates on orders."  

"Good stuff and excellent customer service as well. The total package!"

"These kief and hemp smokes are great. The filters remove all the tar making the experience much better. will order more soon. also, the service is excellent."
Our customer service representatives are easy to reach with any inquiries you might have, which you can submit here. On a typical business day, we usually answer our customers' questions within 3-4 hours.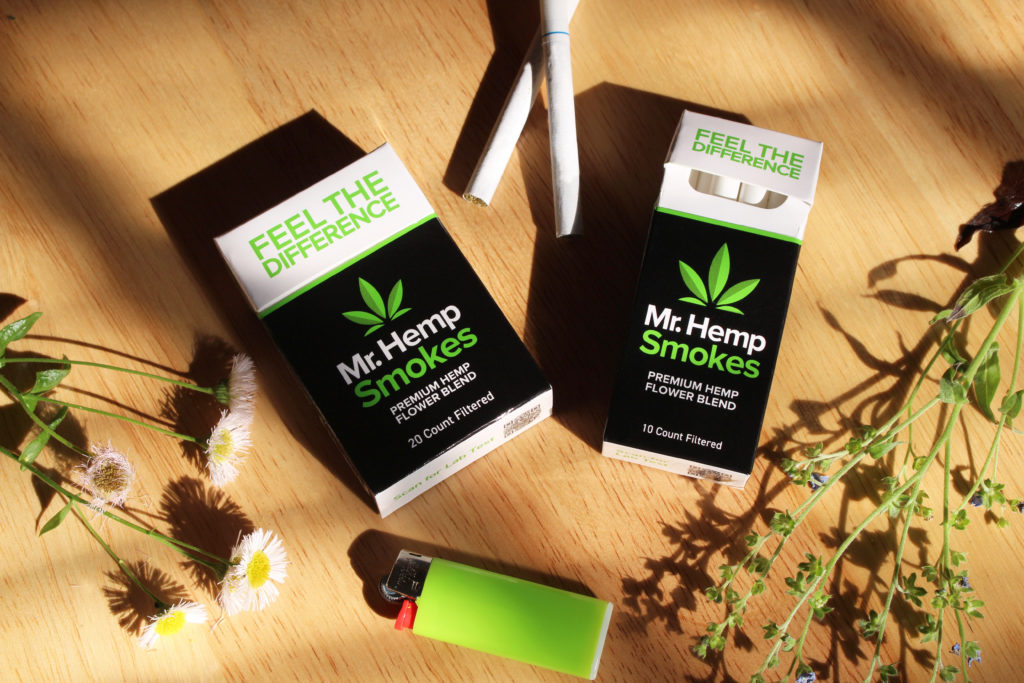 FAQ's
Is hemp flower legal in Indiana?
Currently, most CBD products are legal in Indiana, but it's a punishable misdemeanor to possess or sell smokable hemp flower (i.e. hemp cigarettes).
Do hemp cigarettes contain nicotine?
Unless otherwise stated on packaging, hemp cigarettes do not contain nicotine, which renders them without the highly addictive properties of traditional cigarettes. But even with the best hemp cigarettes, you're still inhaling burnt plant matter, which does pose a risk of carcinogens.