This is the official CBD strain review for Gelato Hemp Flower. It's designed to give you all the info you need about the strain, helping you choose the best one to fit your needs.
We'll give you a broad overview of Gelato CBD hemp's characteristics, profile, and effects first, before unpacking this strain's chemical profiles.
You'll learn about the Gelato genetics and how to predict its potential effects. Plus, we'll give you Mr. Hemp Flower's official rating and the best-recommended uses.
Be sure to read this review until the end to get a special offer on hemp flower pre-rolls. Let's get started.
Gelato Hemp Flower
Gelato CBD strain is a hemp flower crafted for optimal flavor profile and powerfully relaxing, relieving effects. It's a great pick for anyone seeking the combined magic of aromatics and phytocannabinoids to help relieve pain and stress.
Its potency is slightly above average at +15% CBD. Gelato hemp flower leverages the strength of Myrcene and Caryophyllene, two terpenes with powerfully relieving properties upon both the mind and body.
Gelato hemp flower is nearly completely covered in thick orange to dark yellow hairs with some dark green calyxes peaking out from underneath.
Its nice, dense, sticky colas are spear-shaped and smell like a mix of orange and mango citrus fruits with freshly baked sugar
cookies. The taste of the strain is just as fruity as the aroma and it leaves a tingly sensation on the lips and nose when smoked.
Expect to experience a wonderfully relaxing sensation in the body accompanied by a pleasantly focused calm sensation in the mind.
Not a particularly energizing strain, Gelato is best reserved for some introverted alone time or perhaps in small social settings.
It'd be hard not to start a conversation about how incredible the aroma and flavor of this hemp strain.
In the next sections, we dive deep into this strain's genetic lineage and chemical profiles. In the end, we'll let you know what we think with our overall rating.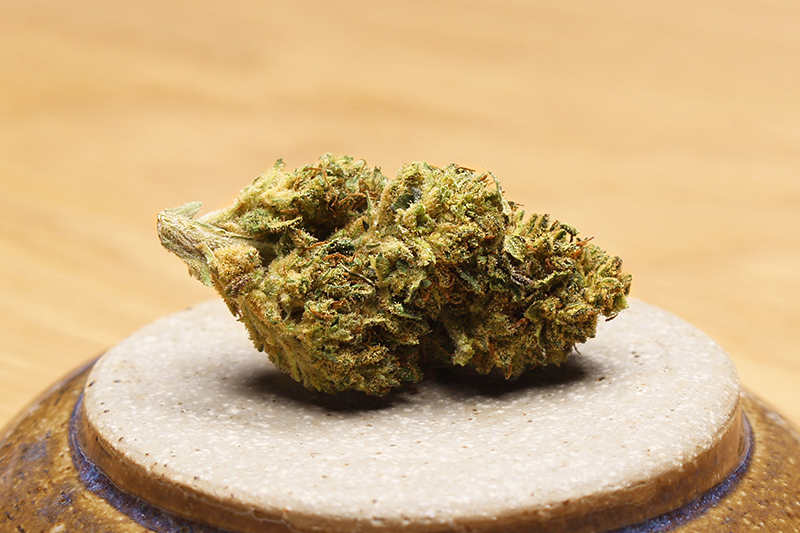 Genetics
Sunset Sherbert x Thin Mint GSC
This hemp hybrid strain is a powerhouse combination born from two iconic West Coast breeders, Cookie Fam and Sherbinski.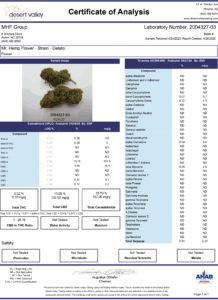 Click here to enlarge lab report 
They collaborated by crossing their Sunset Sherbert with the nationally popular, Thin Mint Girl Scout Cookies.
Thin Mint GSC is one of the more popular phenotypes born from the GSC lineage that produces a sweet, minty, and potent character. Sunset Sherbert brings a creamy, smooth, and fruity essence to the party.
The resulting strain was further hybridized with an unknown hemp strain to create a hemp hybrid with high potency and terpene content.
Delta 8 Gummies Available Now! New Gummies Here! Vegan Gummies Here!
Terpene Profile
Terpenes are aromatic compounds produced naturally in hemp flowers and other plants. There are many types of terpenes, each with distinctive scents and properties.
In nature, terpenes are primarily used as chemical signals for pollinators and predators, and to serve other advantageous biological functions.
In humans, terpenes have innumerable therapeutic properties. Let's look at what terpenes are highlighted Gelato CBD hemp flower's profile.
· Total terpenes: 5.44 mg/g
· Secondary terpenes: Humulene
· Primary terpenes: Myrcene and Caryophyllene
Understanding a strain's unique terpene profile can help to predict its potential effects, which will ultimately help you in your strain picking decision.
Myrcene
Myrcene is the most common terpene found in hemp and it gives Gelato much of its fruity and berry spirit and scent. This terpene has powerfully relaxing properties upon the body and synergizes with THC-A.
Caryophyllene
Caryophyllene is a common terpene in hemp known for potent pain-relieving anti-inflammatory effects. Primarily associated with peppercorn, this terpene gives Gelato a touch of heat and spice on the lips when smoked.
Humulene
Humulene gives Gelato hemp flower a dank, woodsy aroma that can be noticed in hops. Among its many beneficial properties, this terpene has appetite-suppressing effects and boosts mood
Phytocannabinoid Profile
Phytocannabinoids are the active components in hemp that give the flower its beneficial properties and effects.
Phytocannabinoids interact with the human body in ways that support the healthy functioning of the endocannabinoid system.
Let's take a look at Gelato's phytocannabinoid profile.
· Total phytocannabinoids: 15.70%
· Total CBD: 13.05%
· Total secondary phytocannabinoids: 2.65% (CBG, CBC)
The most recent inventory of Gelato at Mr. Hemp Flower tests at a total potency of 15.70% phytocannabinoids, including +13% total cannabidiol (CBD) and 2.65% additional secondary phytocannabinoids.
This is one of the few strains available to contain significant amounts of CBD as well as CBG and CBC.
Along with terpenes, the presence of these extra hemp compounds that spark the synergistic phenomenon critical to activating relief with phytocannabinoids known as the entourage effect.
Best Uses
Gelato hemp flower is a perfect choice for anyone seeking a powerfully relieving and relaxing effect upon the mind and body along with a top-shelf flavor profile.
It can help loosen up the joints and muscles, as well as calm the overactive mind. It could also be a great way to lighten the mood after dinner. After all, who doesn't enjoy a bit of Gelato now and then?
Choose this strain for its magnificent creamy, fruit and berry flavors and its relieving anti-inflammatory and anti-stress effects.
If you seek extra relief with hemp, Gelato's phytocannabinoid profile offers an effective team of hemp compounds that aren't typically found in similar strains of this caliber.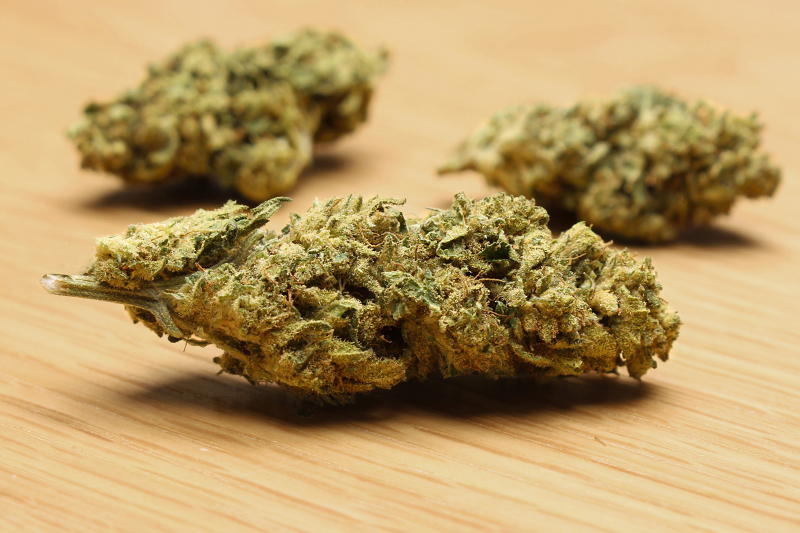 Overall Rating 
This batch of Gelato is super! We love that even though its terpene profile is limited in diversity, it makes up for it by
expressing incredible higher concentrations of secondary phytocannabinoids.
The only thing we'd prefer to see is a touch more diversity and potency in terpene content. It doesn't lack in effect though, so we can't complain too much.
We love the nug's appearance and aesthetic, the bouquet of aromas, and the broad spectrum of phytocannabinoids including CBG and CBC. We're going to give it a 4/5, even though she probably deserves a full five.
Gelato Review Highlights
Gelato
Gelato is one of my favorites as well. It was really smooth to smoke, I will be ordering more
Very Relaxing & Smooth
I found this strain to be great for evening use, to enjoy about an hour or two before bed. Plan to purchase more!
Strawberry Cake Strain Review – Shop Hemp Flower
Thanks for reading the official review for the Gelato CBD hemp flower strain.
If you've found it to be helpful, then please consider sharing it with others that you think would benefit from hemp in their life.
Click here to shop our selection of Gelato hemp flower, including special deals on pre-roll bundles.
Didn't find what you're looking for with Gelato strain hemp?
Click here to read our other official strain reviews and find the best fit for your needs.
Browse Our Hemp Flower Catalogue
Thanks for reading Mr. Hemp Flower's Gelato Strain Review! Be sure to share it with others that you think will find it helpful.
Click the links below to browse our extensive inventory of the freshest strains available from the nation's top hemp cultivators out of Oregon, California, and more.
Is It Legal To Use Hemp Flower?  
Is it legal to use CBD hemp flower? CBD Hemp is legal in the USA and not considered an illicit or controlled substance, and is federally regulated as an agricultural product. This is primarily because CBD-rich hemp flower only contains trace amounts of THC content, which is what separates hemp from cannabis by legal definitions.   
While hemp flower is considered legal in all USA states, laws may vary from state to state or region to region within the USA. Always check that you comply with local and state laws regarding hemp flower.    
Browse Our Hemp Flower Catalogue 
FAQs About Gelato
Is Gelato a daytime or nighttime smoke?
Gelato has a more relaxing effect than energizing, so we'd suggest it may be best reserved for calm moments at home or small gatherings in the evenings and night, such as a dinner party.
Will Gelato get you high?
Gelato doesn't contain enough THC content to make you feel stoned or high. The Gelato CBD hemp hybrid strain contains less than .3% THC.
Is it legal to smoke hemp flower?
Hemp flower is legal in all 50 US states at the federal as long as it contains less than .3% THC content by volume. Always check with your local laws.