Michigan allows the sale of both hemp-derived and marijuana-derived products — with some restrictions. Let's look at the legal status of the new delta 9 THC gummies in Michigan & where to buy them.
Last Update: October 23, 2023
Summary
Hemp-derived delta 9 gummies with less than 0.3% THC are not legal in Michigan.
The state holds close to federal regulations and doesn't allow the manufacture, sale, distribution, and use of cannabinoid-infused food and drinks.
Marijuana is legal in Michigan for recreational and medical purposes.
Mr. Hemp Flower offers a range of full spectrum CBD products with less than 0.3% THC that you can buy in Michigan.
Where to Buy Legal Delta 9 Gummies in Michigan?
Our delta 9 gummies with less than 0.3% THC are unfortunately illegal in Michigan.  
For now, we recommend you try our original, full spectrum CBD products. They are enriched with whole-plant extract and contain less than 0.3% THC. 
When the law changes, you can try a range of Mr. Hemp Flower's premium gummies. Our gummies are a vegan-friendly formula with primary and secondary cannabinoids, including CBN, CBG, and CBC.
They taste incredible and have a chewy texture. We also offer other cannabinoid-specific gummies, including CBN gummies and CBG gummies, which are great for sleep and anxiety. 
A certified lab tests all our products, and we offer a detailed Certificate of analysis with each item. To prepare our extracts, we use top-shelf, organically grown hemp rich in cannabinoids and terpenes. Our hemp is organically grown and comes from local farms in North Carolina and Oregon. 
Are Delta 9 Gummies Legal in Michigan? 
No, delta 9 gummies are not legal in Michigan, although they contain less than 0.3% THC.
Similar to Massachusetts, the state holds close to the FDA's regulations and doesn't permit the sale, use and possession of cannabinoids in food and beverages.
Michigan follows the FDA's position on CBD in food and prohibits CBD oil from being marketed as a dietary supplement or used as an additive in food or beverages. According to the Bureau of Marijuana Regulation (BMR) and the Michigan Dept. of Agriculture & Rural Development, adding CBD to food and drinks is illegal in Michigan. 
Michigan legalized the cultivation of hemp and production of hemp-derived products under the Michigan Industrial Hemp Research and Development Act, enacted January 2019. The Act defines hemp as a variety of cannabis with less than 0.3% delta 9 concentration by weight and legalized hemp-derived CBD products.  
Read more: A State-by-State Delta 9 THC Legality Guide 
The state legalized the manufacture and sale of both hemp-derived and marijuana-derived delta 9 products. Hemp-derived CBD products with a THC concentration below 0.3% are considered hemp in this state. Any hemp-derived product with over 0.3% THC is considered marijuana. 
Recreational cannabis is also legal in the Great Lake State, so individuals 21 or older can buy cannabis in the state. Michigan legalized medical marijuana in 2018 under the Michigan Compassionate Care Initiative.
What is Hemp-Derived Delta 9 THC?
The cannabis plant contains an abundance of cannabinoids, terpenes, and other phytochemicals that together produce the "entourage effect." Delta 9 THC is the cannabinoid associated with the intoxicating properties of marijuana. In hemp, it's present in less than 0.3%, which is the threshold set by the 2018 Farm Bill.
THC is the most recognized cannabis compound. It has an affinity for receptors located in the brain that cause the psychotropic "high." This cannabinoid offers plenty of benefits and can potentially help with pain, nausea, inflammation, and sleep. Regardless of its intoxicating nature, if derived from the buds of federally compliant hemp, delta 9 can be legally infused in products. 
Legal Delta 9 THC and Federal Law
Hemp is no longer on the list of controlled substances and is defined separately from marijuana, as: 
"The term 'hemp' means the plant Cannabis sativa L. and any part of that plant, including the seeds thereof and all derivatives, extracts, cannabinoids, isomers, acids, salts, and salts of isomers, whether growing or not, with a delta-9-tetrahydrocannabinol concentration of not more than 0.3 percent on a dry weight basis [1]."
When it comes to selling consumable products that contain cannabidiol (CBD), approval by the US Food and Drug Administration (FDA) is necessary. But, it's been a few years since the passage of the 2018 Farm Bill, and the FDA has yet to issue an official approval or a ban on using CBD in foods and drinks.

As of this writing, the FDA prohibits but tolerates the sale of CBD in food so long as they are not marketed under health claims or as dietary supplements. 
Therefore, delta 9 gummies (that contain CBD) are not FDA-approved, but they can be sold as legal full spectrum hemp products with less than 0.3% delta 9. Most states have already legalized the sale of this compound in food, but they are waiting for the FDA to catch up. 
The thing that goes against the idea of legalizing hemp-derived delta 9 products is that they are intoxicating. Legislators allowed the cultivation of this plant and its cannabinoids because they are not marijuana. 
While delta 9 THC gummies don't fit the idea of non-intoxicating hemp, they are still compliant with federal law and therefore legal to sell. So, the fact that these gummies are mildly intoxicating doesn't affect their legality as long as they contain less than 0.3% delta 9.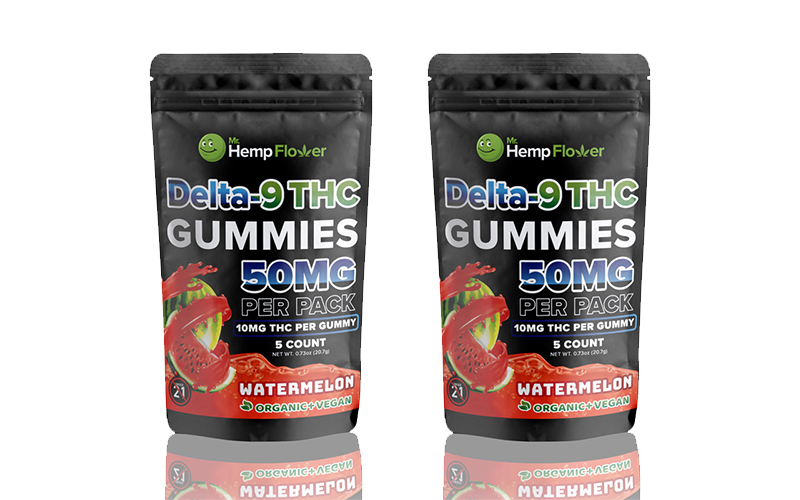 Be Sure to Check Out: 
Delta-9 THC FAQ
Read our legal disclaimer HERE. While we try to stay as up to date as possible on all state laws, you should do your own due diligence and work with a legal professional to ensure you are operating legally in your state or territory at all times.
Checkout our State-by-State Articles: