Are hemp delta 9 gummies with less than 0.3% THC legal in Arkansas?
Hemp-derived products won approval at a federal level because of the minimal THC quantity and a long list of benefits. This made cannabinoid blends with higher THC amounts available for purchase. Let's look at their legal status in Arkansas and where to buy the best product.  
Summary
Hemp-derived delta 9 gummies with less than 0.3% THC are legal in Arkansas. 
State law allows the sale, use and possession of "publicly marketable products," including food items like gummies. 
You can lawfully order hemp delta 9 gummies online from specialized shops like Mr. Hemp Flower. 
Cannabis is illegal in Arkansas for recreational but legal for medical use. 
Where to Buy Hemp Delta 9 Gummies in Arkansas?
Specialized online shops like Mr. Hemp Flower are the best place to buy hemp delta 9 gummies with less than 0.3% THC. 
Our full spectrum gummies will enrich your daily life with their vegan-friendly, cannabinoid-rich formula. They contain a balanced concentration of delta 9 (less than 0.3%) and cannabidiol (CBD). 
These gummies are Farm Bill compliant and contain less than 0.3% THC. We make these gummies from organically grown hemp and all-natural ingredients. Thanks to our manufacturing facility, our products are created under complete quality control. You can order our hemp delta 9 gummies here. 
We also offer three kinds of whole-plant hemp gummies in various flavors, including full spectrum CBD gummies, full spectrum CBN gummies, and full spectrum CBG gummies. Depending on your preferences, tolerance levels, and desired effects, you should pick the most suitable blend. 
According to users, the CBN gummies are perfect for combating insomnia or just relaxing after a challenging work week. You can take them as a pre-bedtime treat 30-45 minutes before going to bed and experience the effects cannabinol (CBN) has on your body. Because they contain 7mg CBN, they won't make you drowsy the following day. 
Everyone who has tried gummies knows they are essential if you want to quit vaping or smoking yet experience the effects of full spectrum hemp. You don't need a prescription to buy our gummies, and you can rest assured they are a pure, quality product shipped to your home directly from Mr. Hemp Flower as the maker. 
Are Hemp Delta 9 Gummies Legal in Arkansas?
Yes, hemp delta 9 gummies with less than 0.3% THC are legal in Arkansas. 
State law (HB 1640) allows the sale of "publicly marketable products," including food and items meant for consumption, including gummies. Arkansas law aligns with federal law outlined in the 2018 Farm Bill and defines hemp as cannabis with no more than 0.3% THC. 
In April 2019, the state passed a bill (HB 1518) that removed all forms of hemp-derived CBD from the list of controlled substances. This law separated marijuana from hemp even further and legalized the sale of hemp-derived goods. Despite being in sync with the Farm Bill, Arkansas has less restrictive rules than federal law. 
Read more: State-by-State Hemp Delta 9 Legality Guide 
What is Hemp-Derived Delta 9 THC?
Hemp and marijuana are two different cannabis varieties with very similar chemical compositions. They both contain delta 9 THC but in vastly different concentrations. Hemp contains less than 0.3%, while certain marijuana strains can go as high as 20%. There's a significant difference in legality, too. 
Hemp is the federally legal cannabis plant with low THC levels, while marijuana remains illegal. Therefore, all hemp cannabinoids, including delta 9 THC in a concentration of less than 0.3%, are legal. So, when derived from the flowers of hemp, THC is a legal compound — all thanks to the Farm Bill. 
Legal Delta 9 THC and Federal Law
The Farm Bill of 2018 legalized hemp — the non-intoxicating cannabis variety with low levels of delta 9 THC. The bill also legalized all hemp cannabinoids, including delta 9 THC, when extracted directly from hemp in a concentration of no more than 0.3%. It authorized the US Food and Drug Administration to regulate hemp-derived cannabidiol (CBD) in food products. 
CBD is considered an adulterant if put in food products because it's an already approved epilepsy drug. So under the drug exclusion rule, approved substances cannot be used in food. Therefore, it's clear that the situation with CBD edibles is more complicated than the legality of hemp-derived THC products with less than 0.3% delta 9. 
Thanks to the 2018 Farm Bill, which removed 'hemp' and 'THC in hemp' from the list of controlled substances, sellers can offer low-THC gummies with up to 10mg hemp-derived THC. The bill defines hemp as:
"The plant Cannabis sativa L. and any part of that plant, including the seeds thereof and all derivatives, extracts, cannabinoids, isomers, acids, salts, and salts of isomers, whether growing or not, with a delta-9-tetrahydrocannabinol concentration of not more than 0.3 percent on a dry weight basis [1]."
For context, marijuana is still illegal on a federal level. So, THC derived from marijuana is also considered a controlled substance. Regarding adding CBD in food products, the FDA tolerates it as long as they are not marketed under health claims or as dietary supplements.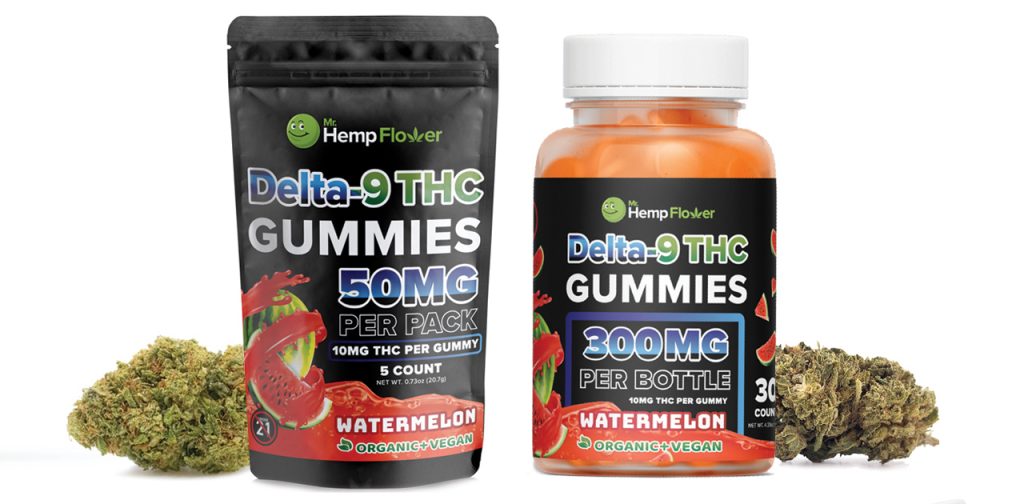 Be Sure to Check Out: 
Delta-9 THC FAQ
Read our legal disclaimer HERE. While we try to stay as up to date as possible on all state laws, you should do your own due diligence and work with a legal professional to ensure you are operating legally in your state or territory at all times.
Checkout our State-by-State Articles: