This Cherry Pie Strain Review takes you in-depth and gives you everything you want to know about Cherry Pie. To help you shop a hemp flower, you'll get the most accurate description and useful information for Cherry Pie hemp.  
We are covering the genetics, terpene, and phytocannabinoid profile, of Cherry Pie, as well as going off the strain's best uses. Plus, you'll get Mr. Hemp Flower's official rating. Let's go!
Cherry Pie Strain Review
Overall, Cherry Pie is a sweet-tasting CBD strain born from Indica genetics, making it a unique hemp hybrid. Cherry Pie lives up to its namesake in flavor and offers up a potent dose of phytocannabinoids.
Cherry Pie hemp flower gives off a vibrant dark cherry dry wood scent and has sweet, fruity flavors with some dark chocolate undertones.
Our latest stock of Cherry Pie comes as popcorn buds, also known as B-buds. They are dense and round hunter green, pink, and purple-tinted nugs with a heavy coat of crystalized trichomes and decoratively thin orange hairs.
This strain will be a perfect smoke for both before and after dinnertime to encourage improved mood and relax perceptions related to pain, stiffness, and inflammation.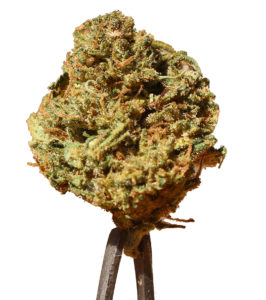 Cherry Pie Genetics
Grandaddy Purp x Durban Poison à X Early Resin Bud
The Cherry Pie Hemp strain was born from the hybrid cannabis strain Cherry Pie, which came out of a cross between Granddaddy Purp and Durban Poison.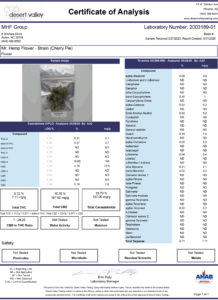 Click here to enlarge lab report 
Crossing and backcrossing that THC-rich hybrid phenotype with the high-CBD strain Early Resin Berry effectively bred out the THC and replaced it with CBD.
This makes the hemp version of Cherry Pie unique in its character and profile as an indica-dominant hemp strain.
Cherry Pie Terpene Profile
Terpenes are aromatic compounds found in nature. They serve many purposes such as to attract or deter pollinators and predators.
In plants, terpenes have many different particular uses, and in humans, they have unique therapeutic properties.
If you've ever enjoyed the scent of a fresh forest after rain or simply stopped to smell the roses than you've benefited from terpenes. Let's unpack Cherry Pie's terpene profile.
Total terpene content .71% or 7.11 mg/g
Primary terpenes include:
· Myrcene 2.1 mg/g
· Guaiol 1.4 mg/g
· Caryophyllene 1 mg/g
Includes + .3% secondary terpene content:
· Bisabolol
· Cedrene
· Limonene
· Nerolidol
· Terpineol
Cherry Pie Hemp Flower is packed with a wide array of essential terpenes. Its profile is primarily highlighted by the ever-present Myrcene, followed by the floral Guaiol and the spicy Caryophyllene.
Individually, each terpene has a very unique scent or aroma, but this highly unique combination of terpenes creates what we recognize as a delicious cherry flavor.
The secret to Cherry Pie's iconic cherry taste comes from its unique combination of secondary terpenes such as Bisabolol, Cedrene, and Limonene.
Guaiol
Found in other plants besides hemps, such as cypress pine and guaiacum, Guaiol gives a floral, woody essence to Cherry Pie's flavor profile.
Guaiol's major benefits are its anti-microbial and anti-inflammatory properties.
Myrcene
Myrcene is the most abundant terpene found in hemp and cannabis, but can also be noticed in fruits such as mango. It has naturally calming, sedative-like properties and adds a peculiar tangy, ripeness to Cherry Pie's taste.
Limonene
Limonene is commonly found in citrus fruit peels such as lemons, limes, oranges, and grapefruits, as well as hemp and cannabis flower.
On top of its anti-microbial, apoptotic properties, Limonene provides benefits to mood, fatigue, and symptoms related to depression.
Cherry Pie Phytocannabinoid Profile
Phytocannabinoids are the active compounds that give hemp flower its benefits. They are synthesized within small structures found on the plant's flowers and calyxes called trichomes.
· Total phytocannabinoid content 19.70%
· Total CBD 16.76%
· Total Secondary Cannabinoids 2.94% (THC-A, CBC)
Our Cherry Pain hemp is available in dense popcorn nugs and contains a total of 16.76% cannabidiol (CBD) content with nearly 3% additional secondary cannabinoid content including THC-A and CBC.
Typically, Cherry Pie ranges from 10%-18% phytocannabinoid content. Expression inactive compounds are expected to vary in agricultural products such as hemp due to differences in environment and growing methods.
Best Uses for Cherry Pie CBD
Cherry Pie is best used to improve mood-related to stress, depression, and anxiety. It also has powerful pain-relieving properties.
Use this high-CBD hemp flower to reduce daily stress levels, symptoms related to depression, and improve perceptions of pain related to inflammation.
Each person has a unique response to CBD according to multiple factors including personality, genetics, and environment. For some, a small dosage during the day and a larger dosage at night can improve the ability to rest and relax in the evenings.
See our delta 8 gummy products here.
Overall Rating
Pound for pound, Cherry Pie Hemp stacks up with the best of the best. It has astounding sweet and tart flavors and a great smooth thick smoke. Its profile is no joke, either!
Cherry Pie is a very well-rounded strain in both effect and flavor. We're giving this one what it deserves, five out five!
· High CBD content
· High, diverse terpene content
· Unique flavor and aroma
· Dense hemp flower
· Great deal on b-bud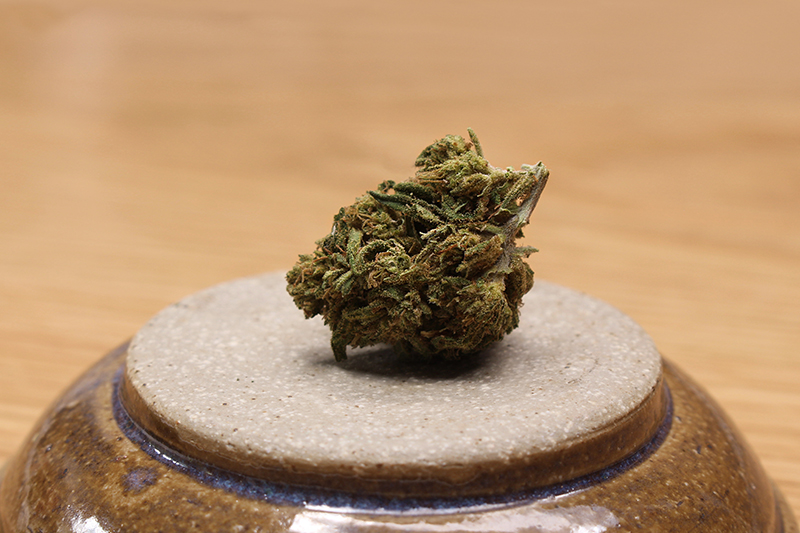 Cherry Pie Review Highlights
One of the smoothest smoke
One of the smoothest smoke I've had since I been trying hemp flower. It definitely gets me relaxed and ready for a good night sleep and the shipping was fast and on time
Cherry Pie
This strain here is an oh my strain. Smooth taste with awesome aroma. If you need rest or just a mellow out moment this is for you.
Browse Cherry Pie Hemp Flower Online
Thanks for reading this Cherry Pie Strain Review.
Click here to browse Mr. Hemp Flower's various offers on Cherry Pie hemp flower, pre-rolls, wholesale deals, and more.
Share this content with friends that you think could benefit from hemp flower today and be sure to browse all of our other useful hemp flower high-CBD strain reviews posted in our blog.
Browse Our Hemp Flower Catalogue
Thanks for reading Mr. Hemp Flower's Cherry Pie strain review! Be sure to share it with others that you think will find it helpful.
Click the links below to browse our extensive inventory of the freshest strains available from the nation's top hemp cultivators out of Oregon, California, and more.
Is It Legal To Use Hemp Flower?  
Is it legal to use CBD hemp flower? CBD Hemp is legal in the USA and not considered an illicit or controlled substance, and is federally regulated as an agricultural product. This is primarily because CBD-rich hemp flower only contains trace amounts of THC content, which is what separates hemp from cannabis by legal definitions.   
While hemp flower is considered legal in all USA states, laws may vary from state to state or region to region within the USA. Always check that you comply with local and state laws regarding hemp flower.    
Browse Our Hemp Flower Catalogue 
FAQs About Cherry Pie
Is Cherry Pie a daytime or nighttime smoke?
Cherry Pie can be considered for both day and nighttime use depending on your needs. It's enough to relieve stress and pain throughout the daytime and can help you unwind, relax, and rest at the end of the day too.
Will Cherry Pie get you high?
Cherry Pie CBD hemp flower won't get you. It contains only trace amounts (<.3%) THC content. THC is the active
compound in cannabis responsible for the deleterious effects of short term memory and motor coordination.
Is it legal to use Cherry Pie CBD Hemp Flower?
CBD and Hemp are federally legal in all 50 US states under the Hemp Farming Act of the 2018 Farm Bill. This removed CBD and Hemp from the definition of marijuana, transferring regulatory authority to the US Department of Agriculture.
While the FDA currently develops new regulations regarding active hemp compounds used in certain medicines, CBD is allowed to be possessed and use without federal penalty. Most states have laws allowing CBD Hemp, but it's important to always consult local and state law to act in accordance.