Hemp-derived products (infused with CBD) are legal in South Carolina but with some restrictions. If you want to try the new legal delta 9 gummies, you're probably wondering if they are permitted in the Palmetto State. 
In this article, we explain the legal status of these gummies and where to buy them in South Carolina. Let's take a closer look.  
Last Update: October 29, 2023
Summary
Hemp-derived delta 9 gummies with less than 0.3% THC are legal in South Carolina.
You can lawfully order delta 9 gummies infused with full spectrum, whole-plant hemp extract in this state without restrictions.
South Carolina prohibits the use of CBD isolate in food products.
Recreational and medical marijuana is illegal in this state.
Mr. Hemp Flower offers premium delta 9 gummies compliant with federal and state laws that you can buy in South Carolina.
Where to Buy Hemp Delta 9 Gummies in South Carolina?
The best place to order delta 9 gummies derived from hemp is online. 
Our gummies are a premium hemp-derived product with less than 0.3% delta 9, making them compliant with federal and state laws.
In addition to delta 9, these gummies contain cannabidiol (CBD), so they are infused with full spectrum hemp extract, which is 100% legal in South Carolina. This killer cannabinoid profile makes them potent yet balanced, so you will enjoy them with the side effects. 
Our gummies can help you with daytime fatigue or bring you physical comfort. They are the perfect treat to use before creative activities like hiking, creating art and music, or going to the art gallery. If you're a beginner, take half a gummy and enjoy the energy boost and flow of creative juices. 
However, that's not the only reason you should try these gummies. Research shows that THC can bring relief from pain, stress, and sleep problems, which we all encounter daily. 
The hemp extract in our gummies contains an array of minor cannabinoids with different healing benefits, including CBN, CBG, and CBC. Furthermore, their effects are enhanced by primary and secondary terpenes, which you can see in the Certificate of Analysis. 
Are Delta 9 Gummies Legal in South Carolina? 
Yes, hemp-derived delta 9 gummies with less than 0.3% THC are legal in South Carolina.
Hemp-derived products with less than 0.3% delta 9 THC are legal in South Carolina. Thanks to the 2018 Farm Bill and South Carolina Hemp Farming Act, individuals can manufacture and distribute hemp products in the state. 
Regarding CBD in food, the state leans towards federal law. South Carolina prohibits the sale and manufacture of food with pure CBD isolate, full spectrum hemp extracts that bear declaration of CBD, and products that promote health and medical claims. 
On the other hand, the state approves "full spectrum" whole-plant extract (hemp oil) that contains the naturally occurring array of phytonutrients in hemp, including CBD.
In addition, the product must not bear any declaration of CBD, as CBD oil must be labeled "hemp oil" to be lawfully sold. 
Read more: State-by-State Hemp Delta 9 Legality in South Carolina
What is Hemp-Derived Delta 9 THC?
Delta 9 THC, or just THC, is an essential cannabinoid naturally present in hemp's rich chemical profile. Together with CBD and other cannabinoids, THC is found and extracted from the plant's resin-rich flowers or buds. THC is the primary psychotropic cannabinoid in marijuana — the cannabis variety that gets you "high." 
Unlike hemp, marijuana is illegal federally, and so is THC extracted from marijuana. On the contrary, THC extracted from hemp in a concentration of less than 0.3% is legal under the 2018 Farm Bill. But, regardless of the source, THC is beneficial for pain, inflammation, low appetite, lack of sleep, nausea and vomiting. 
Legal Delta 9 THC and Federal Law
The 2018 Farm Bill legalized hemp and all hemp cannabinoids, derivatives, and extracts. But, there are some rules in regards to when certain cannabinoids can be used and how.
Hemp is the federally legal cannabis sativa plant that was legalized for commercial purposes under the 2018 Farm Bill. The bill removed 'THC in hemp' from the list of controlled substances, subsequently allowing the use of delta 9 THC in products. Delta 9 THC is legal only when derived from hemp and is present in the product in a concentration of no more than 0.3%. 
The Farm Bill of 2018 defines hemp as "the plant Cannabis sativa L. and any part of that plant, including the seeds thereof and all derivatives, extracts, cannabinoids, isomers, acids, salts, and salts of isomers, whether growing or not, with a delta-9-tetrahydrocannabinol concentration of not more than 0.3 percent on a dry weight basis [1]."
Unlike hemp, marijuana remains a controlled substance because it contains high levels of delta 9 THC. Delta 9 extracted from compliant hemp used in a concentration of less than 0.3% is the only legal delta 9 federally. The same goes for hemp that tests "hot," or with total THC levels of over 0.3%. 
In general, cannabinoids remain unregulated on a federal level. A good example of that is hemp-derived cannabidiol (CBD) in food, which remains unregulated by the US Food and Drug Administration (FDA) due to lack of research. Despite that, the FDA tolerates CBD in food products as long as they are not marketed under health claims or sold as dietary supplements.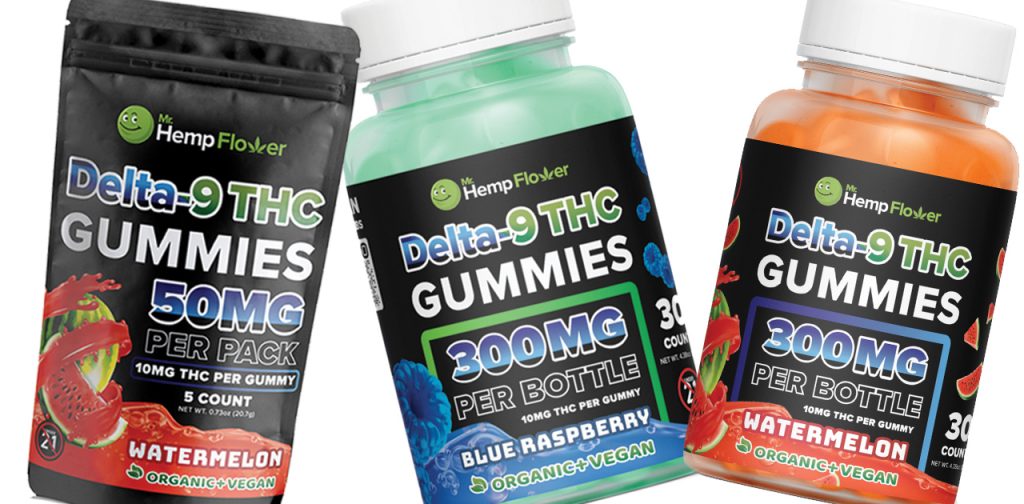 Be Sure to Check Out: 
Delta-9 THC FAQ
Read our legal disclaimer HERE. While we try to stay as up to date as possible on all state laws, you should do your own due diligence and work with a legal professional to ensure you are operating legally in your state or territory at all times.
Checkout our State-by-State Articles: