Delta 9 Gummies by Mr. Hemp Flower
Mr. Hemp Flower is excited to bring you our new hemp-derived Delta-9 THC full-spectrum gummies.
These delicious gummies are packed with 10 mg of premium delta-9 THC extract each.  They have the perfect, juicy, and chewy texture you want in a gummy and taste great!
Our delta-9 THC gummies are now available in two delicious flavors, watermelon or blue raspberry, and come in packs of 5 gummies (50mg) or bottles of 30 gummies.
MHF delta 9 gummies are compliant with the 2018 Farm Bill and able to be purchased anywhere full spectrum CBD is. These delta 9 gummies are truly an experience. Each gummy has 10mg of hemp derived delta 9 THC.
Are THC Gummies Legal?
THC Gummies are legal, psychoactive gummies for adults 21 years of age and older. Delta-9 gummies contain less than 0.3% delta-9 THC by dry weight volume per the 2018 Farm Bill.
Mr. Hemp Flower's delta 9 gummies are legal and in compliance with the 2018 Federal Farm Bill.
Specifically, they are hemp derived and contain less than .3% delta 9 THC by weight.By using a larger gummy and a hemp distillate, we are legally able to have 10mg of d9 THC and still be compliant.
Our premium delta-9 THC extracted from hemp and with our proprietary formulation craft THC gummies that are deliciously potent, psychoactive, and federally legal in the USA!  See our legal opinion letter here. 
Third-Party Lab Tests
All of Mr. Hemp Flower's premium hemp-derived products, including our newest Delta-9 Gummies,  come with a certified independent third-party lab test to confirm purity and potency.
 This is the gold standard to verify the chemical composition of hemp products, as well as our way of offering authentic transparency to our customers.
More About The D9 Gummies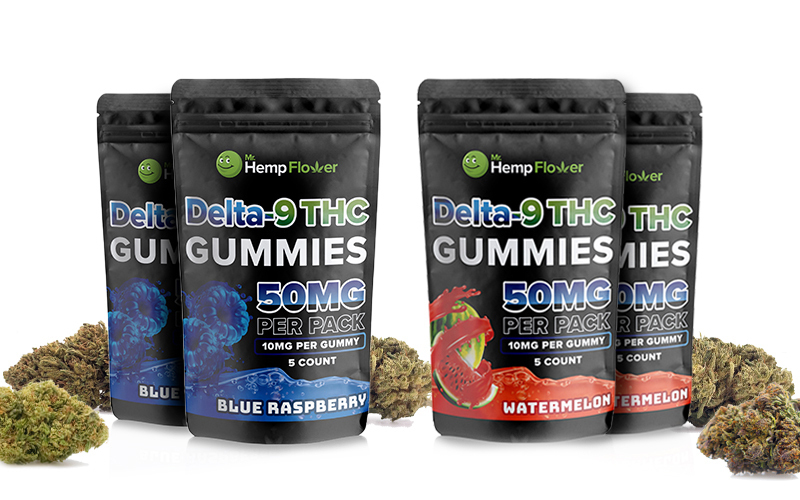 Our delta-9 THC extract is made in the USA and comes from the best regions for growing hemp in states like Oregon, Colorado, and Washington. The robust profile of our delta-9 THC gummies can help people in achieving relief from aspects related to pain and stress. Best of all, these delta-9 THC gummies are hemp-derived and 2018 Farm Bill compliant making them 100% completely legal in the USA! 
Effects of D9 THC Gummies
Each person's response to delta-9 THC gummies will vary according to several factors including dose, tolerance, environment, personality, and more. In smaller doses, delta-9 THC gummies are subtly stimulative and can help with daytime fatigue, focus, and physical comfort. This is a great effect during the daytime when you need relief but still want to stay active. Taking more than 10mg of delta-9 THC tends to make the effects more psychoactive and relaxing.The effects of larger doses of delta-9 THC can be stimulating at first, but as the effects wear off it can cause some drowsiness or fatigue.  
Who Should Take Delta 9 THC Gummies?
Must be 21 or older to order. Some individuals are particularly sensitive to THC and experience some unwanted side effects that are temporary such as heightened stress, fatigue, dizziness, and dry mouth. These are strong, if you are looking for something lighter, try delta 8 gummies. D9 THC gummies are a customizable experience. Their effects will be different depending on how, when, why, and where they are taken, frequency of use, and the intended purpose. Use them to enhance social events like concerts and dinner parties, to go deep within to get in touch with creativity and inspiration, or to help promote wellness and healing by supporting the natural functioning of the endocannabinoid system. 
How to Take Delta 9 THC Gummies
Take delta-9 THC gummies any time of day for relief and recreation. If you don't have experience with cannabinoids or THC, it's generally recommended to start with only a small amount, such as half of one gummy, and wait at least half an hour before consuming more. This allows you to gauge how strong the gummies are for you and to find the right dose for your needs. You can slowly increase your dose over time until you've reached the desired level of effect. Taking delta-9 THC frequently increases the body's tolerance to its effects. According to your circumstances, the best dose of delta-9 THC may change over time. To help with appetite or sleep, it's typically recommended to take delta-9 gummies about half an hour before eating or sleeping. Avoid taking large amounts of delta-9 THC during the day to avoid daytime drowsiness. 
USA Grown, Organic, and Vegan Ingredients
Mr. Hemp Flower d9 THC gummies, and all of our products, are made in the USA from non-GMO hemp genetics. We use premium hemp-derived delta-9 THC extract and craft our gummies using a proprietary vegan-friendly formula using all organic ingredients. You can enjoy these gummies with peace of mind knowing that they are the best quality gummies available anywhere! 
Excellent Customer Service 
We pride ourselves on excellent service and we're online a lot! Read it in our shining verified buyer reviews to find out for yourself. We're available by e-chat messenger here on our website, by email, or just give us a call at the office during work hours. We strive to get orders out the same day that they come in Monday through Friday, and all orders placed on Saturday or Sunday go out first thing Monday morning. 
30-Day Money-Back Satisfaction Guarantee On THC Gummies
Mr. Hemp Flower is confident you'll love our products that we offer a "no questions asked" 30-day money-back guarantee. If you're not fully satisfied with your purchase, contact us within thirty days of your order and we'll kindly give you a full refund. Find out more about our return policy in the footer of our website.
Buy Delta 9 THC Gummies Online
Buy with confidence from a trusted hemp retailer to avoid sub-par delta-9 THC gummies. Just check our labs, nothing compares! If you're looking for the best place to buy delta-9 gummies online then look no further! We've got the lab tests and verified customer reviews to show that our products are the best you'll find online or anywhere. Are you ready to discover hemp and join the thousands of already satisfied customers?Related Products:Delta 9 Gummies For Sleep | Delta 9 Chocolate | D8 Softgels